Posted on
Sun, Nov 1, 2009 : 9:52 p.m.
Don't toss that extra orange squash - turn it into pumpkin Swiss chard lasagna
By Rena Basch
What do you suppose Cinderella did with that pumpkin the morning after the ball?
Start by baking it. For local food lovers and fellow chest freezer fillers, this creamy pumpkin dish offers two preservation opportunities - either prepare the whole lasagna and freeze some for later, or if you are just pumpkin-flavored-out right now, prepare the pumpkin and the chard, and freeze them separately so that later this winter you can whip up this lasagna.
After baking and puree-ing 55 pie pumpkins and 40 lbs of Long of Naples winter squash in one day in the Locavorious kitchen I was still not pumpkin-ed out. I love how at this time of the year local chefs go nuts with pumpkin inspirations. Thinking about some of these seasonal dishes like pumpkin gnocchi and butternut squash ravioli and looking at lots and lots of orange-colored puree inspired me - why not a pumpkin lasagna? The idea for the pumpkin-Swiss chard combo comes from a Food and Wine.com recipe. Including Swiss chard seemed like an excellent idea, especially since it's a popular green thing in our house, but I thought the Food and Wine recipe lacked that ricotta-mozzarella richness of traditional lasagnas so loved in cold weather, so I moved the recipe in a comfy cheesy direction.
Making this recipe from fresh local ingredients is a cinch right now. At last Saturday's farmers market we picked up 2 huge bunches of Swiss chard from the Goetz family, some onions and garlic from Tantre Farm, and stopped by Makielski Berry Farms for pie pumpkins. Makielski's has traditional pie pumpkin varieties such as Sugar Pie and Mystic; these bake quickly, have a thin skin and make a nice juicy puree. The ripest ones have lots of little dark brown spots. At the market, Karlene Goetz also recommends trying pumpkins such as Cinderella and Long Island Cheese for baking because of their smooth texture and sweetness. Long Island Cheese (tan colored pumpkins) will store whole for a long time, so that's one you don't have to rush to cook right now. Winter squashes such as Red Kuri should work well in this recipe too.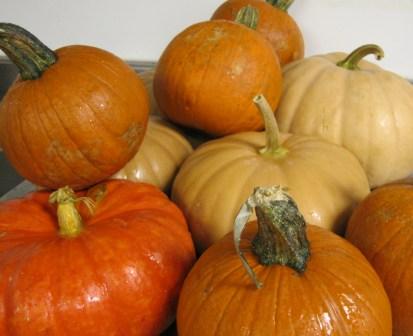 Pumpkin puree to use now or freeze for later: Rinse pumpkin(s), whack off the stem with a hammer or meat tenderizer, then cut in half. Scrape out the seeds and stringy pulp if you'd like to save the seeds for roasting. If your hands are tired from too much jack-o-lantern scraping, you can just bake the pumpkin with the seeds in. Spray a baking sheet with cooking spray or put ~ ½ cup water in the bottom of a pan, and place the pumpkin halves face down in it. Bake at 350 F for about an hour or until the flesh is easily poked with a fork and the pumpkin halves are on the verge of collapsing. Let cool about 20 minutes, then scoop and discard the seeds. Scoop out the cooked pumpkin and puree it a little with a stick blender or mash with a potato masher. From an average size pie pumpkin, you should have about 3 cups of pumpkin puree ready to use or freeze.
Pumpkin-Swiss Chard Lasagna Recipe
2 tablespoons olive oil 2 large onions, chopped 2 garlic cloves, minced 2 large bunches Swiss chard 1 1/2 teaspoons salt 1 teaspoon ground black pepper 1 teaspoon dried sage 1/2 teaspoon ground nutmeg ~ 3 cups baked pumpkin, pureed 15 oz ricotta 2 cups shredded or chopped mozzarella ½ cup Parmesan + few Ts for top 3/4 cup cream or milk 12 whole wheat lasagna noodles - or no-boil or any sort of lasagna noodles
Wash and chop the chard, discarding the larger parts of the stems. In a large nonstick frying pan, heat the oil over moderately low heat. Cook the onions, stirring occasionally, until translucent, about 5 minutes. Increase the heat to medium-high and add the chard, garlic, 1 teaspoon salt, 1/2 teaspoon pepper, 1/2 teaspoon sage, and 1/4 teaspoon nutmeg. Cook, stirring a bit, until the chard is wilted and no liquid remains in the pan, ~ 8 minutes. (One could freeze this chard-onion sauté to use at a later date.)
Preheat the oven to 400°.
Prepare the lasagna noodles (if necessary) and set aside.
In a medium bowl, mix together 2 cups of the pumpkin puree, the ricotta, mozzarella, a scant 1/2 cup Parmesan, and the remaining 1/2 teaspoon pepper, 1/2 teaspoon sage, 1/4 teaspoon nutmeg and salt to taste. (I used ½ teas salt in the cheese mixture, but it could have used less.)
In a 9 x 13 or similar size baking dish, prepare the bottom to prevent sticking with either cooking spray, butter or pour in a little milk. Lay 3 noodles in the dish and then spread 1/3rd of the pumpkin-cheese mixture over the noodles. Spread 1/3rd of the Swiss chard mixture over the pumpkin. Repeat this noodle-pumpkin-chard layering two more times, and top with a final layer of noodles.
Next, combine the remaining cup of pumpkin puree and 3/4 cup of cream or milk. Pour evenly over the top of the lasagna, sprinkle with the extra Parmesan. Cover with aluminum foil and bake for 30-40 minutes. Uncover and bake until golden, about 15-20 minutes more. Let stand a few minutes before cutting.
Serves the king's whole court and makes a Fairy Godmother proud.