Posted on
Wed, Sep 14, 2011 : 4:49 p.m.
Quick and easy garden tomato sauce
By Jessica Webster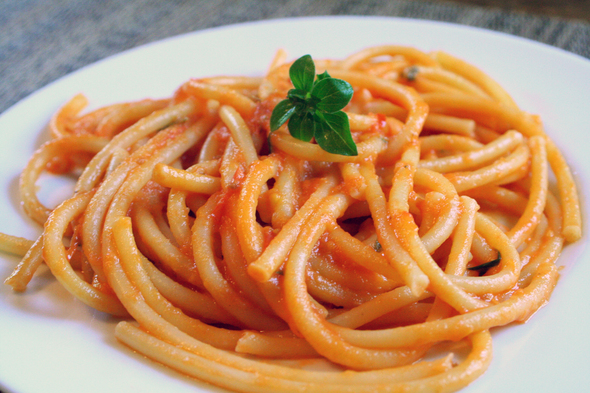 Jessica Webster | AnnArbor.com
As much as I wish I were a gardener and talk a good gardening game, my successes in the garden are generally pretty much limited to herbs, peppers, squash and tomatoes. My gardening experiences vary from year to year; this year has been a banner year for squash and tomatoes.
I've been challenged to find a way to incorporate all the squash into meals, but the tomatoes have been a tremendous inspiration. It feels so decadent to be able to walk out into my back yard and pick almost everything I need for dinner from my own garden. (Which is kind of funny, since it would seem that eating food transported from California, Peru and beyond is really the ultimate in decadence.)
The San Marzano plum tomato plants I bought at the farmers market have been incredibly prolific, and they are suddenly (finally) ripening at a furious pace. I know I should be canning them, but that whole process scares and confuses me.
So instead, we've been eating the tomatoes as fast as I can pick them. Tomatoes with eggs for breakfast. Tomato soup. Roasted tomatoes. And lots and lots and lots of tomato sauce.
This is my regular, tried-and-true favorite fresh tomato sauce recipe. It's quick and light and easy. I don't bother with removing the tomato skins — instead I quickly run the sauce through the blender to get it smooth. If you're working with tomatoes with a thick skin, or if you really don't like tomato skin, you can always blanch and peel your tomatoes before making this sauce.
The recipe calls for dried pasta, but if you're looking for a lower carb or gluten-free meal, this recipe works great with spaghetti squash.

Quick and easy garden tomato sauce
Ingredients



1 tablespoon olive oil


1 cup diced onions


8 or more cloves garlic, thinly sliced


1/2 cup white wine


1 -2 teaspoons red pepper flakes


a small handful each of basil and oregano


salt and pepper to taste


15-20 plum tomatoes (approximately 2 pounds), cored and roughly chopped


1 pound dry pasta


optional: freshly grated Parmesan


Instructions



Bring a large pot of generously salted water to a boil.


Set a large deep skillet over medium heat. Add the olive oil, and then cook the onions and garlic, stirring regularly, until the onions are soft and translucent.


Add the red pepper flakes, basil, oregano and salt and pepper and cook for 30 seconds or so.


Add the tomatoes to the skillet, and stir intermittently. After a couple of minutes, add the white wine. Turn the heat down to med-low and let the sauce simmer for ten to fifteen minutes, then remove from heat.


Cook the pasta according to the instructions on the box. I like to cook the pasta a minute short of the recommended time so that the pasta is still al dente after being tossed with the warm sauce.


For a smoother sauce consistency, carefully pour or spoon it into a blender or food processor and process until smooth.


Pour the sauce back into the skillet and combine it with the cooked pasta. Serve immediately with freshly grated Parmesan if desired.


Jessica Webster leads the Food & Grocery section for AnnArbor.com. You can reach her at JessicaWebster@AnnArbor.com.