Posted on
Fri, Sep 6, 2013 : 4:34 a.m.
Aunt Pat's Quinoa Cereal - superfoods for a super start to your morning
By Peggy Lampman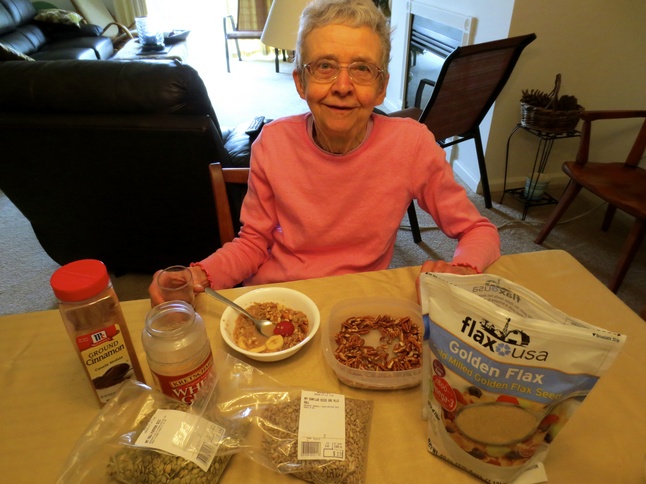 Peggy Lampman | Contributor

I don't pay much attention to recipes on health food sites written by some 20-year-old, bronze-brushed, bikini-clad, roller-blading pixie stick, who thinks a Dutch oven is what Heidi uses to bake pies in Amsterdam.
Heck, I look in my husband Richard's Aunt Pat's recipe files, a woman whose longevity proves her healthy eating habits have served her well through the decades; at 80 years old, she and her husband, Ken, are two of the most energetic and fit people I know. Richard and I were visiting them at their home in Upper State New York, and each one of her home-cooked meals we devoured left us feeling satisfied and full of energy.
The following is an example of the breakfast she and Ken eat every morning; each component a super-food. Imagine if all of America's children began each day with a breakfast such as this.
Ingredients:
1 1/2 cups, or more, almond or skim milk
1/2 cup rinsed quinoa
Your choice of mix and match ingredients (see below)
Directions:
In a saucepan, simmer milk and quinoa until most of the milk is absorbed and quinoa is tender, adding additional milk if necessary. Add mix & match ingredients to taste and serve.
Mix & Match Ingredients:
Wheat germ, cinnamon, flax, seeds (pumpkin, chia, etc.), nuts, cocoa nibs, fresh fruit (such as berries and sliced banana)
Peggy Lampman is a real-time food writer and photographer posting daily feeds on her website and in the Food & Grocery section of Annarbor.com. You may also e-mail her at peggy@dinnerfeed.com.