Posted on
Wed, Sep 19, 2012 : 8 a.m.
Raspberry coffee cake with lemon glaze provides aromatherapy for frazzled cooks
By Mary Bilyeu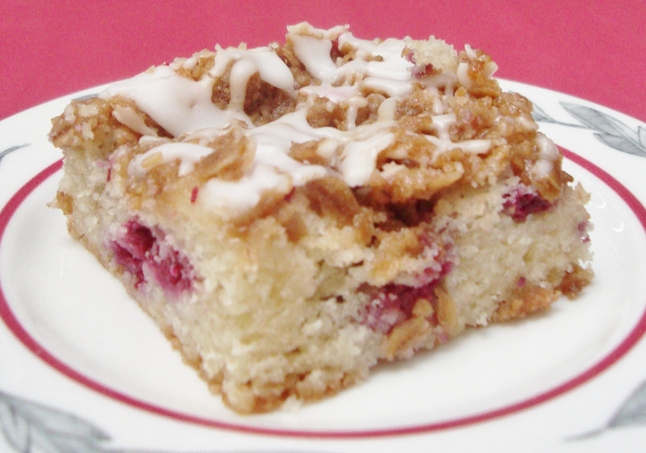 When I'm under stress, I like to cook and bake. Long hours at work, six-day weeks, mishigas ([mish-ih-GAHS] = craziness) in my personal life... these all conspired against me. I haven't had much time available, but I've cooked curried chicken with spinach for a lovely dinner with Craig; and I've baked challah, applesauce pie, peanut butter cookies, and honey cake. Others might rely upon drive-throughs or bakeries; I prefer aromatherapy and comfort food.
So when I received the generous gift of homegrown raspberries, this was the perfect treat to make — sweet, fragrant, and infused with love and thoughtfulness ....
Raspberry Coffee Cake
Cake:
1/4 cup butter
1/2 cup sour cream
1 egg
3/4 cup sugar
1 teaspoon aluminum-free baking powder
1/2 teaspoon baking soda
pinch of kosher salt
1 cup flour
3/4 cup fresh raspberries
Topping:
2/3 cup oat granola
pinch of cinnamon
1/8 cup brown sugar
1/4 cup butter, melted
Glaze:
1/2 cup confectioners' sugar
lemon juice
Preheat oven to 350 degrees. Grease an 8x8-inch baking pan.
In a large bowl, cream together the butter, sour cream, egg and sugar. Stir in the baking powder, baking soda, salt and flour. Gently stir in the raspberries, then spread the batter into the prepared pan.
Combine the granola, cinnamon and brown sugar; add the melted butter and stir to combine. Sprinkle topping over cake batter.
Bake cake for 35 minutes, until a tester inserted into the center comes out clean. Let cool completely.
In a small bowl, combine confectioners' sugar and lemon juice until desired consistency is reached (a bit like toothpaste). Drizzle glaze over the cake and let set.
Cut into 4 columns, then turn the cake and cut across into 3 columns. Makes 12 servings.

Mary Bilyeu writes for AnnArbor.com on Tuesdays, Wednesdays, and Fridays, telling about her adventures in the kitchen - making dinner, celebrating holidays, entering cooking contests, meeting new friends ... whatever strikes her fancy. She is also on a mission to find great deals for her Frugal Floozie Friday posts, seeking fabulous food at restaurants on the limited budget of only $5 per person. Feel free to email her with questions, comments, or suggestions: yentamary@gmail.com.

Go visit Mary's blog — Food Floozie — where she enthuses and effuses over all things food-related; and look for her monthly articles in the Washtenaw Jewish News. "Like" her on Facebook, or send a tweet on Twitter, too.

The phrase "You Should Only Be Happy" (written in Hebrew on the stone pictured in this post) comes from Deuteronomy 16:15 and is a wish for all her readers - when you come to visit here, may you always be happy.