Posted on
Wed, Jul 11, 2012 : 10:45 a.m.
Raspberry rose jam offers a hint of the exotic
By Mary Bilyeu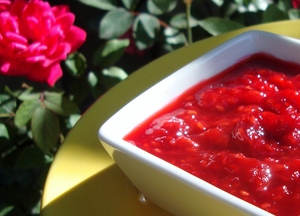 Mary Bilyeu | Contributor
Sometimes I immerse myself in the process of preparing food, such as when I pit hundreds (if not thousands) of cherries every summer using my late grandmother's
pitter
rather than simply buying a jar of ready fruits... or an already-baked pie.
And then there are other times when I just simply can't be bothered with an extra step; that's today's example, when I offer a recipe for raspberry jam that doesn't have the seeds strained out. The seeds don't bother me, so why bother removing them? Boil the berries, enjoy the jam!
The rose water is not an essential ingredient, so don't worry if you can't find it. But it does offer a lovely hint of the exotic, an enticing wisp of aroma as the fruit transforms itself.
Raspberry Rose Jam
6 ounces organic raspberries
2 tablespoons sugar
4 tablespoons water
1/2 teaspoon rose water (available at Middle Eastern and Indian markets)
Place all ingredients into a small saucepan; bring to a boil, then turn heat to "low." Cook, stirring constantly, until most of the liquid has evaporated and the mixture thickens. It will be a soft-set rather than gelling.
Makes a scant 1/2 cup.

Mary Bilyeu
writes about her adventures in the kitchen - making dinner, celebrating holidays, entering cooking contests ... whatever strikes her fancy. She is also on a mission to find great deals for her Frugal Floozie Friday posts, seeking fabulous food at restaurants on the limited budget of only $5 per person. Feel free to email her with questions or comments or suggestions:
yentamary@gmail.com
.
You should visit Mary's blog — Food Floozie — on which she enthuses and effuses over all things food-related. And be sure to look for her monthly articles about holiday foods and traditions in the Washtenaw Jewish News.
The phrase "You Should Only Be Happy" (written in Hebrew on the stone pictured in this post) comes from Deuteronomy 16:15 and is a wish for all her readers - when you come to visit here, may you always be happy.