Posted on
Tue, Feb 19, 2013 : 7 a.m.
"Re-imagining a Fair Food System" at the HomeGrown Local Food Summit on February 22
By Kim Bayer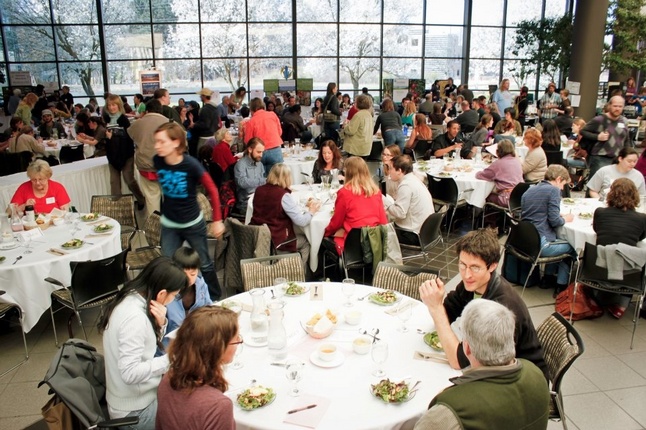 From the Local Food Summit Facebook photos
This year's HomeGrown Local Food Summit, the 5th annual, will open in the early morning of Friday, February 22 at Washtenaw Community College, where approximately 400 food system stakeholders will come together first over Riki Tiki Pies, Zingerman's bagels and Mighty Good Coffee for breakfast, and then move on to a program for building new perspectives in "(Re)Imagining a Fair Food System."
The organizing of the day-long Local Food Summit conference has been led this year by co-chairs Jason Frenzel, of the Huron River Watershed Council, and Shannon Brines, of Brines Farm. The two have been working for more than 3 months with a team of nearly 2 dozen volunteer leaders from more than a dozen organizations and businesses in Washtenaw County - including Food Gatherers, Growing Hope, and the Washtenaw Food Hub. The Local Food Summit, a community exercise in capacity building and networking, is a project of the non-profit Slow Food Huron Valley (of which I am a board member).
This year's theme for the Local Food Summit, "(Re)Imagining a Fair Food System," examines fairness from the perspectives of farmers, restaurant workers, impoverished people and others.
Regarding how we might move toward a more fair food system, volunteer organizer and President of Project Grow Gardens, Lucas DiGia, says "the most important thing we can do to work towards a fair food system is to change the hearts and minds of the consumer. We speak with our wallets in this country, and the system listens in balance sheets….If we can make a collective change in our value system as a community, we can have a fair food system."
To catalyze a shift in value systems, the Local Food Summit brings together farmers, chefs, educators, health professionals, students, gardeners, faith communities, government officials and many others to meet under one roof, listen to and learn from one another, and find inspiration to work for a future of "good food for all." This event highlights ways to change what many see as a broken food system - where, for example, 1 in 6 Americans experience hunger, while an estimated 40% of all food produced is thrown out. And just why is that?
Volunteer organizer and chef Dan Vernia explains "one of the largest barriers to creating a fair food system is the existence of the price support systems that benefit the conventional agriculture industry and the corporate sponsorship of the food service operations within our educational system. These types of funding create an un-level playing field for producers of locally and sustainably raised foods -and the impression that these products are more expensive compared to the artificial pricing of subsidized goods."
This year's keynote by Malik Yakini on "Fostering Food Security and Food Justice" will address some of the dysfunctional aspects of the current food system and show how communities in Detroit are creating solutions. Mr. Yakini, a recent winner of the James Beard Foundation Leadership Award, is known for his pioneering work with the Detroit Black Community Food Security Network and D-Town Farm. Both of which are models for ways to build self-reliance, food security and food justice in our cities, especially shrinking cities where services and infrastructure have crumbled.
After the morning keynote, a panel discussion features leaders working at the state and national level toward fairness in our food system. Moderated by UM faculty member and new Food System hire, Lesli Hoey, panelists will include Oran Hesterman of the Fair Food Network; Saru Jayamaran of Restaurant Opportunities Centers United; and Alberto Flores of the Michigan Department of Civil Rights.
Then the community at large will get involved in thinking about a fair food future with pitches calling for "Innovations for a Fair Food System." After a local food lunch, prepared by the Chefs, instructors and students of the Washtenaw Culinary Arts Program, the afternoon features a roster of more than 20 panel discussions and "speed-skilling" sessions on topics ranging from "Thinking Outside the Bok-Choi: Food Gatherers' Efforts to Get Healthy Food to Low Income People" to "Dismantling the ivory tower: Leveraging academia in support of grassroots fair food movements."
Although there have been shifts in some segments of consumer awareness and engagement with the good food movement, systemic and policy level change do not come easily. As volunteer organizer and UM Public Health student Sarah Reinhardt notes, "I see complacency as the biggest barrier to a fair food system. There are solutions out there to improve the way we grow, distribute, and eat, and many people are working hard to develop and promote them, but fair food just isn't on the radar for a lot of people. A lack of knowledge and, more importantly, a lack of motivation to reconstruct this system and our role in it are huge obstacles."
So just how does a group of people re-imagine what a fair food system might be? As Buckminster Fuller said "in order to change an existing paradigm you do not struggle to try and change the problematic model. You create a new model and make the old one obsolete." You can see how one group of people is working at that on Friday February 22nd. Registration is still open, the menu for the local food lunch looks amazing and the people there will be ready for some thought-provoking conversation.
NOTE: HomeGrown Local Food Summit activities kick off with a pre-Summit screening of "The Greenhorns" on Thursday, February 21 at the the Michigan Theater. The 7:30pm screening is open to the public, and will be followed by a reception. Tickets, $5, go on sale at 7:00pm.