Posted on
Mon, Jun 24, 2013 : 9:45 a.m.
Quinoa with Black Beans, Avocado & Corn - summery supper is packed with nutrition
By Peggy Lampman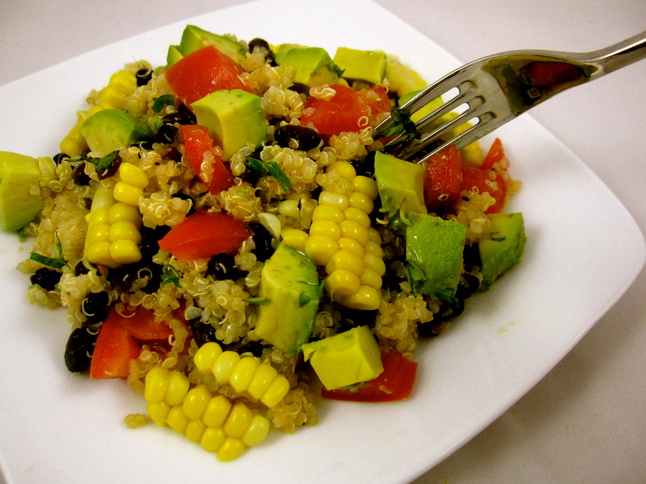 Peggy Lampman | Contributor

To receive my lastest dinnerFeed posts
by email, sign up here.
Here's a summery Monday vegetarian supper that's obviously nutritious (take a look at the ingredients), and easy to throw together.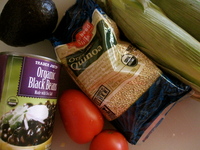 It's a meal in itself with, perhaps, a bit of bread and cheese or it's the perfect side for basically anything you'd want to throw on the grill. It could be made a day in advance, but don't toss the avocados and tomato in until the last minute.
You could double the dressing ingredients in the salad — you can't go wrong and it would be lucious with a bit more tang; I'd advise doing that if making in advance. The recipe below was perfect for today's last minute supper, and I was craving a dish light on her feet.
Yield : 4 servings
Time: 20 minutes
Ingredients
1 cup dry quinoa
2 ears corn
1/4 cup plus 1 tablespoon extra-virgin olive oil
1 tablespoon freshly squeezed lemon juice
1 scant teaspoon minced garlic
1/2 cup fresh cilantro chopped
1 (15- ounce) can black beans, rinsed
2-3 plum tomatoes, diced
1-2 avocados, diced
Directions
1. Cook quinoa according to package instructions. Shuck corn and boil until just tender. Drain and when cool enough to handle, remove kernels from cob with a sharp knife.
2. Make a dressing by whisking lemon juice and garlic into olive oil; season to taste with kosher salt and freshly ground pepper.
3. Combine quinoa, corn, cilantro, black beans, tomatoes and avocado. Stir in dressing and combine well. Season to taste with kosher salt and freshly ground pepper, if needed.
Peggy Lampman is a real-time food writer and photographer posting daily feeds on her website and in the Food & Grocery section of Annarbor.com. You may also e-mail her at peggy@dinnerfeed.com.