Posted on
Tue, Nov 16, 2010 : 11:30 a.m.
Red Velvet Cake: Myths and mishaps
By Erin Mann
Erin Mann is baking a new cake every week for a year from the "All Cakes Considered" cookbook and shares her adventures here on AnnArbor.com. Read past columns here.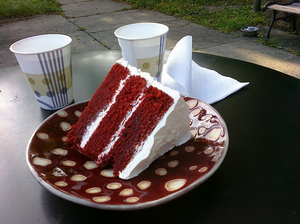 Photo by Rex Roof
When done right,
Red Velvet Cake
can be absolutely dreamy — moist cake layers in hues ranging from an eye-catching cherry red to a deep mahogany surrounded by a milky white frosting. Red velvet cake often makes an appearance on Valentine's Day (I always make red velvet cupcakes to celebrate), and many bakeries have their own version of this classic cake. In preparing for this article, I explored the history of a cake I've enjoyed on many occasions but didn't know much about.
The true origin of red velvet cake is a bit of a mystery. There is some evidence that red velvet cake dates back to the 1920s, but a number of urban myths regarding its origins have materialized over the years. Like a number of other layer cakes, I thought red velvet cake was born in the South. Many of you may remember the red velvet groom's cake — also a Southern tradition — shaped like an armadillo from Shelby's wedding in Steel Magnolias.
It is also rumored that the cake was created in Canada at the Eaton's department store bakery.
Perhaps the most interesting tale surrounding the origin of red velvet cake involves the famous Waldorf Astoria Hotel in New York City. (You may have heard similar mutations of this urban legend about cookie recipes from Neiman Marcus and Mrs. Fields.) It is said the hotel chef created red velvet cake, and it was a popular dessert at the hotel's restaurant. When a patron of the hotel wrote the chef requesting the recipe, he sent it to her along with a hefty bill for $350. She sought revenge by mailing the recipe out to hundreds of others in the form of a chain letter. That is why red velvet cake is also known as Waldorf-Astoria cake.
I read dozens of red velvet cake recipes and noticed the fat in the recipes varies widely from recipe to recipe. I've seen recipes that call for butter, oil, shortening or any combination thereof. Some red velvet recipes call for barely any cocoa powder at all, and others are much more chocolatey.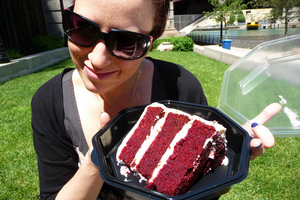 Photo by Rex Roof
The red velvet cake recipe in "All Cakes Considered" was different from others I've seen in that it does not contain any white vinegar or buttermilk. Melissa Gray substitutes sour cream for the buttermilk in her recipe.
My finished cake was very dense, like a pound cake. I practically needed a chainsaw to hack through it when I was cutting the cake layers! The tough texture of the cake paired with the fluffy, cream cheese frosting was an unwelcome contrast. It's possible I over-mixed the cake. After I added the dry ingredients to the batter, I mixed in the food coloring, and it took me quite a few turns with the mixer to get rid of the cocoa-colored streaks and achieve a uniform red color in my batter.
The color of my cake was no where near as vibrant red as other cakes I've seen. A lot more than 1/2 bottle food coloring is required to make the batter a deep red. Next time, I'd like to try substituting a juice reduction of beets, strawberries or pomegranates as a natural alternative to food coloring.
Erin Mann | Contributor
The taste of the cake was unremarkable. Although the cake smelled like chocolate, my taste buds could hardly detect the flavor of the cocoa powder. The frosting was tasty and sweet, which was nicely balanced by the toasted pecans I used to decorate the sides of the cake.
Overall, my red velvet cake was a culinary disappointment. There are many other recipes out there; now it's time to experiment with others and find one I like. If you have a favorite red velvet cake recipe and you're willing to share (free of charge), please do so! I promise I won't mail out any chain letters.
Click here to view the recipe.
Erin Mann is ruining diets one cake at a time with her weekly baking adventures. Email her at
SheGotTheBeat@gmail.com or follow her on Twitter. Facebook users can also keep up to date with A CAKE A WEEK by joining the group.