Posted on
Fri, Jan 13, 2012 : 4:19 a.m.
Reduced-Fat Fettucine Alfredo is delicious but won't weigh you down
By Peggy Lampman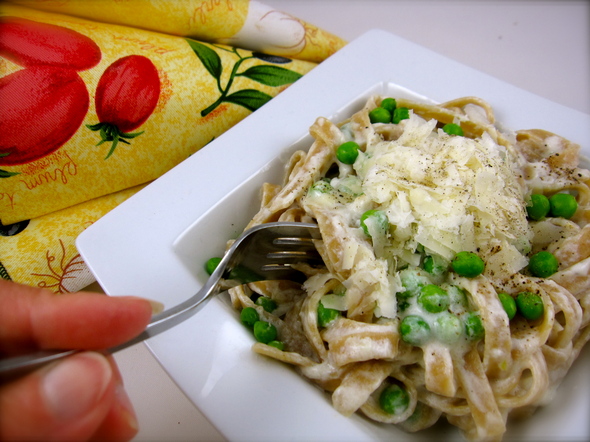 Peggy Lampman | Contributor

mean fighting machine!
Despite having reduced fat this is a delicious meal — perfect for when you're craving comfort food but not necessarily comfort food that weighs you down.
I'm a big fan of those classic ultra-creamy, ultra-buttery, ultra-cheesey Alfredos, but not for everyday eating. This recipe is perfect for tonight; an evening of burrowing down, laying low and appreciating that it's Friday.
This is a recipe I make fairly often. It's a Rocco Dispirito recipe I originally adapted from a 2010 edition of "Runner's World" magazine. Rocco Dispirito is a reality TV veteran who was a guest chef on "The Biggest Loser." Don't be turned off by the tablespoon of real butter. A typical Alfredo to serve four could easily have a 1/4 to 1/2 pound of butter in the recipe.
I made a few changes based on ingredient on hand. DeSpirito's recipe calls for 5 percent lowfat yogurt; I used 2 percent. I used the best Reggiano cheese I could find — it is the most important ingredient in the recipe. I also added frozen peas at the last minute for flavor, color and added nutrition.
DeSpirito said the recipe serves four, but Richard and I have no problem eating the entire recipe below — without pause, I might add.
I used locally produced Al Dente Whole Wheat Pasta, which was a wonderful, toothsome choice.
Time: 20 minutes
Number of servings (yield): 2-4 servings
Ingredients
8 ounces whole-wheat fettuccine
1 cup frozen peas
1 tablespoon butter
1 tablespoon minced garlic
2 teaspoons cornstarch
Pinch of nutmeg, freshly ground preferred
3/4 cup chicken stock
3/4 cup Parmigianno Reggiano
3/4 cup 2 percent Greek (strained) yogurt
Instructions
1. Bring a large pot of salted water to a boil. Cook fettuccine according to package instructions. Place peas in colander and drain pasta over peas to cook.
2. While pasta cooks, melt butter in a large nonstick saute pan over medium heat. Add garlic and cook two minutes.
3. Combine cornstarch and nutmeg in a small bowl and whisk in chicken stock until smooth. Pour into sauté pan, raise the heat, and bring sauce to a simmer, whisking occasionally.
4. Whisk in 1/2 cup of cheese until melted. Remove pan from heat. Whisk in yogurt until smooth.
5. Toss fettuccine with Alfredo sauce. Season with kosher salt and freshly ground pepper. Top pasta with remaining cheese and serve.
My new web site has recently been launched (www.dinnerFeed.com)! I'm a real-time food writer and photographer posting daily feeds on my website and in the Food & Drink section of Annarbor.com. You may also e-mail me at peggy@dinnerfeed.com.