Posted on
Wed, Jan 25, 2012 : 3:25 p.m.
Restaurant inspections in Washtenaw County for December 2011
By Washtenaw County Public Health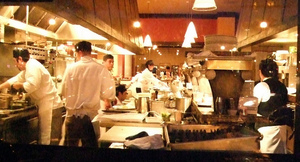 Photo by Flickr user SMcGarnigle.
Washtenaw County Public Health's Environmental Health Division inspects all food service establishments in the county, including bars, restaurants, schools and seasonal vendors — about 1,110 facilities in total! Inspection results are now published monthly on AnnArbor.com.
Why do we inspect?
Inspections help to ensure that safe food is served to the public. Sanitarians (otherwise known as health inspectors) use the Michigan Food Law of 2000 and the 2005 FDA Food Code when doing the inspections and are looking for critical and non-critical food safety violations.
How frequent are inspections?
Routine inspections take place twice per year, or once per year if the business is only open seasonally. Routine inspections are unannounced. Environmental Health will initiate additional inspections if a foodborne illness or other substantial complaint is reported.
Each inspection is a snapshot in time, and conditions found at the restaurant are not necessarily the conditions that could be found in the restaurant at other times. Sanitarians ask many questions about the menu, operations and procedures to get the best possible idea of the day-to-day conditions of the restaurant.
Critical vs. non-critical violations
Sanitarians are looking for critical and non-critical violations during inspections. Critical violations can lead directly to food-borne illness and must be corrected immediately. Examples of critical violations include an employee not washing hands before preparing food, storing food at improper temperatures and a dish machine not properly sanitizing dishes.
Non-critical violations may not directly lead to food-borne illness but are important to the overall safety and sanitation of the facility. Non-critical violations must be corrected within 90 days of the routine inspection and include items such as employees not wearing hats or hairnets, not covering food during storage and dirty floors.
What if I have a complaint?
Environmental Health responds to general restaurant complaints as well as food-borne illness complaints. Please call our office at 734-222-3800 to file a complaint or to report a suspected food-borne illness.
December Inspections:
| Inspection Summary Report | | | | | |
| --- | --- | --- | --- | --- | --- |
| Establishment | Address | City | Inspection Date | Critical | Non Crit. |
| A.D.P. NETWORK | 175 JACKSON PLAZA | ANN ARBOR | 12/07/2011 | 0 | 0 |
| ABE'S CONEY ISLAND RESTAURANT | 402 W. MICHIGAN AVENUE | YPSILANTI | 12/02/2011 | 2 | 5 |
| ALPHA CONEY ISLAND | 7049 DEXTER-ANN ARBOR ROAD | DEXTER | 12/05/2011 | 4 | 6 |
| AMERICAN LEGION POST 557 | 8225 DEXTER-CHELSEA | DEXTER | 12/20/2011 | 2 | 4 |
| AMER'S | 312 S. STATE STREET | ANN ARBOR | 12/08/2011 | 3 | 11 |
| ANGEL FOOD CATERING | 6 W. MICHIGAN AVENUE | YPSILANTI | 12/08/2011 | 3 | 7 |
| ANN ARBOR EAGLE #2154 | 7881 JACKSON RD | ANN ARBOR | 12/05/2011 | 1 | 2 |
| ANN ARBOR ELKS LODGE #325 | 4420 JACKSON ROAD | ANN ARBOR | 12/08/2011 | 0 | 4 |
| ANN ARBOR PIZZA AND SUB'S | 2111 PACKARD, SUITE D | ANN ARBOR | 12/08/2011 | 5 | 6 |
| ARBY'S ROAST BEEF # 538 | 3021 WASHTENAW | ANN ARBOR | 12/13/2011 | 0 | 1 |
| ARBY'S ROAST BEEF #615 | 3015 WASHTENAW | YPSILANTI | 12/06/2011 | 0 | 1 |
| ASIAN LEGEND INC | 516 E. WILLIAM | ANN ARBOR | 12/06/2011 | 3 | 5 |
| AUT BAR | 315 BRAUN COURT | ANN ARBOR | 12/13/2011 | 1 | 7 |
| BASKIN ROBBINS | 2731 PLYMOUTH ROAD | ANN ARBOR | 12/02/2011 | 0 | 4 |
| BEARCLAW COFFEE CO. (CHELSEA) | 12855 EAST OLD US. 12 #8 | CHELSEA | 12/29/2011 | 0 | 2 |
| BIG BOY | 3611 PLYMOUTH ROAD | ANN ARBOR | 12/15/2011 | 1 | 4 |
| BIG BOY REATAURANT #386 | 497 N. ZEEB RD. | ANN ARBOR | 12/14/2011 | 0 | 8 |
| BIGGBY COFFEE | 3354 WASHTENAW AVE | ANN ARBOR | 12/01/2011 | 1 | 5 |
| BIGGBY COFFEE STORE 291 (ATOS, LLC) | 1171 S. MAIN ST. STE # 1 | CHELSEA | 12/02/2011 | 0 | 2 |
| BLUE NILE | 221 E. WASHINGTON | ANN ARBOR | 12/01/2011 | 2 | 5 |
| BOBBER DOWN | 8475 MAIN STREET | WHITMORE LAKE | 12/28/2011 | 4 | 3 |
| BROWN JUG RESTAURANT | 1204 S. UNIVERSITY | ANN ARBOR | 12/01/2011 | 2 | 2 |
| BRUEGGER'S BAGEL BAKERY | 2260 S. MAIN STREET | ANN ARBOR | 12/28/2011 | 0 | 1 |
| CADY'S GRILL | 36 E. CROSS STREET | YPSILANTI | 12/21/2011 | 0 | 5 |
| CAFE AMBROSIA | 326 MAYNARD | ANN ARBOR | 12/12/2011 | 0 | 1 |
| CAFE JAPON INC | 113 E. LIBERTY ST. | ANN ARBOR | 12/20/2011 | 0 | 10 |
| CAFE MARIE | 1759 PLYMOUTH ROAD | ANN ARBOR | 12/05/2011 | 1 | 7 |
| CHELSEA GRILL | 1120 S. MAIN STREET | CHELSEA | 12/05/2011 | 0 | 5 |
| CHINA CHEF RESTAURANT | 2870 WASHTENAW | YPSILANTI | 12/07/2011 | 8 | 12 |
| CHRISTIAN'S CATERING | 45 TOLAN | MILAN | 12/16/2011 | 0 | 0 |
| CITY'S PIZZA & SUBS | 3148 PACKARD | ANN ARBOR | 12/07/2011 | 0 | 4 |
| CONTEMPO SALON AND CAFE | 2699 OAK VALLEY DR | ANN ARBOR | 12/21/2011 | 1 | 3 |
| COTTAGE INN PIZZA | 512 E. WILLIAM | ANN ARBOR | 12/20/2011 | 1 | 6 |
| COTTAGE INN PIZZA | 244 JOE HALL | YPSILANTI | 12/01/2011 | 1 | 9 |
| CUPPY'S BEST SOULFUL DELI | 1396 E. MICHIGAN AVENUE | YPSILANTI | 12/16/2011 | 0 | 2 |
| DEBAJO DEL SOL | 208 W. LIBERTY | ANN ARBOR | 12/07/2011 | 0 | 2 |
| EMMANUAL LUTHERAN CHURCH | 201 N. RIVER STREET | YPSILANTI | 12/13/2011 | 0 | 1 |
| ETCS AT ANN ARBOR CHURCH OF CHRIST | 2500 S. MAIN ST. | ANN ARBOR | 12/02/2011 | 0 | 2 |
| ETCS SENIOR NUTRITION PROGRAM | 775 S. MAIN STREET | CHELSEA | 12/13/2011 | 0 | 0 |
| FAIRFAX MANOR | 1900 PROSPECT ROAD | YPSILANTI | 12/22/2011 | 0 | 0 |
| FAIRFAX MANOR | 8100 GEDDES ROAD | YPSILANTI | 12/22/2011 | 1 | 0 |
| FIRST PRESBYTERIAN CHURCH | 300 N. WASHINGTON | YPSILANTI | 12/13/2011 | 1 | 3 |
| Inspection Summary Report | | | | | |
| Establishment | Address | City | Inspection Date | Critical | Non Crit. |
| FLAT TOP GRILL | 3275 WASHTENAW AVE | ANN ARBOR | 12/19/2011 | 1 | 9 |
| FOOD GATHERS - OZONE DROP IN | 102 N. HAMILTON | YPSILANTI | 12/22/2011 | 0 | 1 |
| FRASER'S PUB | 2045 PACKARD | ANN ARBOR | 12/19/2011 | 0 | 4 |
| GODAIKO JAPANESE RESTAURANT | 3105 OAK VALLEY DRIVE | ANN ARBOR | 12/08/2011 | 2 | 5 |
| GOLDEN FOX CLUBHOUSE | 8500 N. TERRITORIAL ROAD | PLYMOUTH | 12/14/2011 | 2 | 4 |
| GOOD TIME CHARLEYS | 1140 S. UNIVERSITY | ANN ARBOR | 12/09/2011 | 3 | 13 |
| GOOGLE-CONTINENTAL DINING SERVICES | 401 E. LIBERTY ST | ANN ARBOR | 12/01/2011 | 0 | 2 |
| GOURMET CHOCOLATE CAFE | 312 N. MAIN STREET | CHELSEA | 12/09/2011 | 0 | 2 |
| GOURMET GARDEN | 2255 W. STADIUM BLVD | ANN ARBOR | 12/20/2011 | 5 | 4 |
| HOLIDAY INN NORTH GUY HOLLERIN | 3600 PLYMOUTH ROAD | ANN ARBOR | 12/27/2011 | 6 | 5 |
| HOLIDAY'S RESTAURANT | 2080 W. STADIUM BLVD | ANN ARBOR | 12/22/2011 | 1 | 3 |
| HUNGRY HOWIE'S | 215 S. FORD BLVD | YPSILANTI | 12/15/2011 | 3 | 5 |
| HUNGRY HOWIE'S/MILAN PIZZA | 6 W. MAIN STREET | MILAN | 12/02/2011 | 0 | 2 |
| HURON VALLEY TENNIS CLUB | 3235 CHERRY HILL/BOX | ANN ARBOR | 12/13/2011 | 1 | 1 |
| IHOP | 4221 ELLSWORTH RD | YPSILANTI | 12/01/2011 | 2 | 10 |
| JIMMY JOHN'S | 929 E. ANN STREET | ANN ARBOR | 12/28/2011 | 1 | 1 |
| JIMMY JOHN'S GOURMENT SANDWICHES | 342 S. STATE STREET | ANN ARBOR | 12/12/2011 | 2 | 3 |
| JOE'S JAVA | 5333 MCAULEY DR | YPSILANTI | 12/12/2011 | 0 | 0 |
| KFC #322061 | 2245 W. STADIUM BLVD. | ANN ARBOR | 12/05/2011 | 1 | 5 |
| LA PITA FRESH | 529 E. LIBERTY | ANN ARBOR | 12/13/2011 | 2 | 10 |
| LITTLE CAESAR'S PIZZA | 1783 WASHTENAW | YPSILANTI | 12/06/2011 | 0 | 2 |
| LITTLE CAESAR'S PIZZA TREAT | 1944 W. STADIUM BLVD | ANN ARBOR | 12/19/2011 | 0 | 1 |
| MAC'S IN SALINE LLC | 104 E. MICHIGAN AVENUE | SALINE | 12/06/2011 | 2 | 10 |
| MANCHESTER ATHLETIC BOOSTER - GYM | 20500 DUTCH DR. | MANCHESTER | 12/02/2011 | 0 | 0 |
| MANCINO'S PIZZA & GRINDERS OF SCIO | 355 S. ZEEB RD. | ANN ARBOR | 12/16/2011 | 1 | 0 |
| MARY'S FABULOUS CHICKEN | 3220 PACKARD | ANN ARBOR | 12/19/2011 | 3 | 1 |
| MASCO - STERLING SERVICES | 4600 ARROWHEAD DRIVE | ANN ARBOR | 12/06/2011 | 0 | 4 |
| McDONALD'S #10950 | 2310 W. STADIUM BLVD | ANN ARBOR | 12/07/2011 | 1 | 9 |
| McDONALD'S #13841 | 3001 LOHR ROAD | ANN ARBOR | 12/02/2011 | 1 | 8 |
| MESSIAS TEMPLE CHURCH | 200 HARRIET STREET | YPSILANTI | 12/21/2011 | 0 | 0 |
| MICHIGAN COMMUNITY THEATER | 603 E. LIBERTY | ANN ARBOR | 12/06/2011 | 0 | 0 |
| MILAN CONEY ISLAND & RESTAURANT | 1152 DEXTER | MILAN | 12/16/2011 | 1 | 7 |
| MO MO TEA | 1213 S. UNIVERSITY | ANN ARBOR | 12/20/2011 | 1 | 2 |
| MR. GREEK'S CONEY ISLAND | 215 S. STATE STREET | ANN ARBOR | 12/06/2011 | 3 | 11 |
| MR. PIZZA | 800 ECORSE ROAD | YPSILANTI | 12/15/2011 | 0 | 4 |
| MR. PIZZA | 1484 WASHTENAW | YPSILANTI | 12/15/2011 | 0 | 3 |
| NEW ZOO PLAY CAFE (THE) | 1834 WHITTAKER RD | YPSILANTI | 12/30/2011 | 0 | 1 |
| NICK'S ORIGINAL HOUSE OF PANCAKES | 3030 LOHR ROAD | ANN ARBOR | 12/19/2011 | 1 | 7 |
| NOODLES & COMPANY | 3601 WASHTENAW, SUITE A | ANN ARBOR | 12/20/2011 | 0 | 1 |
| NU WAVE FISH & CHICKEN | 1800 E. MICHIGAN AVENUE | YPSILANTI | 12/13/2011 | 0 | 3 |
| OLD TOWN TAVERN | 122 W. LIBERTY | ANN ARBOR | 12/07/2011 | 3 | 6 |
| ORIENTAL EXPRESS | 707 PACKARD | ANN ARBOR | 12/07/2011 | 2 | 7 |
| Inspection Summary Report | | | | | |
| Establishment | Address | City | Inspection Date | Critical | Non Crit. |
| PALIO'S/QUALITY BAR | 347 S. MAIN STREET | ANN ARBOR | 12/20/2011 | 1 | 6 |
| PARADISE ASIAN CUISINE | 883 W. EISENHOWER PKWY | ANN ARBOR | 12/12/2011 | 2 | 3 |
| PIZZA HUT | 2160 RAWSONVILLE ROAD | BELLEVILLE | 12/07/2011 | 3 | 12 |
| POTBELLY SANDWICH WORKS | 980 W. EISENHOWER (SUITE C) | ANN ARBOR | 12/29/2011 | 0 | 2 |
| POWERHOUSE GYM YPSILANTI | 1326 ANNA J. STEPP | YPSILANTI | 12/30/2011 | 0 | 2 |
| QUALITY 16 THEATRES | 3686 JACKSON ROAD | ANN ARBOR | 12/05/2011 | 0 | 2 |
| RAY'S RED HOT'S | 629 E. UNIVERSITY | ANN ARBOR | 12/20/2011 | 0 | 1 |
| RED HAWK | 316 S. STATE STREET | ANN ARBOR | 12/12/2011 | 1 | 3 |
| ROD'S DINER | 812 S. STATE STREET | ANN ARBOR | 12/05/2011 | 0 | 1 |
| ROGER MONK'S | 5400 PLYMOUTH ROAD | ANN ARBOR | 12/06/2011 | 2 | 5 |
| RON'S ROADSIDE BBQ | 5850 PONTIAC TRAIL | ANN ARBOR | 12/01/2011 | 3 | 3 |
| ROY'S BURGER & BBQ | 25 WABASH STREET | MILAN | 12/13/2011 | 0 | 1 |
| SALVATION ARMY STAPLES FAMILY CENTER | 3660 PACKARD | ANN ARBOR | 12/02/2011 | 2 | 1 |
| SAVA'S | 216 S. STATE ST. | ANN ARBOR | 12/21/2011 | 0 | 7 |
| SEVENS (THE) | 777 EISENHOWER PKWY, SUITE 110 | ANN ARBOR | 12/05/2011 | 0 | 4 |
| SIMPLY SCRUMPTIOUS | 4765 JOY RD | DEXTER | 12/30/2011 | 0 | 3 |
| ST. JOSEPH PARISH HALL | 3470 DOVER STREET | DEXTER | 12/07/2011 | 1 | 1 |
| ST. MARY'S CHURCH | 210 W. MAIN STREET | MANCHESTER | 12/08/2011 | 0 | 1 |
| STARBUCKS COFFEE #2342 | 3597 WASHTENAW | ANN ARBOR | 12/07/2011 | 0 | 1 |
| STARBUCKS COFFEE #2438 | 133 BRIARWOOD CIRCLE CTR COURT | ANN ARBOR | 12/15/2011 | 0 | 0 |
| STARBUCKS COFFEE #2482 | 1214 S. UNIVERSITY AVENUE | ANN ARBOR | 12/06/2011 | 0 | 2 |
| SUBWAY | 1156 DEXTER STREET | MILAN | 12/08/2011 | 1 | 0 |
| SUSHI CAFE | 854 BRIARWOOD CIRCLE | ANN ARBOR | 12/02/2011 | 1 | 1 |
| SWEETWATERS CAFE | 123 W. WASHINGTON | ANN ARBOR | 12/08/2011 | 2 | 5 |
| TAP ROOM | 201 W. MICHIGAN AVENUE | YPSILANTI | 12/21/2011 | 3 | 12 |
| TEMPTATIONS - RAINBOW HOSPITALITY | 2876 WASHTENAW | YPSILANTI | 12/06/2011 | 3 | 5 |
| TOTORO | 215 S. STATE STREET | ANN ARBOR | 12/08/2011 | 3 | 7 |
| VICTORY ACADEMY PUBLIC CHARTER SCHOOL | 1715 E. FOREST AVE. | YPSILANTI | 12/02/2011 | 2 | 1 |
| VILLAGE AT ST. JOSEPH HOSPITAL | 5341 MCAULEY DRIVE | YPSILANTI | 12/07/2011 | 0 | 3 |
| VILLAGE TAP | 237 E. MAIN STREET | MANCHESTER | 12/08/2011 | 0 | 2 |
| WENDY'S | 73 S. ZEEB RD. | ANN ARBOR | 12/07/2011 | 1 | 3 |
| WENDY'S | 4020 CARPENTER ROAD | YPSILANTI | 12/09/2011 | 1 | 5 |
| WOLVERINE STATE BREWING COMPANY LLC | 2019 W. STADIUM BLVD. STE 103 | ANN ARBOR | 12/06/2011 | 1 | 8 |
| YPBOR YAN | 4905 WASHTENAW | ANN ARBOR | 12/19/2011 | 1 | 4 |
| YPSILANTI HIGH SCHOOL INDOOR CONCESSION | 2095 PACKARD | YPSILANTI | 12/06/2011 | 1 | 4 |
| YPSILANTI MARRIOTT | 1275 S. HURON | YPSILANTI | 12/02/2011 | 5 | 5 |
| ZINGERMAN'S ROADHOUSE | 2501 JACKSON ROAD | ANN ARBOR | 12/14/2011 | 4 | 11 |
| ZOU ZOU'S | 101 N. MAIN STREET | CHELSEA | 12/12/2011 | 1 | 8 |