Posted on
Tue, Jan 12, 2010 : 7 a.m.
Restaurant Week returns to downtown Ann Arbor
By David Bardallis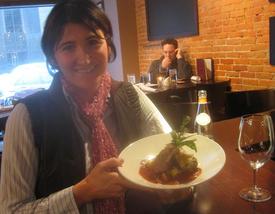 David Bardallis | Contributor
What a rotten time of year. The holidays are over, all the leftovers are gone, work has started again, it's freezing outside, and you're just about broke from paying off all that Christmas extravagance. What to do?
Ann Arbor Restaurant Week to the rescue! January 17-22 marks the Main Street Area Association's second Restaurant Week, which is now a biannual event due to the runaway success of the first one held this past June.
The event is designed to encourage people to broaden their food horizons by trying out more of Ann Arbor's many and varied downtown eateries—at a tantalizing price. Twenty-six restaurants—from Parthenon and Old Town to Logan and the The Chop House—have put together prix fixe menus for lunch ($12) and dinner ($25), with some even offering 2-for-1 deals. Lunch is an open format, while dinners are served as three-course meals.
"We were slammed last time"
By all accounts, this approach indeed provides much encouragement for diners.
"We participated in the first Restaurant Week and were really blown away at how much business it brought in," says Melissa Chalmers, general manager of Arbor Brewing Co., 114 E. Washington. "Both our lunch and dinner sales saw substantial increases, and it felt like a busy Friday night in here for much of the week!"
Elyssa Daniel and Clay Niersel of Café Felix, 204 S. Main, are also geared up for the week. "We were slammed last time," says Daniel, a shift manager. "We're eager to see what will happen with this one."
"Winter's a great time to do it, too," adds Niersel, Felix's kitchen manager. "Things are naturally a little slower."
Kristin Jonna concurs, noting the June Restaurant Week saw a four-fold increase in sales at her restaurant, Vinology, 110 S. Main. "The Main Street Area Association has done a great job of picking the right times to do this, when restaurants could use a boost," she says. "Ann Arbor is unique in that it has significant highs and lows in our business, usually correlated with the school year."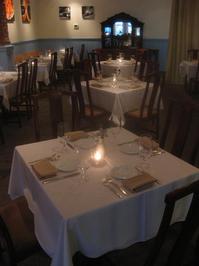 David Bardallis | Contributor
Grange Kitchen and Bar
,
118 W. Liberty
, was not yet open in June, but chef-owner
Brandon Johns
heard from the owners of Bella Ciao, the restaurant that previously occupied his space, that the first Restaurant Week was a huge success.
"Participating in this is a no-brainer," he says. "Not only is January normally super slow, but this helps all of us develop as a community of restaurants."
"We don't want to bore regulars"
So what about the food? Each restaurant approaches it a little differently. Grange, for example, is offering items off its existing menu at Restaurant Week prices, as is Café Felix.
"We want to showcase what we're about, to give people a taste of what we do all the time," says Brandon Johns. In this case, that means a choice of Bacon Onion Potato soup or a salad of local greens; Pan Roasted Chicken, Grilled Lake Trout, or Cider Braised Beef; and a choice of any dessert for the $25 dinner price (Grange is not open for lunch).
Felix is offering for lunch a Grilled Salmon Sandwich, Croque Monsieur, or Felix's Reuben and for dinner Rigatoni with Veal and Pork Meatballs, Chicken Boulouris, or Chicken and Prosciutto Fettucini. "We're also extending the Restaurant Week pricing past January 22, to Sunday the 24th," says manager Daniel.
At Vinology, Kristin Jonna, chef Jim Leonardo, and the kitchen team have spent two weeks carefully preparing a more elaborate special menu for the event. "It's similar to what we usually do," Jonna says. "We don't want to bore regulars, but we also want first-time visitors to get an accurate flavor of Vinology." The lunch menu features a choice of Roasted Chicken Pot Pie, Cavatappi Pasta Bolognese, or Portabella Ratatoille served with a side salad and a Petite Brownie Sundae or Cinnamon Apple Crisp. For dinner, a first course of Avocado and Baby Tomato Salad, Butternut Squash Ravioli, or Potage Parisienne; a second course of Herb Roasted Beef Sirloin, Salmon Francese, or Orchiette Pasta Agli-Olio; and for dessert, a Flourless Warm Chocolate Lava Cake, Frutti di Bosco Shortcake, or Frozen Lemon Souffle.
Arbor Brewing is one of the restaurants offering 2-for-1. It works like this: $12 gets two hungry lunchers soup or salad with a choice of a Hummus Vegetable, Chicken Salad, or Turkey Chipotle wrap. For dinner, if those same two folks pony up another $25, they each get a pint of Arbor beer, an appetizer (Spinach Dip or Bacon and Onion Empanadas), and two entrees (Meatloaf and Veggies, Quinoa Stuffed Squash and Spring Greens, or Mezzaluna Ravioli in Pesto Cream Sauce).
Sound good? Getting hungry? Make reservations now at your favorite locations because spots are filling up fast.
David Bardallis is a freelance writer and editor, blogger, bon vivant, and man about town. Visit his Web site, DavidBardallis.com, to engage his services or read his latest. Email him at annarborbeer@gmail.com or follow @dbardallis on Twitter.