Posted on
Sun, Jun 13, 2010 : 6:08 a.m.
Next Ann Arbor Restaurant Week to be held June 20-25 featuring 33 restaurants
By Magdalena Zenaida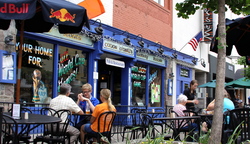 After launching Ann Arbor's first Restaurant Week last year, the
Main Street Area Association
 has built on the initial event's success by hosting the week twice a year. Next up: June 20-25.
Ann Arbor Restaurant Week
offers diners the chance to explore and experience culinary adventures through options offered on specific menus at universally-set prices. 
The latest Restaurant Week later this month will feature $12 lunch and $25 dinner menus at participating restaurants. Extending beyond Main Street, 33 local restaurants are participating with up to four-course menus.
One of the restaurants extending outside of the Main Street area is the recently opened Mercy's in the Bell Tower Hotel. With four courses on the dinner menu, diners are given a wide selection of taste options, choosing between the Burmese, French, and veggie menu. 
Some highlights are the French bistro lamb shank braised in red wine boullion with mirepoix and served with roasted parsnips, fingerling potatoes and sautéed. From the veggie menu, Joyce's "death by chocolate" is a gluten-free cake. 
"We choose from different areas of the menu so that local diners could get a good sampling of what we offer," owner Steve Kasle said.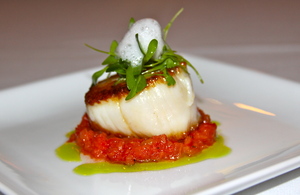 Logan's Seared Scallop on a caponata with citrus foam
Back toward Main Street, another independent restaurant,
Logan
, is eagerly awaiting another successful restaurant week. 
"(During) restaurant week we see our seatings go from 40-50 guests to 120 or more," said Chef Thad Gillies. 
Gillies will be featuring something to challenge palates, such as an oxtail stew, but will also include traditional favorites such as oven-roasted Tuscan pork tenderloin with creamy polenta and diced root vegetables. 
Late June is typically a slow period for local restaurants, so Restaurant Week helps drive business.
"As business owners, this week rocks," Logan owner Ryan Gillies said. "(It's) during a typically slow time and the long-term goal is funneled through MSAA to (be) like other cities, with restaurant week several times a year."
Outdoor dining at Gratzi
Directly on Main Street, there is a large selection of familiar favorites ranging from
Gratzi
and
The Chop House
to
Conor O'Neills
. 
"This is our third event, and our participation has increased each time," said
Main Street Area Association
 executive director Maura Thomson. "Restaurant week is all about bringing people downtown. For those that frequent downtown it's an opportunity to try some new spots, for those that have maybe fallen out of the routine of supporting downtown businesses it's encouragement to come back and see what's new. And for those who have never been to downtown Ann Arbor, it's yet another reason to visit our award-winning neighborhood."
Reservations are recommended as seatings begin to fill quickly as the event approaches. Full menus and participating restaurants can be found online at
annarborrestaurantweek.com
.
Magdalena Zenaida resides in Ann Arbor with her dog Dartie. She writes of their and their companion's exploits on The Joyful Dog, when she is not out pet-sitting for her business, The Joyful Dog. She would love for you to email her!