Posted on
Thu, Dec 13, 2012 : 11:11 a.m.
Rich, chocolatey financiers that just happen to be gluten-free
By Jessica Webster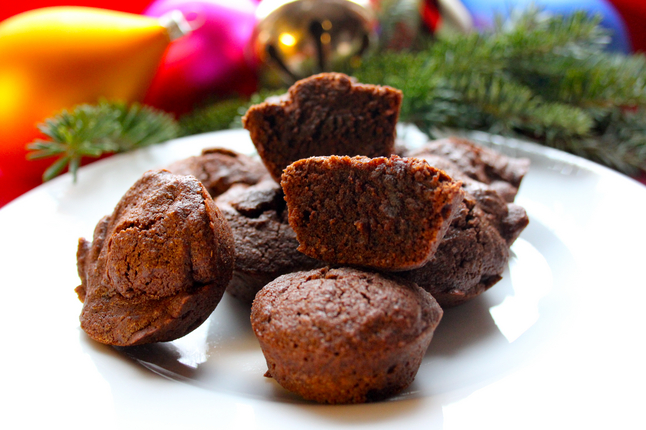 Jessica Webster | AnnArbor.com
One of my favorite
Julia Child
stories came to me from a friend who had the honor of dining with her when she was in town on a book tour. The publisher took several Borders executives and buyers out to The West End Grill in Ann Arbor. Toward the end of the delightful evening, it was time to present the dessert menu.
"One of our house specialties is the flourless chocolate cake," recited the waitress. Julia Child stopped her right there.
"You have what I am sure is a rich, delicious cake," said Julia Child with a sly smile. "Surely you can think of a more appetizing adjective to describe it than 'flourless.' Tell me more about it. Make me want to eat it!"
For this reason, I almost hesitate to tell you that these financiers — rich, cake-like cookies that resemble little individual brownies — are flourless and gluten-free. Because what you really need to know is that they are just plain ridiculously delicious. Like hide these things before I eat every last one of them delicious.
But I'm going to tell you that they're gluten-free because you probably have a friend with Celiac disease or with an intolerance to wheat. I imagine that this time of year, with the tremendous amount of holiday baking and sharing that goes on, is probably frustrating for them.
And maybe you, like me, have tried to alter existing recipes to accommodate their need to avoid gluten, swapping the wheat flour for rice flour, only to end up with gritty brownies and sandy-tasting cookies. That's not what we have here.
This is the first recipe I have found that is as good as … no, strike that … is better than my regular brownie recipe. One that I would be happy to serve to everyone at a holiday party, not just my gluten-intolerant friends.
When you make these, don't tell wheat-eaters that they're gluten-free. Just describe how rich, moist and chocolately they are. Sweet without being too sweet. Tell them they're delicious. Then wink at your Celiac friends and quietly let them know that they are safe.
A note on the recipe: I didn't look hard for almond flour, but when I didn't find it at my first stop, I decided to make my own. I found a tip online that suggested that processing blanched almonds along with the powdered sugar would allow you to get a finer grind, and it seemed to work.
This recipe from SmittenKitchen.com refers to these as 'financiers' - a small rectangular French almond cake that allegedly derives its name from its resemblance to small bars of gold. However, the recipe as written is more like a 'friand' which usually has a round shape and is more likely to be flavored with chocolate or other flavorings. Whatever you want to call it, I think you'll find that it's quite addictive.
Gluten-Free Chocolate Financiers slightly adapted from a recipe by SmittenKitchen.com
6 tablespoons unsalted butter
1 cup almond flour (or just over a cup of blanched almonds)
4 tablespoons unsweetened cocoa powder
1/8 teaspoon salt
3/4 cup powdered sugar
1/3 cup egg whites (approx. two large)
1/4 teaspoon vanilla extract
Preheat the oven to 400 degrees. Lightly grease financier molds or mini-muffin tins.
Melt the butter in a small saucepan and set it aside until it reaches room temperature.
If you don't have easy access to almond flour, it's simple enough to make your own.
Take just a little more than a cup of blanched almonds (often sold slivered) and process them in a food processor with the 3/4 cup powdered sugar the recipe calls for, for about 8-10 minutes. Stop and scrape the sides down occasionally with a rubber spatula.
Mix the almond flour and powdered sugar mixture with the cocoa powder and salt. Stir the egg whites and vanilla extract into the almond mixture, then gradually stir in the melted butter until incorporated and smooth. Spoon the batter into the molds, filling them three-quarters full.
Bake the financiers for 10 to 15 minutes, until the cookies are slightly puffed and springy to the touch. Remove them from the oven and let cool completely before removing the financiers from the molds.
Once cooled, financiers can be kept in an airtight container at room temperature for up to one week.
Makes 15 one-inch cookies
Jessica Webster leads the Food & Grocery section for AnnArbor.com. Reach her at JessicaWebster@annarbor.com. You also can follow her on Twitter or subscribe to AnnArbor.com's email newsletters.