YOU SHOULD ONLY BE HAPPY ....
recipe:

Ricotta Cheese Pudding a cool and easy-to-make dessert

Posted on Thu, Aug 4, 2011 : 5:50 a.m.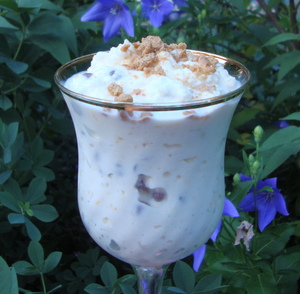 Mary Bilyeu, Contributor
I haven't made my Chocolate Cannoli Cake in ages. It's a lovely dessert with an orange-scented ricotta cheese mixture swirled into the batter; remarkably, it's both rich and light at the same time.
The other night, I wanted the flavors of the cake but didn't want to bother baking. I'd also just made a blueberry cake that morning and hardly needed a second seductress in the house calling to me sweetly!
So instead, I simply took the ricotta filling that is swirled into the cake batter (minus the raw egg, of course, since no cooking would be involved) and made it into a pudding instead.
This is light, refreshing, and absolutely ridiculously easy to make. If it's too hot out to cook or you need an elegant finish to a summer meal, this is the dessert you've been waiting for.
It's also perfect if you just want a slightly sweet, cool dessert at the end of the day. This pudding can be anything you need it to be....

Italian Ricotta Cheese Pudding
1 15-ounce container ricotta cheese
very finely grated zest of 1 large orange
juice of 1/4 orange
2 tablespoons sugar
1/4 cup mini semisweet chocolate chips
5 cinnamon graham cookie sticks, crushed
Combine all ingredients in a medium mixing bowl; mix well. Cover and refrigerate overnight for the flavors to develop, then spoon into decorative serving glasses. Sprinkle cookie crumbs over the top of the puddings.
Serves 4-6.

has won or placed in more than 60 cooking contests and writes about her adventures in the kitchen. She was thrilled to have her post about Scottish Oatmeal Shortbread named as one of the daily "Best of the Blogs" by the prestigious Food News Journal.
Go visit Mary's blog — Food Floozie — on which she enthuses and effuses over all things food-related. Her newest feature is Frugal Floozie Friday, seeking fun and food for $5 or less ... really! Feel free to email her with questions or comments or suggestions: yentamary@gmail.com.
The phrase "You Should Only Be Happy" (written in Hebrew on the stone pictured in this post) comes from Deuteronomy 16:15 and is a wish for all her readers as they cook along with her ... may you always be happy here.