Posted on
Fri, Sep 21, 2012 : 2:52 p.m.
Roast Salmon with Tomato-Caper Sauce - recipe comes together in mere minutes
By Peggy Lampman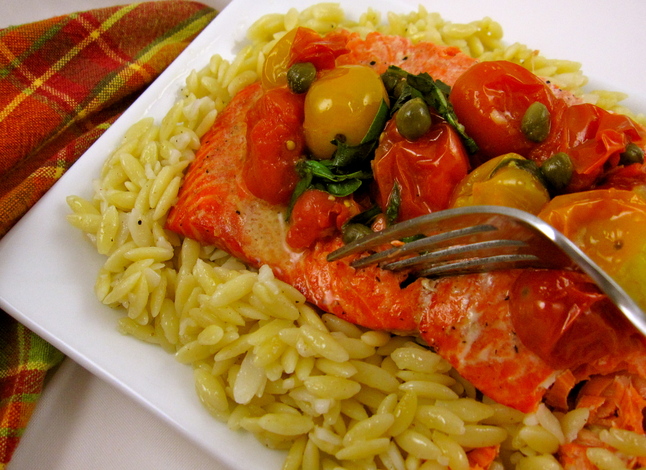 Peggy Lampman | Contributor

My dinnerFeed web site is a lean, mean fighting machine! To receive my lastest dinnerFeed posts by email, sign up here.
When craving a quick, healthy, protein rich dinner, which I can produce in autopilot mode, I gravitate to salmon. When wild-caught salmon is on sale, I load up on center cut pieces and freeze for meals on the run.
The following recipe is an example of a delicious recipe I can throw together in minutes - especially welcome at this time of year when cherry tomatoes are raining from the vine. Orzo is a nice complement, simply tossed with extra lemon juice, olive oil, salt and pepper.
I'll never have enough salmon recipes up my sleeve, but here are another dozen or so, in addition to this, I've made and relished!
Active Time: 10 minutes Roast Time: 12-16 minutes, depending on salmon degree of doneness Yield: 4 servings
Ingredients
1 (2 pound) salmon fillet, center cut preferred 3 tablespoons extra virgin olive oil 2 cups cherry or grape tomatoes, washed 1/2 lemon 1 1/2 tablespoon capers 1/2 teaspoon minced garlic 1/2 cup torn or chopped basil
Instructions
1. Preheat oven to 400 degrees. 2. Line a baking sheet (large enough to fit the salmon and tomatoes) with lightly oiled foil. Place salmon on center of baking sheet and brush with 1 tablespoon olive oil; season with kosher salt and freshly ground pepper. 3. Toss cherry tomatoes with remaining olive oil and lightly season with kosher salt. Arrange tomatoes in a single layer around salmon. On center rack of oven, roast salmon and tomatoes until salmon is cooked to desired level of doneness. You may check by pricking the center of the fillet with a fork. Squeeze lemon juice over baked salmon. 4.Place roasted tomatoes in a small bowl and toss with capers, garlic and basil. Serve over salmon. Peggy Lampman is a real-time food writer and photographer posting daily feeds on her website and in the Food & Grocery section of Annarbor.com. You may also e-mail her at peggy@dinnerfeed.com.