Posted on
Tue, Nov 22, 2011 : 12:56 p.m.
Roast Turkey with Lemon and Sage Butter - a simple recipe allows flavor and texture of the bird to take center stage
By Peggy Lampman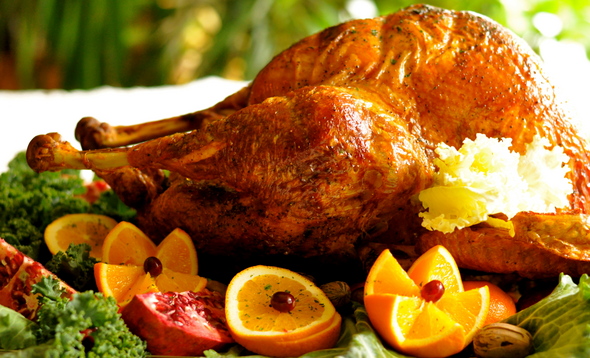 Peggy Lampman | Contributor

Thanksgiving
gets complicated when you have a large family, and all of our kids are in college or starting their own families. That's why I host our Thanksgiving the weekend prior to Thanksgiving, to maximize attendance; then we have a small celebration on Thanksgiving Day proper.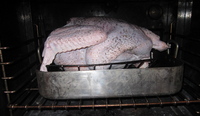 A favorite Thanksgiving tradition in our home is purchasing a
turkey
from a local farm. A couple of years ago, I visited the
Schmucker's Amish farm
in Homer, Mich. I enjoy the fact I've met the owners — as well as the turkeys — and appreciate the attention they give to the natural order of farming. (See
original post
for more details regarding their farming practices and another recipe.) I, therefore, ordered a 20-pounder a couple of weeks back from
Arbor Farms
.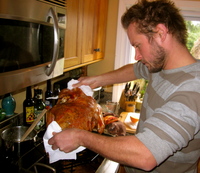 Unlike my
favorite gravy recipe
, I hold no allegiance to one particular roast turkey; I browse the latest cooking magazines to decide which recipe strikes my fancy on a given year. This year a
Bon Appetit recipe for Roast Turkey with Lemon-Sage Butter
quoted their test kitchen saying it was "one of their favorites." It looked easy, so I gave it a whirl.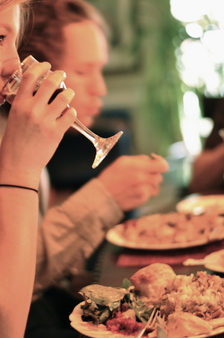 I prefer savoring the flavor and texture of the bird with minimal intervention, maybe a dry brine, but these days that's as far as I'll go. You can spend hours, days even, getting a bird prepped for roasting, grilling or deep-frying. But if you overcook it, undercook it, or burn it before it's cooked through, all that work is wasted.
If I could give three mandatory ingredients for roast turkey they would be a thermometer, kosher salt and pepper. Maybe rosemary, but that's it.
This was an excellent recipe for roast turkey, and the recipe you will find below is exactly what you will find on the Bon Appetit website, for the more common 12-14 pound bird. It really is a good recipe. Unlike the recipe below, however, my bird was almost 20 pounds; I increased the ingredients used, as well as the cooking time, accordingly.
Just a note about that picture I took of the bird. Ever wonder why your bird doesn't look as pretty as those holiday turkey glam shots? When a bird is cooked properly, it's a bit shriveled after 30 minutes out of the oven. In the distant past, I remember taking pictures of holiday turkeys for brochures.
We'd cook them until half-way done, then "paint" the flesh a lovely gold-mahogany finish. Half cooked, the bird remains plump. Well, the bird you see in this picture, is the real deal. A bit shriveled — but it's ready for carving (and eating). Turkey verity.
Of note: My bird was browned to perfection before the flesh was cooked (thank you for advising, instant-read thermometer), so I draped it in foil the last 40 minutes of cooking time. There was a slight hint of lemon and sage flavor which was lovely with the texture of the fresh bird. My bird also temped 175Ëš; the bird was not overcooked.
Yield: 10-12 servings
Rest Time: 24 hours refrigerated
Active Time: 45 minutes
Roast Time: apx. 3 1/2 hours (use your instant-read thermometer)
Ingredients
1/2 cup (1 stick) unsalted butter, room temperature, plus 1/4 cup (1/2 stick), melted, for basting
1/4 cup finely chopped fresh sage
2 teaspoons freshly grated lemon zest
1 teaspoon paprika
1 12-14 pound turkey, patted dry
Kosher salt and freshly ground black pepper
2 lemons, quartered
Directions
1. Set a rack inside a large heavy roasting pan. Mash 1/2 cup butter, sage, lemon zest, and paprika in a bowl to combine.
2. Starting at neck end of turkey, loosen the skin of the breast by gently sliding your fingers underneath. Work half of lemon-sage butter under skin. Loosen skin around legs and thighs; work remaining lemon-sage butter under skin. Season turkey inside and out with salt and pepper and stuff with lemons. Transfer turkey, breast side down, to prepared pan and refrigerate, uncovered, overnight.
3. Let turkey stand at room temperature for 1 hour. Preheat oven to 375 degrees. Pour hot water into pan to a depth of 1/4-inch. Roast turkey, basting occasionally with remaining 1/4 cup butter, for 1 hour. Using paper towels, flip turkey; roast, basting occasionally, until an instant-read thermometer inserted into the thickest part of the thigh registers 165°, 1-1 1/2 hours longer. Transfer to a platter. Let rest for at least 20 minutes before carving.

My new web site (packed with holiday recipes) is up (www.dinnerFeed.com)! I'm a real-time food writer and photographer posting daily feeds on my website and in the Food & Drink section of Annarbor.com. You may also e-mail me at peggy@dinnerfeed.com.