Posted on
Mon, May 16, 2011 : 7:39 a.m.
Roasted Broccoli and Farro Salad with Feta
By Peggy Lampman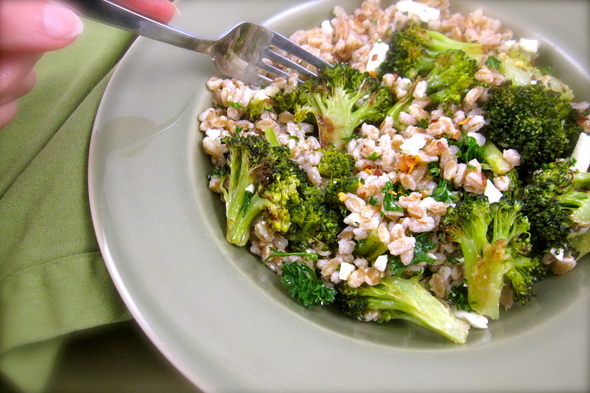 Peggy Lampman | Contributor

Peggy Lampman's Monday dinnerFeed
I recently purchased a Fine Cooking Magazine — "Cookfresh 2011" — that has some enticing takes on vegetables and grains. In fact, for the kinds of dishes I'm craving this spring, it's has more tempting recipes than most magazines I've purchased of late.
Today's yummy surprise was the recipe I followed using farro and roasted broccoli. I've roasted asparagus, cauliflower, eggplant, squash and brusells sprouts but, surprisingly, never broccoli.
I've been missing out. The essense of broccoli flavor emerges and is marvelous with the earthiness and chew of farro. I'm sure any of the above mentioned veggies could be substituted for broccoli, if desired.
The following recipe was adapted from Fine Cooking CookFresh 2011 magazine.
Yield: 3-4 main course servings
Time: 35 minutes
Ingredients
2/3 cup dry farro
4 cups (bite-sized) broccoli florets
4 tablespoons extra virgin olive oil, divided
1-2 tablespoons red wine vinegar
1/2 cup crumbled feta
2 scallions, thinly sliced
3 tablespoons chopped parsley
Directions
1. Position a rack in the center of the oven and heat to 400 degrees.
2. Cook farro, according to package instructions, in boiling salted water until tender, 20-30 minutes. Meanwhile toss florets with 2 tablespoons of the oil and spread in a single layer on a foil-lined baking sheet. Roast in oven 15-20 minutes or until browned in spots.
3. Whisk together remaining tablespoon olive oil and 1 tablespoon vinegar. Toss with feta, scallions, parsley, cooked farro and roasted broccoli. Season to taste with kosher salt and freshly ground pepper.
Looking for a specific recipe? Click here for dinnerFeed's recipe search engine; type the recipe or ingredient into the search box. I am a real-time food writer and photographer posting daily feeds on my website and in the Food & Drink section of Annarbor.com. You may also e-mail me at peggy@dinnerfeed.com.