Posted on
Thu, Sep 27, 2012 : 10:51 a.m.
Roasted cauliflower with red chile, cilantro and lime
By Jessica Webster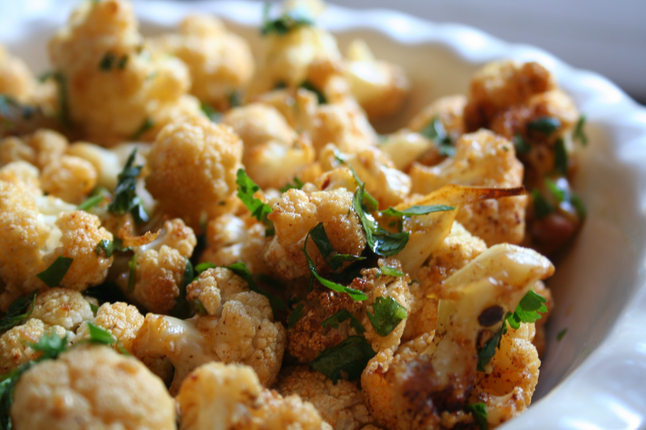 Jessica Webster | AnnArbor.com
Earlier this year, Pinterest was the fastest-growing social networking site on the internet. Not wanting to be a late-adapter, I jumped right in, only to be confused about what exactly the point was. Until, that is, I realized that it was an excellent place to find
recipes
.
Pinterest is kind of like a bulletin board, where you pin photos of things that interest you, either to remind you later or to share with your network of friends. Some friends post photos of clothes they want, or kitchens they're dreaming of replicating. But the friends I really love following are always posting drool-worthy photos of food.
My friend and former Borders coworker Kelly Fuligni has exquisite taste in food, and she's always pinning food photos and recipes that haunt me for weeks. I've filed away the ridiculously good-looking lasagna soup recipe she posted last week for later, but couldn't resist this red chile and cilantro roasted cauliflower dish.
After all, it's cauliflower season. I grew up avoiding this cruciferous veggie, but once I discovered how delicious it is when you roast it, I can't stay away. I've been eating it all summer at the Beet Box at Mark's Carts (served with a minty Greek yogurt sauce and topped with dried cherries — you have to try it!), and now that fall temperatures are upon us, I'm ready to spark up the oven and start roasting at home.
Prepared according to the recipe, this has a very mild bite (we thought it was tame, but my 10-year-old said it was spicy). Next time I make it for just grown-ups, I will up the crushed red pepper flakes to a full teaspoon.
This low-calorie, zero-cholesterol, vitamin C-rich side dish goes well with a simple roasted chicken. I'm also toying with the idea of tossing it with some spaghetti squash for a perfect fall meal.
Roasted Cauliflower with Red Chile, Cilantro & Lime adapted from REMCooks.com
Ingredients
1 large head cauliflower
3 cloves garlic, minced
1 tablespoon Red New Mexico Chile Powder or ancho chile powder
1/2 teaspoon crushed red pepper flakes
1/2 teaspoon cumin
3 tablespoons olive oil
1/4 cup cilantro leaves, chopped
1 lime, juiced
Salt to taste
Instructions
Preheat oven to 325 degrees. Separate the florets from the cauliflower. Put them in a bowl with the garlic, chile powder, red chile flakes, cumin, salt & olive oil and toss gently to mix together and coat well.
Spread the seasoned cauliflower in a shallow roasting pan.
Roast 1 to 1-1/2 hours or until tender, stirring occasionally.
When done, remove from oven.
Dress with lime juice.
Toss with chopped cilantro leaves.
Serves 4-6 as a side dish.
Jessica Webster leads the Food & Grocery section for AnnArbor.com. You can reach her at JessicaWebster@AnnArbor.com or follow her on Twitter.