Posted on
Fri, Sep 14, 2012 : 4:46 a.m.
Roasted Corn & Barley Salad is easily-adapted recipe
By Peggy Lampman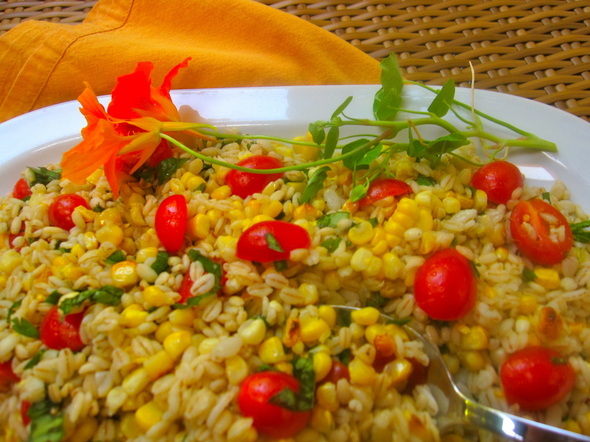 Peggy Lampman | Contributor

My dinnerFeed web site is a lean,
mean fighting machine!
To receive my lastest dinnerFeed posts
by email, sign up here.
This is a great, nutritious salad for when grocery bins and outdoor vendor tables are heaving under the weight of corn, and the following recipe is adaptable to your mood and pantry. The chewy texture and earthy flavor of barley is marvelous paired with sweet, milky corn, so those ingredients never vary.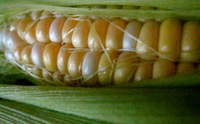 Other than the corn and barley, feel free to mess around. For example, give the salad a Southwest flair by substituting cilantro for the basil and lime for the lemon. I would also add a pinch of cumin, chopped jalapeno and a tablespoon of sour cream to the dressing.
Time: 40 minutes
Yield: 4-6 servings
Ingredients
1 1/2 cups pearl barley
5 ears husked corn
2 tablespoons extra virgin olive oil plus extra for roasting corn
1 tablespoon plus one teaspoon freshly squeezed lemon juice
1 teaspoon minced garlic
1 cup cherry tomatoes, halved
1/4 cup chopped fresh basil
Instructions
1. Preheat oven to 400 degrees.
2. Cook barley in salted water until tender, according to package instructions.
Rub corn with oil and roast on baking sheet until nicely flecked with roasted brown kernels, about 30-35 minutes. Remove from oven and cool.
3. Whisk together 2 tablespoons oil, lemon juice and garlic. Combine roasted corn, barley, tomatoes and basil with vinaigrette. Season to taste with kosher salt and freshly ground pepper.

Peggy Lampman is a real-time food writer and photographer posting daily feeds on her website and in the Food & Grocery section of Annarbor.com. You may also e-mail her at peggy@dinnerfeed.com.