Posted on
Thu, Nov 3, 2011 : 11:20 a.m.
Roasted fall vegetable soup takes advantage of great seasonal produce
By Jessica Webster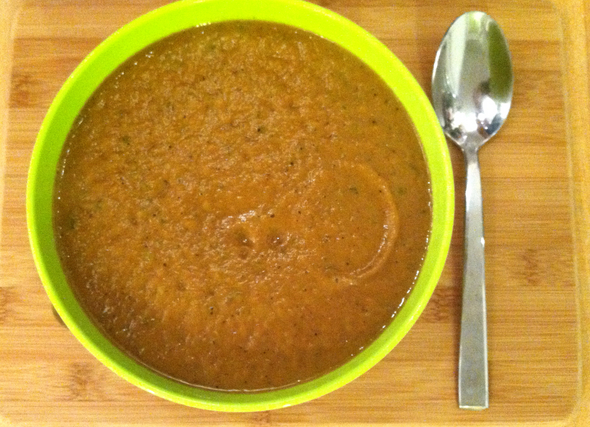 Jessica Webster | AnnArbor.com
After several years of planning to — but never remembering to — we finally signed up for a
CSA*
. Ours is a special fall
farm share
from
Tantre Farm
, and every week a magical box filled with amazing fall vegetables sits in my kitchen, waiting for us to turn it into a spectacular meal.
I'm not sure why I feel a stronger sense of responsibility toward the produce that arrives in my CSA box than I do about the vegetables I pick out at the grocery store, but I do. As I look at the picture-perfect turnips with their authentic smudge of fresh-from-the-earth dirt, I am filled with anxiety. Will I do this stuff justice?
The first night of the first CSA box, I made a cauliflower, garlic and spinach gratin with the cream I had left over from my creamed onion gratin. The second night, though, it seemed important to let the flavors of the vegetables speak for themselves. Roasting them seemed like the way to go.
This roasted fall vegetable soup can be made with any combination of squash, peppers, and root vegetables. I've made it several times now, sometimes with hot peppers, sometimes with coconut milk, and always with a whole head of garlic. I love the smoky sweetness that you get when the squash roasts and caramelizes, and the onion and peppers can give it a subtle bite.
Roasted fall vegetable soup
1 head of garlic, peeled
3 medium sweet potatoes, cubed
1 red onion, quartered
3 turnips, cubed
1 acorn squash, cubed
3 carrots chopped in roughly 1-inch chunks
2 poblano peppers, sliced in half and stemmed and seeded
2 tablespoons olive oil
salt and pepper to taste
3-4 cups of chicken or vegetable stock, or a combination of stock and coconut milk
2 teaspoons lemon juice

Preheat oven to 400 degrees.
Toss all the vegetables with the olive oil and spread them out on a rimmed cookie sheet. Use two if needed — you want all the vegetables in a single layer.
Sprinkle with salt and pepper and roast the vegetables for approximately one hour, tossing every 15 minutes, until they are browned and tender. Remove vegetables from the cookie sheets and set aside as they start to brown.
When all the vegetables are cooked through, spoon them into a blender and add the stock, lemon juice and optional coconut milk and blend until smooth. If soup is too thick for your liking, slowly add more stock or coconut milk.
Pour the blended soup into a large saucepan and cook on medium heat until hot. Add salt and pepper to taste, if needed, and serve immediately.
Jessica Webster leads the Food & Grocery section for AnnArbor.com. You can reach her at JessicaWebster@AnnArbor.com.
* What is a CSA? CSA stands for Community Supported Agriculture, and is also referred to as a farm share. Here's how our contributor Kim Bayer explains it:
"In case you haven't heard of it before, Community Supported Agriculture or a CSA farm share is generally a weekly box of vegetables in season (usually May-October) from a local farm, for which you pay in advance. At a practical level, you're giving a farmer a vote of confidence and some security with startup capital. In return, you get a discount on your produce. Together you share the risks and rewards of the season. "