Posted on
Mon, Jan 16, 2012 : 8 a.m.
Roasted fennel and mushrooms is a tempting dish that can serve as a side dish or light lunch
By Mary Bilyeu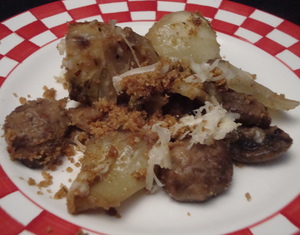 Mary Bilyeu | Contributor
I adore fennel, but don't know many others who do — all the more for me, I guess, but I really think it's unfortunate that more people aren't fans of this fabulous vegetable.
It has a fragrance and taste similar to anise, which is similar to black licorice. It's crisp and crunchy when raw, and perfect in a slaw with cabbage. It bakes and braises beautifully, becoming tender and fragrant.
I haven't eaten fennel in ages, so a craving was starting to creep in. I thought I'd roast it, and then — on a whim — I decided to toss some mushrooms in as well, roasting them right along with the fennel and letting their juices combine with the oil and wine I'd use for a bit of added flavor.
This dish turned out so beautifully, even better than I'd hoped for! The house smelled so wonderful as it cooked, tempting me as I waited impatiently.
As a side dish, the fennel and mushrooms could accompany steak, chicken, fish or pork; they could also be served over pasta for an entree. And you could just eat them on their own, for a light lunch. It's a perfect dish that goes anywhere!
Roasted Fennel and Mushrooms
2 fennel bulbs
10 ounces medium-sized white mushrooms
2 tablespoons olive oil
2 tablespoons dry white wine
pinch of kosher salt
pinch of freshly ground black pepper
1/4 teaspoon red pepper flakes
2 tablespoons butter
3/4 teaspoon Mrs. Dash or other all-purpose seasoning
1/4 cup plain dry bread crumbs
1/4 cup shredded Grana Padano cheese (a lovely marketing gift; Parmesan can be substituted)
Preheat oven to 400.
Remove the stems and the outer layer from the fennel bulbs; cut into eighths and place into a 2-quart baking dish.
Remove stems from the mushrooms and cut into halves; add to the fennel.
Combine the oil, wine, salt, pepper, and red pepper flakes; pour over the vegetables and stir to coat.
Bake for 1 hour, stirring once halfway through, until the fennel is tender and starting to caramelize.
In a small skillet, melt the butter; remove from heat. Add seasoning and crumbs; combine well and sprinkle over vegetables. Sprinkle with cheese, and serve immediately.

Makes 4 servings as a side dish.

Mary Bilyeu writes about her adventures in the kitchen - making dinner, celebrating holidays, entering cooking contests ... whatever strikes her fancy. She is also on a mission to find great deals for her Frugal Floozie Friday posts, seeking fabulous food at restaurants on the limited budget of only $5 per person. Feel free to email her with questions or comments or suggestions: yentamary@gmail.com.
You should also visit Mary's blog — Food Floozie — on which she enthuses and effuses over all things food-related.


The phrase "You Should Only Be Happy" (written in Hebrew on the stone pictured in this post) comes from Deuteronomy 16:15 and is a wish for all her readers - when you come to visit here, may you always be happy.