Posted on
Thu, Mar 7, 2013 : 10:40 a.m.
Spruce up your guacamole with roasted garlic and bacon
By Jessica Webster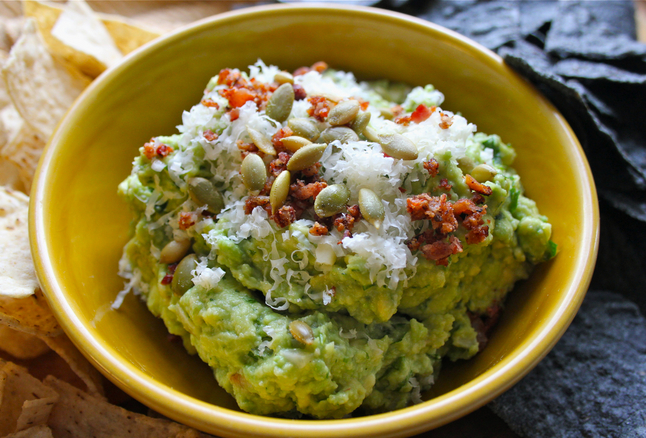 Jessica Webster | AnnArbor.com
We've been living something of a nomadic lifestyle since we embarked on a home renovation in the fall, and as a result I've found myself in my third kitchen in four months. The latest move has us going from a house with a fully-equipped cook's kitchen to an unfurnished condo. Since I put all of my kitchen tools in storage, I've had to really think about what I consider to be essential.
Other than the obvious (a cast-iron skillet, a decent saucepan, a good sauté pan, a couple of sharp knives, can opener, cheese grater and vegetable peeler), I realized that I couldn't live without a potato masher. Not because I mash that many potatoes, but rather it's that I mash that many avocados. I am a guacamole addict.
I could eat guacamole every day, and sometimes I do. It's great with chips, in eggs, or just right out of the bowl with a spoon. My first guacamole recipe came from a college friend, and had minced garlic, roma tomatoes, hot sauce, coriander and a few other extraneous ingredients.
After an avocado epiphany a few years ago, I declared that the only required ingredients in a real guacamole were avocado, salt, cilantro and citrus. Anything else was heresy, plain and simple.
And then I saw Rick Bayless on TV, roasting garlic on a stovetop, in a dry skillet. I was mesmerized. He chatted as he tossed the garlic cloves around the pan, telling viewers that this was such a quick and easy way to roast garlic. No added fat from oils. All you had to do was keep the cloves in their little wrappers and toss 'em around for about 15 minutes. Magic.
Then it really got good. Bayless mashed the roasted garlic into some avocados. Why had I never thought of that?
Other than the roasted garlic, the base of Rick Bayless' guacamole is very similar to mine, with just lime juice, salt and cilantro. But then he takes it all a step further by piling on the umami. Out comes the bacon, pepitas and cheese. Flavor explosion!
In his posted recipe, Rick Bayless suggests serving the toppings I have listed (and a few more) as a luxury guacamole bar. That's a great idea if you're not sure if your guests are vegetarians or if they're fans of pumpkin seeds.
This recipe serves 12, but it's very easily scalable.
Rick Bayless's Roasted Garlic Guacamole
6 garlic cloves, unpeeled
6 medium-large (2 1/2 pounds) ripe avocados
1/2 cup coarsely chopped fresh cilantro (thick bottom stems cut off)
2 tablespoons fresh lime juice, plus a little more if necessary
Salt
3/4 cup (about 3 ounces) Mexican queso fresco or queso anejo or any other favorite cheese (I used a very sharp cheddar) finely crumbled or grated
3/4 cup (about 3 ounces) toasted pumpkin seeds (often labeled "pepitas")
1/2 cup crumbled, crisp-fried bacon (you'll need to start with 2 to 3 medium-thick bacon slices)
1 1/2 to 2 pounds large, sturdy chips or small (2- to 3-inch) tostadas.
1. Make the Roasted Garlic Guacamole. In a small dry skillet over medium heat, roast the unpeeled garlic until it is soft and blackened in spots, 10 to 15 minutes. Cool, then slip off the papery skins and finely chop. Cut around each avocado from stem to blossom end and back up again, then twist the halves apart. Dislodge the pit and scoop the avocado flesh into a large bowl. Add the garlic, cilantro and lime. Coarsely mash everything together. Taste and season with salt, usually about 1 teaspoon. Scoop into a serving bowl and cover with plastic wrap directly on the surface of the guacamole. Refrigerate until you are ready to serve.
2. When you are ready to serve, top the guacamole with the cheese, bacon and toasted pumpkin seeds.
Jessica Webster leads the Food & Grocery section for AnnArbor.com. Reach her at JessicaWebster@annarbor.com. You also can follow her on Twitter or subscribe to AnnArbor.com's email newsletters.