Posted on
Mon, Nov 12, 2012 : 11 a.m.
Thanksgiving Warm-Up Roast Turkey Sandwiches
By Peggy Lampman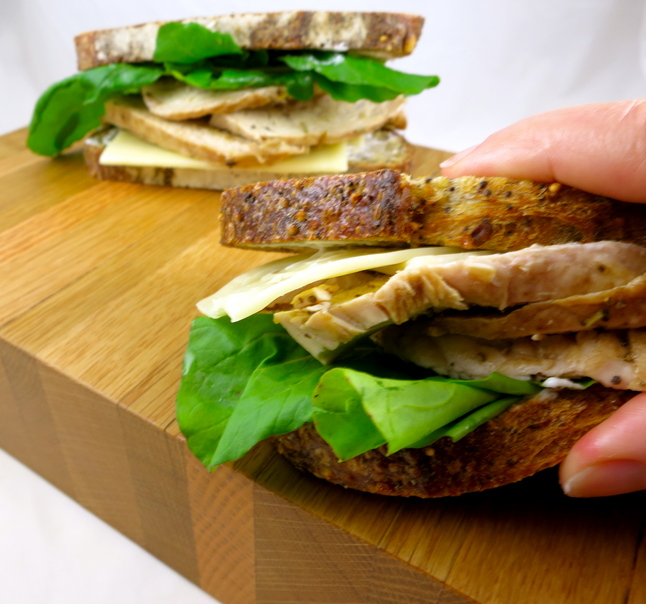 Peggy Lampman | Contributor

The new Holiday Cookbook answers all of your cooking needs. Strapped for time? Check out the well-tested Super-Simple section.
I'm craving roast turkey, particularly roast turkey sandwiches. But not a sandwich made from shrink-wrapped, thinly sliced deli meat with a three-month expiration date, no matter how nitrate-free and organic the packaging suggests. I'm talking toothsome, lip-smacking sandwiches made from a real bird I roasted myself. But I don't want to mess with an entire carcass and steal Thanksgiving's thunder.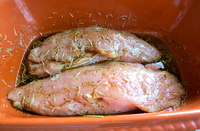 So I thought I'd buy a boneless turkey breast. Shopping at
Whole Foods
, I noticed two fat turkey tenderloins in the full-service counter. I ditched the turkey breast plan, reasoning those tenderloins would make fine turkey sandwiches; perhaps they'd be more tender and juicy than a breast — especially if I roasted them in the clay pot I purchased (and have had such great fun experimenting with!) from
Downtown Home and Garden
last winter. A clay pot, however, is not essential to the recipe; roast in a 400 degree preheated oven with the recipe's dressing until a meat thermometer registers 160 degrees, about 40-50 minutes.
I had Whole Foods slice a fresh-baked loaf of heavily seeded bread (I prefer challah on turkey sandwiches, but fiber and nutrition won out), and purchased a fresh bunch of arugula (the peppery bunched, not boxed version).
Yield: The recipe below made 4 good-sized turkey sandwiches plus extra meat will make a nice supper for two served with the pan juices, mashed potatoes, and broccoli.
Ingredients
1/4 cup olive oil
1 tablespoon balsamic vinegar
2 teaspoons dry rosemary
2 turkey tenderloins (1 1/2-2 pounds total)
Your favorite sandwich bread, fresh baked if possible
Mayonnaise as needed (the more the better)
Honeycup mustard as needed (optional)
Sliced cheese, optional
Arugula
Directions
1. If using a clay pot, soak* in water 15 minutes.
2. Whisk together oil, vinegar and rosemary. Roll tenderloins in dressing then season with kosher salt and freshly ground pepper.
3. Place tenderloins and dressing in the bottom of pot. Cover with lid and place on middle rack of a cold oven. Close oven door and turn heat to 450 degrees. Roast for 40 minutes. (Do NOT crack oven to peep during the cooking time.)
4. When tenderloins are cooked, remove from pot and let sit at room temperature before slicing. (At this point you could serve them with mashed potatoes and their pan drippings, if desired.) If making sandwiches, chill, with a bit of pan juices, then construct sandwiches with the bread, mayonnaise, Honeycup mustard (if using), and arugula.
*The clay pot I purchased has a glazed base and an unglazed top; therefore, I only soak the top.
Peggy Lampman is a real-time food writer and photographer posting daily feeds on her website and in the Food & Grocery section of Annarbor.com. You may also e-mail her at peggy@dinnerfeed.com.