Posted on
Tue, Apr 6, 2010 : 6:30 a.m.
Sacré Bleu! A Cheese Soufflé
By Mary Bilyeu

One of Jeremy's favorite foods has always been a spinach-cheese soufflé; but we haven't eaten it in ages, after I gracelessly managed to drop my special dish and watch it shatter on the kitchen floor. And while I could have improvised by using a standard baking dish and
wrapping it with a band of foil
to heighten the sides and give the batter something to cling to as it rose, that's just not the same. If you're going to make something rich and sophisticated, do it right.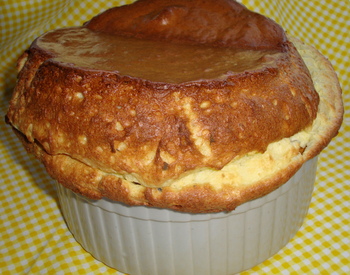 Mary Bilyeu, Contributor

So each time I've done what I affectionately call "The Thrift Shop Tour" (Value World, the PTO Thrift Shop, The Re-Use Center, The Salvation Army), I've been on a mission to find a soufflé dish. And you know what? They're not very common!
But two weeks ago, I found one - can it be? Is it really true? - an honest-to-goodness soufflé dish at the PTO shop. Standard size, about 8 inches across; tall, straight sides - the better for egg whites to rise and climb, my dear. I even found two 4-inch ramekins, too, for baby soufflés or dips or jelly beans or whatever else I wanted to put in them. Oh, yay!
So, of course, it was only a matter of days until I made a soufflé with my new prize. And since I made one during Passover, I thought I might as well make the accommodations and do without leavened products, even though I - secular creature that I am - don't consider myself bound by the rules.
So I greased the dish as I normally would, but I dusted it with matzah meal (ground matzahs) instead of with finely grated breadcrumbs. I used potato starch as a thickener instead of flour. And that's it - an easy and delicious dinner for a time in which cereal, bread, corn and many other daily standbys are off-limits. It acknowledges the traditions but without being one more instance of incorporating cheese melted onto a matzah, which has sadly become a regular part of many people's Passover meals.
Soufflés have an undeserved reputation for difficulty, and I suppose I'm a bit foolish to undermine that notion when I could just collect accolades and praise for my culinary skill. But c'mon - if you can beat eggs, whether with a whisk or an electric beater or a Kitchenaid stand mixer, you can make a soufflé. Melt butter, stir in a thickener, add milk and egg yolks to make a sauce; beat the whites, mix it all together, pour it into the dish and let the oven do the work of cooking it. Et voilà ! As the beloved Julia Child would say, "Bon appétit!"
Blue Cheese Soufflé
butter, for greasing dish
1/2 tablespoon matzah meal
3 tablespoons butter
4 tablespoons potato starch
2 cups milk
6 eggs, separated
8 ounces crumbled blue cheese
1 teaspoon kosher salt
pinch of black pepper
Preheat the oven to 375 degrees. Grease a soufflé dish and coat it with the matzah meal, shaking out the excess.
In a medium saucepan over medium heat, melt the 3 tablespoons of butter; whisk in the potato starch and cook for 1 minute while stirring constantly. Very slowly, pour in the milk while continuing to whisk the mixture; then whisk in the egg yolks one by one. Stir in the cheese, the salt and the pepper, then remove from heat.
In a large bowl, beat the egg whites until stiff peaks form. Gently stir the cheese sauce into the egg whites, then pour the batter into the prepared dish. Bake for 35 minutes without peeking.
Gather an audience to watch as you open the oven door to bring out your masterpiece, and smile proudly as you bask in the applause.
Serves 4-6.
Mary Bilyeu has won or placed in more than 60 cooking contests and writes about her adventures as she tries to win prizes, feeds hungry teenagers and other loved ones and generally just has fun in the kitchen. The phrase "You Should Only Be Happy" (written in Hebrew on the stone pictured next to the blog's title) comes from Deuteronomy 16:15 and is a wish for all her readers as they cook along with her ... may you always be happy here! You can contact Mary at yentamary@gmail.com or follow her on Twitter (twitter.com/foodfloozie). And look for her new food blog: foodfloozie.blogspot.com.