Peggy Lampman's Thursday dinnerFEED
Recipe:

Salmon Steaks with Chipotle-Honey Glaze and Grilled Pineapple Salsa a perfect fit for Father's Day

Posted on Thu, Jun 16, 2011 : 9:30 a.m.
Peggy Lampman | Contributor

Peggy Lampman's Thursday dinnerFeed
In three short days — Father's Day — dads across America will be lassoed with ties and wallpapered with Hallmark, as retailers restock shelves vacated by tool sets and grilling kits. All fine gifts, to be sure, but I'll bet you a "World's Best Dad" coffee mug that what Dad wants most is to spend a relaxing day with you.
Why not take him fishing? That's a leisurely sport providing great opportunity for chummy banter. Plus, if the fish are biting, you don't have to worry about what to cook for dinner.
Tackle box missing? Or does the thought of baiting a hook with a wiggling worm send tremors up your spine?
Consider purchasing fresh fish and grilling it. Not only is grilled fish delicious, you can tell Dad you're making it because you love his precious heart and want to nurture it. According to the Mayo Clinic website, "The omega-3 fatty acids in fish are good for your heart. ... For many years, the American Heart Association has recommended that people eat fish rich in omega-3 fatty acids at least twice a week."
Problem solved.
Not quite. What kind of fish, you ask, should I buy? Could Dad's hobbies and disposition influence the species of fish he'd prefer? An interesting hypothesis that requires testing.
I went to local Kingfish-Dad, owner of Kerrytown's Monahan's Seafood, Mike Monahan. I inquired as to what species of fish for the grill reflected his personality.
"Me?" Mike says. "I'm a bluefish. Strong, assertive, full of gusto but with very good taste."
He elaborated on other types of men-fish.
"Whole grilled flounder are tender, sensitive and delicate," he says. Hmm. A great meal for an aesthetic dad; a dad with the poetry of Dudley Randall and T.S. Eliot on his bedside table.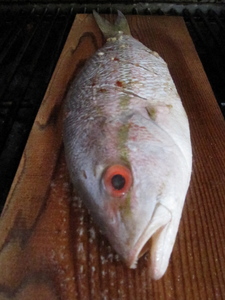 Peggy Lampman | Contributor
Whole grilled snapper are sweet and a bit nutty — a fish for a dad who's a lovable goofball.
Or maybe your dad's constantly multitasking — fiddling, for example, with his smartphone while coaching a Little League baseball team; a dad that never slows down.
Consider purchasing tuna steaks for the grill. According to Saveur.com, "If a tuna stops swimming, it suffocates. Its flesh's red color and beefy flavor come from the oxygen-storing pigment myoglobin, which sustains the fish's powerful muscles through a lifetime of nonstop motion."
My husband, Richard, is a Salmon Man. Concerned with heart fitness, he's a runner with the speed of a migrating fish in mating season, dorsal fins skimming the streams towards spawning grounds.
He loves the robust rich and oily characteristics of salmon, chock-full of those aforementioned omega-3s. The fatty flesh on salmon sears beautifully — like a well-marbled piece of beef — on the grill, and its assertive flavors stand up to the sweet and tangy flavors of pineapple and the smoky heat of chipotle peppers.

Peggy Lampman | Contributor
Don't let the ingredient lists in the two recipes put you off; many are the same. As well, make the salsa, except for the grilled pineapple and red pepper, in advance. Grill the pineapple and pepper at the same time you grill the fish. Tent the fish with foil to retain its heat as you finish the salsa. (Note the salmon is delicious without the salsa, as well.)
Richard's idea of a great vacation would be spent relaxing with family on a sunny Yucatan shore, followed by a meal redolent with Mexican flavors. The following recipe is dedicated to him, and will be served in a "World's Best Dad" mug filled with a local brew.
Whatever fish your father may be, an enthusiastic "Happy Father's Day" from me!
Salmon Steaks with Chipotle-Honey Glaze and Grilled Pineapple Salsa
Yield: 4 servings
Marinating time: 15 minutes
Active time: 50 minutes
Ingredients for salmon
1/3 cup honey
1/4 cup fresh chopped cilantro, plus extra sprigs for garnish
1/4 cup soy sauce
1 1/2 tablespoons minced fresh or crystallized ginger
1 tablespoon minced (canned) chipotle chiles*
4 salmon steaks
*I prefer using the inexpensive canned chipotles in adobo sauce located in the Hispanic section of most area groceries.
Ingredients for salsa
4 (3/4-inch thick) slices fresh pineapple
1 red bell pepper
Light oil or cooking oil spray
1/4 cup finely chopped red onion
1/4 cup chopped fresh cilantro
1 1/2 tablespoons fresh lime juice
1 tablespoon honey
1 1/2 teaspoons minced crystallized or fresh ginger
1-2 teaspoons canned chipotle chile in adobo sauce, minced
Directions for salmon
1. Clean and oil grill grates. Prepare a gas or charcoal grill to medium-high heat.
2. Combine honey, cilantro, soy sauce, ginger and chipotles, adjust seasonings to taste.
3. Brush both sides of salmon steaks with honey mixture. Let salmon sit at room temperature 15 minutes, turning once, to absorb marinade flavors. Grill salmon until opaque in center, about 4 to 5 minutes on each side, basting once with remaining glaze. Serve topped with Grilled Pineapple Salsa.
Directions for salsa
1. On well-oiled grates, preheat grill to medium-high heat. Grill pineapples until grill-marked on both sides. Grill peppers until just blackened, then place in a plastic or paper bag to steam.
2. When peppers are cool enough to handle, remove blackened skin with your fingers. With a knife, remove stem end, membranes and seeds. (If you rinse the pepper, you rinse away flavor.)
3. Chop pineapple and peppers into a large dice, and combine with onion, cilantro, lime juice, sugar, ginger, 2 tablespoons jalapeno and 1 teaspoon chipotle peppers. Season with kosher salt to taste and additional jalapeno and chipotle peppers, as desired.


Looking for a specific recipe? Click here for dinnerFeed's recipe search engine; type the recipe or ingredient into the search box. I am a real-time food writer and photographer posting daily feeds on my website and in the Food & Drink section of Annarbor.com. You may also e-mail me at peggy@dinnerfeed.com.