Posted on
Thu, May 12, 2011 : 5:50 a.m.
Satchel's BBQ a welcome addition to area's barbecue options
By Susan Isaacs Nisbett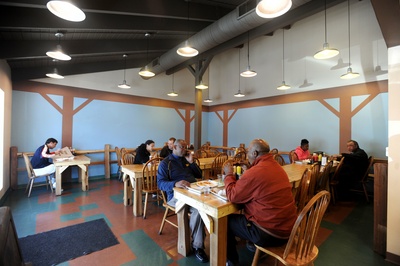 Angela J. Cesere | AnnArbor.com
Sure, there's a sign outside that points the way to Satchel's BBQ; its flames leap up, yellow-orange on black, to say you've reached your destination. But it's your nose, taking an olfactory cue from the wood-smoker fired up out front, that really leads you to Satchel's, tucked away behind a Verizon store just west of Whole Foods on Washtenaw Avenue.
Open since early mid-February, Satchel's is the smoky love child of Hugh Morgan, a Michigander via Alabama who took up mitt and cleaver to fill a near-void in the city's culinary scene with honest-to-goodness Southern barbecue. It's a casual, pine-table sort of place, spare but comfortable and not un-handsome, with seating for about 30 and a counter at which to place orders to go or to stay.
Its menu sticks to a simple list of meats — pulled pork and chicken, brisket and ribs — served up with house-made Southern fixings like greens and cornbread, baked beans and mac 'n' cheese.
Who needs more (except for napkins) when it's good, which most of the offerings at Satchel's are? There's even sweet tea to wash down the spice, and though it's served in a plastic cup and not a Mason jar, it still makes your mouth smile.
RESTAURANT REVIEW
Satchel's BBQ
3035 Washtenaw Ave.
734-971-5100
Satchel's BBQ in AnnArbor.com restaurant guide

Hours: Monday-Saturday, 11 a.m.-9 p.m.; Sunday, noon-8 p.m.
Plastic: Yes.
Liquor: No.
Prices: Modest: Sandwiches, $6-$7; Plates (pulled pork, chicken or brisket; or combo of two, plus two sides and a drink), $10-$11; Ribs, $12 for a ½-slab ($15 for a plate); $20 for a full slab ($23 for a plate). Individual sides, $1.50 each, or up to two for $1 each when accompanying a sandwich.
Value: Excellent.
Noise level: Totally possible to hold a conversation between bites of brisket.
Wheelchair access: Yes.
I've made two trips now to Satchel's — named, incidentally, for the owner's dog — and it's been neat to watch it evolve, all for the better.
On trip one, for example, sandwiches were served on "Texas Toast," which also accompanied the plates — one or two meats, plus two sides and a drink. The thick slabs of butter-yellow bread looked great, but they were dry and tasteless (and not grilled or toasted).
Second time around, they were nowhere in evidence, replaced by really good shiny-glazed rolls, tasty and just dense enough to absorb some of the barbecue sauces — I counted four, ranging from Carolina vinegar to thicker slatherings of varying heat and sweetness — without becoming total mush.
On our first visit, it was the ribs and the sides that got our favorable attention. The ribs, coated with a dry rub, were lean and flavorful; the texture of the meat was firm-tender — perfect in my book — with a good smoke flavor.
The greens were sweet, a little smoky with bacon and not too salty — the pot-likker was divine. The mac 'n' cheese was gooey-good, the fine-minced cole slaw tangy without being biting. We liked the baked beans, but the sauce had cooked down so much the beans were pretty much glued together.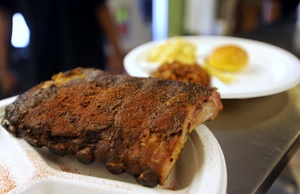 Angela J. Cesere | AnnArbor.com
The beans had come unstuck by our second visit, and the brisket, which we had enjoyed only moderately on our first go-round, was on the ascent. It had that telltale pink smoke ring and great flavor, and it was trimmed well. The flaw? It was not as tender as it should have been: Brisket, unlike ribs, should sort of melt, yielding easily to tooth and fork.
No such problem with the pulled pork, but it definitely wanted one of the barbecue sauces proferred to perk up its flavor.
Surprisingly, the pulled chicken, often a bland sop for those who eschew red meat, had it all. Piled generously on a sandwich roll, it was moist and very smoky; little bits of wood-bronzed skin in the mix of white and dark meat just added to the complexity of flavors and textures. I had a ball experimenting with different barbecues sauces to complement it.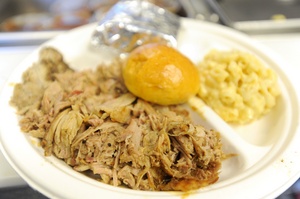 Angela J. Cesere | AnnArbor.com
I was hoping for great things from the cornbread, which Satchel's had sold out of on my first trip, but on my second trip, when I opened the warm foil packet containing a square of it, I found it dense and tough.
I had far better luck with dessert: a brownie, dense (as it should be) and moist, big enough to share. It provided the perfect down-home finish to my barbecue meal.
If you eat in at Satchel's, you'll find that your order comes up quickly once you've placed it at the counter. (They'll call your name to come and get it.) I was also happy to see how carefully they packed a to-go order: foil around the meat — tight enough to keep it warm but not so tight it steamed; roll placed out of harm's way; sides and sauces in little plastic containers to keep them discrete.
It's that kind of stuff, and the improvements they've made in a short time, that let you know someone really cares here.
And there's good news for those who visited in the early days, when business was so brisk Satchel's ran out of some meats: A second smoker to perfume the air with wood smoke, ensuring no one will have to go hungry for chicken, ribs, pork or brisket.
Susan Isaacs Nisbett writes about music and food for AnnArbor.com.