Posted on
Tue, Jan 22, 2013 : 8 a.m.
Rat Fest: Corner's beer event promises to be bigger and better than ever
By David Bardallis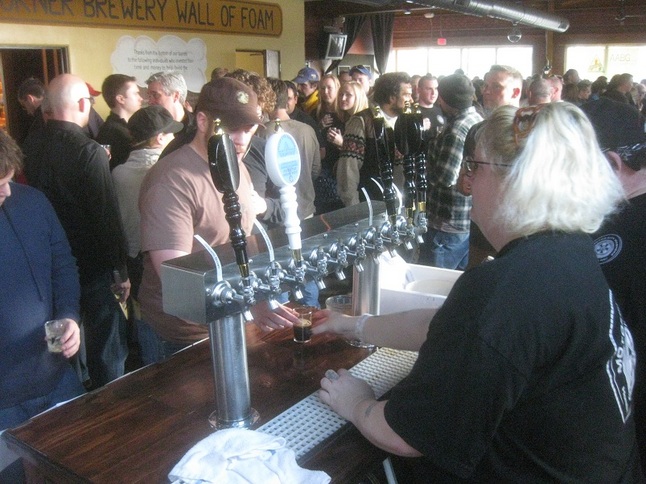 David Bardallis
If you brew it, they will come. That's the idea behind the annual
Rat Fest
at the
Corner Brewery
in Ypsilanti, the fourth edition of which takes place this Saturday, Jan. 26, from 2-5 p.m. The festival, named after the Corner's 10-gallon "Rat Pad" system that all of the featured beers were brewed on, brings together nine area homebrewing groups to showcase three dozen creative ales.
Rat Fest has grown wildly every year of its brief existence and continues to evolve. Last year's event, confined to the lounge area of the brewery, was too crowded, so this year the Corner is closing to the public and throwing open the outdoor beer garden for more space. Not to worry — there will be heated tents to keep festgoers and brewers warm.
Each group brewed four beers, including one using a common grain and yeast recipe but with any hops or additional ingredients chosen by the club. As in past years, prizes will be awarded for Best Group of Beers, Best Group Theme, and Best Overall Beer. Two new categories this year include Most Interesting Execution of Predetermined Recipe (try saying that after three hours of drinking) and Most Unique Beer. Also new this year: Festgoers can download an official iPhone app (iTunes search: Rat Fest) with which they can cast their votes. A web-based app for non-iPhoners will also be available for the same purpose.
Now for the nitty gritty. This year's brewing groups include the Ann Arbor Brewers Guild (AABG) Hopheads, AABG Yeasters, Craft Beer in Michigan, Brighton Brew Club, Detroit Draft Divas, Motor City Mashers, Muskrat Mashers, The Sons of Liberty, and The Ugly Mug. And the beers (drum roll, please) are as follows:
Blueberry Pancake Barleywine
Chocolate Raspberry Stout
Lemonheads IPA
Domo's Best Brown Ale
Belgian Dark Strong Ale
Rye Saison
Belgian Ginger Wit
Pea Biryani
Bombs Away Stout
Imperial Lemoncello Weizen
Jack Goes to Scotland
Jaeger Blonde Ale
Brew Like A Homebrewer Belgian Strong
Rat Fest Recipe
Cinnamon IPA
Kentucky Julep Cream Ale
Chipotle Chocolate Stout
Divalicious Biscotti Stout
Juniperus Zizania
Rat Fest Recipe Fig Cream Ale
Salty Dog Grapefruit Gose
Peanut Butter Cup Stout
Winter Spice Ale
Toasted Coconut Porter
M.M. Brown Ale
Chocolate Rye Porter
Rat Fest IPA
Cayenne Cherry Rye
Almond Joy Porter
Twice Baked Potato DIPA
Gingered Wit
Chocolate Vanilla Chai Tea
Now that we've got that out of the way, here are the other key details you need to be aware of: Tickets are $30 in advance and $35 at the door, if available (which they likely will not be, as this event always sells out). The cost includes unlimited beer samples, appetizers, and a commemorative tasting glass. Call 734-480-2739 or buy in person at the Corner Brewery.
That's it. You know what to do. See you on Saturday.
David Bardallis is a freelance writer and editor, blogger, bon vivant, and man about town. Visit "All the Brews Fit to Pint" at AnnArborBeer.com, follow @allthebrews on Twitter, or join the "All the Brews Fit to Pint" Facebook page. Email your beer-related thoughts to annarborbeer@gmail.com.