Posted on
Tue, Nov 29, 2011 : 10:30 a.m.
Sauteed apples a la mode a quick and fragrant dessert for a chilly evening
By Mary Bilyeu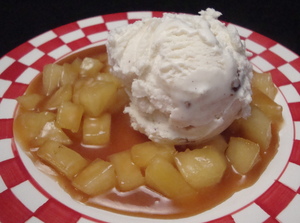 Mary Bilyeu | Contributor
I was in the mood for something apple pie-ish the other night, but didn't want the crust from a pie. I also didn't want to wait for something to bake; I needed immediate gratification.
So I essentially cooked up something reminiscent of a pie filling, and I plopped an incredibly generous scoop of butter pecan ice cream on top of it... because I'm worth it!
In about 10 minutes — less time than it would have taken me to drive to the grocery store to get my fix — I was able to create a warm, fragrant, homemade dessert featuring beautiful fall apples in a rich caramel sauce.
Is there anything better on a chilly evening?
Sauteed Apples a la Mode
2 tablespoons butter
1 tablespoon vanilla extract
2 Honeycrisp apples, cored, peeled, cut into 1/2-inch dice
1/2 cup caramel ice cream sauce
2 scoops butter pecan ice cream
In a medium skillet, melt the butter and the vanilla together over medium heat. Add the apples and stir to coat them with the butter. Cover and cook for 5 minutes, until the apples are just tender. Uncover the skillet and stir in the caramel sauce; cook for 1 minute.
Divide the apples among 2 serving dishes and top with the ice cream. Serve immediately.
Serves 2.
I'll be keeping Office Hours at AnnArbor.com on Thursday, Dec. 1 from 4-5 p.m. Come say "hi!" Give me Frugal Floozie Friday recommendations, tell me what you're serving for whichever upcoming holidays you're celebrating - just stop by, have a cup of coffee, hang out in the Community Space ....

Mary Bilyeu has won or placed in more than 60 cooking contests and writes about her adventures in the kitchen. She was thrilled to have her post about Scottish Oatmeal Shortbread named as one of the daily "Best of the Blogs" by the prestigious Food News Journal.
Go visit Mary's blog — Food Floozie — on which she enthuses and effuses over all things food-related. Her newest feature is Frugal Floozie Friday, seeking fun and food for $5 or less ... really! Feel free to email her with questions or comments or suggestions: yentamary@gmail.com.
The phrase "You Should Only Be Happy" (written in Hebrew on the stone pictured in this post) comes from Deuteronomy 16:15 and is a wish for all her readers as they cook along with her ... may you always be happy here.