Posted on
Fri, May 11, 2012 : 2:49 p.m.
Sauteed Chicken with Radishes in Mustard Tarragon Sauce - recipe gives spring produce a starring role
By Peggy Lampman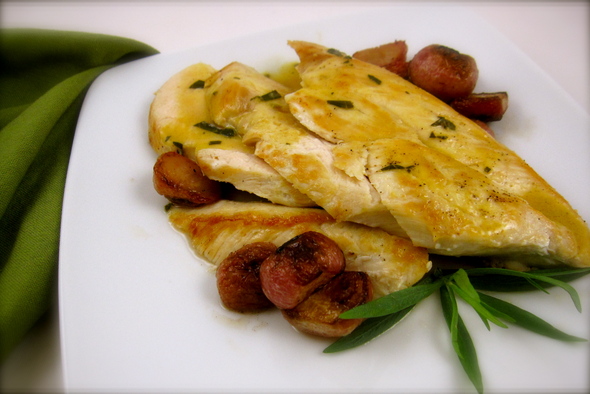 Peggy Lampman | Contributor

mean fighting machine!
The Kerrytown Farmers Market is unwrapping her seasonal gifts. Local asparagus, lettuces, certain mushrooms, spring onions (ramps), radishes and herbs are preludes for the show. Here's a favorite spring dish that's perfect for the early Michigan produce season; a dish that gives the radish the star status she so richly deserves.
Radishes may be found in a variety of sizes, shapes and colors, and their peppery goodness is appreciated with a rinse and sprinkle of coarse salt. Or slice them thinly and layer atop a piece of buttered bread with a thin sliver of anchovy.
At downtown Grange's spring menu (a restaurant celebrating and primarily using local ingredients), roasted radishes are featured as a side dish.
When cooked, radishes lose some of their pepperiness, and their flavor is slightly sweet, with a vague resonance of roasted turnip. The following recipe was adapted from the Bon Appetit, April, 2011 magazine and would delight the most discriminating of palates!
Yield: 4 servings
Time: 45 minutes
Ingredients
4 skinless boneless chicken breast halves
2 1/2 tablespoons butter
2 tablespoons olive oil, divided
2 tablespoons minced shallot
1/4 cup dry white wine
1 cup chicken stock
2 teaspoons Dijon mustard
2 teaspoons chopped fresh tarragon, plus extra sprigs for garnish
20 radishes (such as red globe, pink, purple, and white), green tops trimmed off and halved lengthwise
Instructions
1. Lightly season both sides chicken with kosher salt and freshly ground pepper. Melt 1 tablespoon butter and 1 tablespoon oil in large sauté pan over medium-high heat. Add chicken to pan and cook until browned and cooked through, 5 to 6 minutes per side, depending on thickness. (You may need to reduce the heat if chicken is browning too quickly.) Transfer chicken to plate; cover to keep warm.
2. Add shallot to same skillet and cook 1 minute. Add wine and stock to skillet; bring to boil. Whisk in mustard and chopped tarragon; boil until sauce thickens enough to coat spoon lightly and is reduced to 1/2 cup, 5 to 6 minutes. Stir in 1/2 tablespoon butter; set aside.
3. Meanwhile, melt remaining 1 tablespoon butter with remaining 1 tablespoon oil in another heavy medium saute pan over medium-high heat. Add radishes; cut side down, and sprinkle with kosher salt and freshly ground pepper; cook without stirring until radishes begin to brown, about 4 minutes. With tongs, turn radishes over and continue cooking until crisp-tender, stirring occasionally, 5 to 7 additional minutes.
4. Cut chicken breast halves crosswise into 1/2-inch-thick slices; arrange on platter. Place radishes around chicken. Spoon sauce over chicken and radishes. Garnish with tarragon sprigs and serve.