Posted on
Tue, May 24, 2011 : 5:59 a.m.
I loved, I lost, I cooked sauteed summer peppers
By Mary Bilyeu

I happen to be reading the very well-timed "I Loved, I Lost, I Made Spaghetti" by Giulia Melucci. I'd heard of the book when it was first published, and then happened to just blunder into it at the library last week... the universe offers us what we need at the right time, if we're paying attention.
Given that I've recently ended a relationship, and given that I'm living alone now and cooking all sorts of things I haven't been able to in recent years (due to the dietary and health quirks of many of my loved ones), this seemed like a perfect "sit on the sunny porch after dinner and read" book.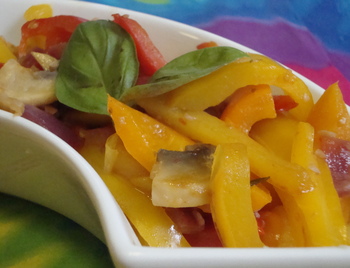 Mary Bilyeu, Contributor
It's filled with tales of hope and heartbreak, as well as stories of faith and foolishness... and lots and lots of recipes. Giulia's parents were both Italian — her father born in Italy, her mother raised by Sicilian immigrants — so her love of food and her talent for creating sublime dishes are both exquisite!
I'm doing quite well and eating heartily, since the time was right (though it's still a sad situation) for my new-found freedom. Here are two quotes from the book that sum things up perfectly:
"But still, cooking was mine. It relaxed me.... It was a way to make sense out of my internal chaos. There is logic and order to cooking. What you put into it has everything to do with what you get out of it. With love, it's not so cut-and-dried."
"Because cooking and eating well are my raison d'etre, I don't stop when there's no one else to feed."
So, even though I was dining alone one recent evening, I thought I'd make one of the comforting recipes featured in this book about lost loves: Sauteed Summer Peppers.
I just happened to have every one of the ingredients on hand and even threw in some mushrooms that I needed to use up; then I served the dish over polenta, rather than with the recommended grilled sausages.
It was hearty, it was delicious... it was absolutely sublime for a sunny spring evening on the front porch with my book...
Sauteed Summer Peppers
Vegetables:
2 tablespoons olive oil
1 clove garlic, minced
1 red onion, ends removed, sliced lengthwise into semicircular chunks
pinch dried oregano
3 bell peppers (1 red, 1 orange, yellow), cored, seeds and pith removed, cut into strips
6 ounces sliced mushrooms
1-1/4 teaspoons salt
2 large tomatoes (or 4 plum tomatoes), seeded and cut into chunks
1/4 cup torn basil leaves
freshly ground pepper
Heat olive oil in large saute pan or Dutch oven over medium heat and saute garlic and onion with the oregano until the onion is soft and translucent, about 3 to 5 minutes. Add peppers, mushrooms and 1 teaspoon salt and cook partially covered, stirring occasionally, for 15 to 20 minutes. Add tomatoes and 1/4 teaspoon salt; continue to cook another 10 to 15 minutes until the peppers are very soft. Test for seasoning and serve with torn basil leaves and freshly ground pepper.
Polenta:
6 cups water
pinch of salt
1 cup cornmeal
freshly grated parmesan, for serving
Bring water and salt to a boil in a small saucepan. Slowly whisk in cornmeal, and cook over medium-low heat for 5 minutes until thickened.
Place polenta into a serving dish and place peppers over it. Top with parmesan.
Serves 4.

Mary Bilyeu has won or placed in more than 60 cooking contests and writes about her adventures in the kitchen. She was thrilled to have her post about Scottish Oatmeal Shortbread named as one of the daily "Best of the Blogs" by the prestigious Food News Journal.
Go visit Mary's blog — Food Floozie — on which she enthuses and effuses over all things food-related. Her newest feature is Frugal Floozie Friday, seeking fun and food for $5 or less ... really! Feel free to email her with questions or comments or suggestions: yentamary@gmail.com.
The phrase "You Should Only Be Happy" (written in Hebrew on the stone pictured at the top of this post) comes from Deuteronomy 16:15 and is a wish for all her readers as they cook along with her ... may you always be happy here.