Posted on
Thu, Nov 25, 2010 : 9 a.m.
Savor Ann Arbor aims to give tourists a taste of Treetown
By James Dickson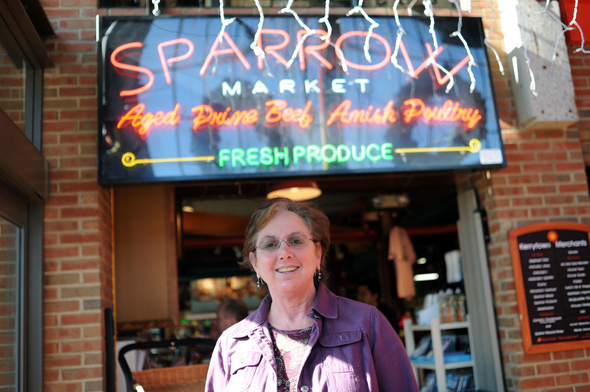 Melanie Maxwell I AnnArbor.com
Ann Arbor's food scene has been the stuff of national headlines, most recently when The Travel Channel's
Man v. Food
came to town
to savor the best of Treetown cuisine, from
Tios
to
Maize and Blue Delicatessen
to
Blimpy Burger
.
Ann Arbor resident Marcie Greenfield is happy to see local restaurateurs get their due; indeed, the local food scene has a lot to do with why she enrolled at the University of Michigan after a short visit in 1974.
She founded Savor Ann Arbor 35 years later as a way to complete the loop that shows like Man v. Food initiate when they stoke interest in Ann Arbor's cuisine.
Since last summer, Greenfield has been giving food tours of Ann Arbor, a gig that combines two of her greatest passions: Talking about Ann Arbor and talking about the restaurants and shops that makes its food scene special.
Greenfield sees herself as a facilitator for people who come to Ann Arbor in search of food but run out of ideas after eating at Zingerman's.
"I take people to the places they'd never find for themselves," she said, such as Durham's Tracklements and Smokery, the Kerrytown food smokery known for its seafood among the people who notice it on East Kingsley Avenue.
For the moment, Savor Ann Arbor is still more a hobby than a paycheck for Greenfield, a former creative research director for Chrysler who pays the bills by consulting on corporate research projects.
Most of the tours Savor Ann Arbor leads are for tourists, many of them first-timers.
While Greenfield appreciates a chance to provide people's first glimpse of Treetown, the few-and-far-between nature of those tours don't give her much leverage to pursue sponsorships or tie-ins with the restaurants featured.
"Sometimes it will be a couple from California coming to town for the weekend, and I only have a day's notice," Greenfield said of her schedule. "Sometimes it'll be a group of women I know from Chrysler. You can't really plan for it."
Their time in town should be used to make the recruiting push, Greenfield said, and what better way to get husbands and wives to sign onto moving to Ann Arbor than by enjoying its cuisine?
"In my experience, a big part of the attraction to U-M is Ann Arbor."
Thirty-six years ago, in the winter of 1974, it was Greenfield who was visiting Ann Arbor. An Orthodox Jew and the daughter of a grocer from Pennsylvania, Greenfield was still in high school when she visited her brother, who was earning his business degree at U-M.
By the end of her Thanksgiving Break visit, Greenfield knew she had to live in Ann Arbor, so she did her undergraduate work at Michigan, often breaking kosher to escape down to Blimpy Burger for a cheeseburger, where she learned that meat and dairy aren't such a bad mix after all.
Her dietary restrictions are a bit more binding these days.
Greenfield's said that after having twins at around the age of 50, she started developing food allergies, including gluten, which she begrudgingly avoids rather than subject herself to eczema outbreaks, redness and swelling.
"You could say I'm a gluten-free foodie," Greenfield jokes, but her own limited diet helps when her tours have people with food allergies. Not only can she look upon their food issues with a sympathetic eye but she knows where to go based on what they can eat.
Even so, "every place I feature is a place I've eaten at before," she said. "A lot of the places I tried before I gave in to my new diet (about 6 months ago). For places I haven't tried, I go with my husband, who has no food allergies, and I'll have him or a friend taste the food."
The tours, then, give Greenfield not only an opportunity to put Ann Arbor's best cuisines forward for tourists, but to live vicariously through the people who can enjoy the foods she can't.
Savor Ann Arbor offers a number of different tours, tailored to individual groups and tastes, but its staple is the Kerrytown & Farmer's Market walking tour. Figuring prominently in that, of course, is Zingerman's, the town's most famous eatery.
At the end of tours, Greenfield said, she'll sometimes part ways with the group at the famous delicatessen and allow them to sample or buy whatever they want.
Speaking with Greenfield offers an education, not only about the individual ingredients that make a meal great, but the personalities and histories of the businesses that make the local food scene great.
She thinks quick and speaks fast, an energy that can appear frenetic until you realize it's driven by her passion for food. Tangential offerings about, say, why quinoa is the "perfect protein" might fall on deaf ears for the layperson, but for the committed foodie, the kind of person Greenfield hopes to serve when they come to Ann Arbor, it's just talking shop.
James David Dickson can be reached at JamesDickson@AnnArbor.com.