Posted on
Fri, Dec 16, 2011 : 4:57 a.m.
Savory Lamb-Stuffed Quince uses fruit with a fascinating history
By Peggy Lampman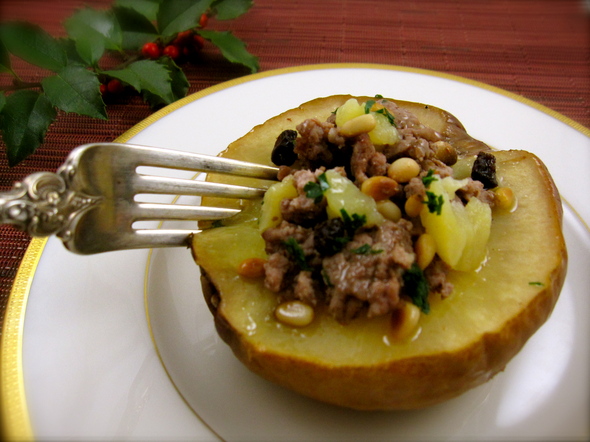 Peggy Lampman | Contributor

The new Holiday Cookbook answers all of your cooking needs. Strapped for time? Check out the well-tested Super-Simple section.
The web site, Wise Geek, reveals fascinating lore surrounding the quince, a fruit said to have been first cultivated in the Middle East. According to Wise Geek, the journey of the quince begins at the dawn of civilization: "the proverbial apple offered to Adam by Eve may actually be more accurately translated as a quince."
At this time of the year, Hillers always seems to stock lovely large quince — they look like a cross between an apple and a pear. Quince should be cooked to eliminate their strong acidity, and, interestingly, when baked, they taste as they look: a baked pear and apple hybrid. Hillers generally has ground lamb, as well.
I have a favorite cookbook by Claudia Roden: "Arabesque: A Taste of Morocco, Turkey, and Lebanon" with several recipes using quince. Reading the cookbook is a fascinating journey through the Middle East. I adapted her Turkish "Ayva Dolmasi" stuffed quince recipe to my pantry and used ground lamb in the recipe. Ground beef may be substituted.
You must remove and discard the seeds and core with a sharp knife, but It's worth the effort. I served this with a Near East's quick and easy plain rice pilaf. It was an ideal pairing with the quinces.
Yield: 4 quince halves Active Time: 25 minutes Bake Time: 90 minutes
Ingredients
2 large quinces 1 small onion, chopped 1 1/2 tablespoons olive oil 4 tablespoons pine nuts, toasted 8 ounces ground lamb 1 teaspoon ground cinnamon 1/2 teaspoon ground allspice 3 tablespoons chopped mint plus extra sprigs for garnish, optional 1 teaspoon kosher salt 1/2 teaspoon Aleppo Turkish or black pepper
Directions
1. Preheat oven to 325˚. 2. Wash the quinces. Rub off the light down that cover the skin in patches, if apparent. Place them on an oiled, foil-lined baking sheet on center rack of oven. Bake about 1 hour for large quince. Note cooking times vary depending on age and size of the quince. They are ready when just soft to the touch. 3. While quince are baking, saué onion in oil until softened, about 4 minutes. Stir in cinnamon and allspice, salt and pepper. Combine with raw lamb and 3 tablespoons pine nuts. 4. When quince are cool enough to handle, cut them open lengthwise through the stem end. Remove the cores and membranes attached to the stem in with a sharp knife and discard. Remove and discard all seeds. With a pointed spoon or melon baller, scoop out about one-third of the pulp and mix it into the meat mixture. Mound and press 1/4 of this mixture into each quince half. 5. Increase oven temperature to 350˚. Return stuffed quince to the oven and bake for 30 minutes. Garnish with remaining tablespoon pine nuts and mint, if using.