Posted on
Tue, Jul 6, 2010 : 6:30 a.m.
Schmoozing with the Zingerman's Roadhouse chef at the Westside Farmers Market
By Mary Bilyeu

Two weeks ago, I took advantage of a fabulous sunny Thursday afternoon to visit the
Westside Farmers Market
. The weather was extraordinary, proving that summer had officially arrived -- and it brought fruits and vegetables and all sorts of wonderful goodies with it!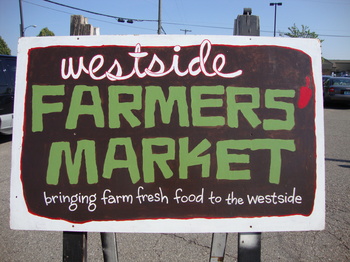 Mary Bilyeu | Contributor

As I meandered up and down admiring all the gorgeous colors at the stalls -- the reds of the strawberries and the rhubarb, the greens of the zucchini and the lettuces, the yellows of the squashes and the flowers -- I just took in all the sights and aromas, as well as the smiles of the welcoming vendors. I wanted desperately to buy one of everything, and to spend the entire evening (and into the next day) chopping and stirring and cooking and baking. Alas -- so many fabulous farm-fresh foods, so little time!
I happily ran into my very dear friend Marilyn as I looked around, and she joined me for a perusal of all the offerings. We saw my fellow Michigan Lady Food Blogger Diana Dyer, a nutritionist who writes the excellent blog 365 Days of Kale, selling 18 different varieties of garlic scapes; and I spent a few moments chatting with her hubby. We met up with yet another MLFBer, Corinna Borden, who not only has a blog -- I Dreamt of Sausage -- but also has an excellent new book of the same name. (She's also the manager of the Westside Farmers Market as well as an AnnArbor.com contributor ... a woman of many talents!)
And then Marilyn and I came up to a table offering samples ... always a good eater and a willing taster, how could I refuse? Zingerman's Roadhouse chef Mark Baerwolf was chatting with passersby, talking up the roasted radishes -- something I'd been wanting to try since reading about them in The New York Times. In all honesty, I'd have cooked them for longer; I like my vegetables to be more caramelized and less raw.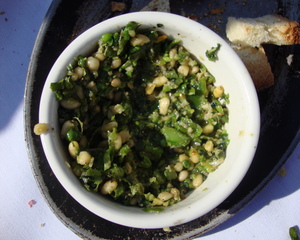 Mary Bilyeu | Contributor
But the offering I could have devoured in its entirety was the Pea Pesto, if I can take the liberty of calling it that. It isn't the smooth sauce made of basil that we all know and adore; as you can see in the photo, it is chunky and its ingredients are readily identifiable. Served with good bread, it made a treat that was bruschetta-like.
Marilyn and I sampled the pesto and enjoyed it immensely! So, chatty creature that I am, I coaxed a little conversation and asked nicely if there were a recipe for this wonderful creation. Mark took a scrap of paper and started to write, interspersing each notation with an explanation about having improvised and about having included some of the pea pods themselves as he mixed things together, generally giving a moment-by-moment telling of how he'd happened to take what was freshest and most beautiful at the day's market to create an amazing dish.
So here is what he scribbled down for me. You can feel free to adapt as necessary, depending upon availability of ingredients, personal tastes, etc. But let me assure you that this is absolutely a divine offering for a pool party, a barbecue, a picnic, a bridal shower, or really any kind of summer event you can imagine. It is not something that could possibly be replicated in winter. Enjoy it while you can, and then long for it until next summer.

Mary Bilyeu | Contributor
Pea Pesto
1 cup shelled peas (include a few of the pods)
3 garlic scapes, chopped
1/3 cup pine nuts
1/3 cup olive oil
1/4 cup Parmesan cheese
2 tablespoons chopped mint and oregano
Salt and pepper, to taste
Combine all ingredients in a food processor, and pulse until it reaches a chunky consistency.

Mary Bilyeu has won or placed in more than 60 cooking contests and writes about her adventures in the kitchen. The phrase "You Should Only Be Happy" (written in Hebrew on the stone pictured next to the blog's title) comes from Deuteronomy 16:15 and is a wish for all her readers as they cook along with her ... may you always be happy here. Check out her blog -- Food Floozie -- in which she cooks, reviews restaurants, and generally enthuses and effuses over all things food-related. Or send an email to yentamary@gmail.com.