Posted on
Fri, Nov 16, 2012 : 4:54 a.m.
Seared Scallops over Butternut Squash Risotto is a perfect special occasion dish for a small group
By Peggy Lampman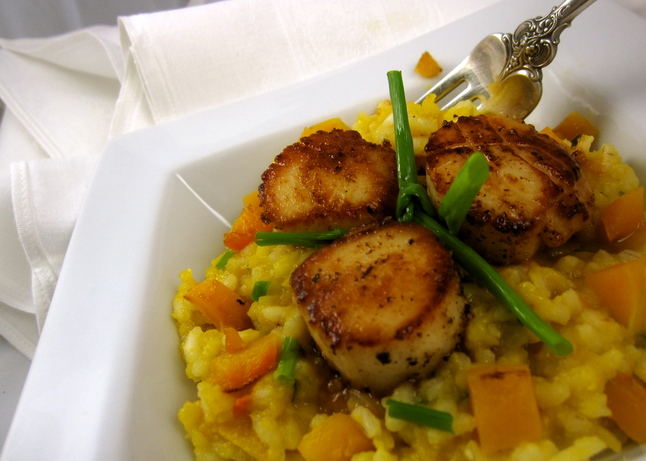 My Holiday Cookbook may be of assistance in your celebration strategies. Strapped for time? Check out the well-tested Super-Simple section.
I can't let the season pass without re-creating my absolute favorite fall dish: Seared Scallops over Butternut Squash Risotto. And if you're looking for a special occasion dish for a small group — jumbo scallops are expensive — this recipe may be the ticket.
There's technique involved with this recipe, but it's worth the attention. For the scallops, heat your heaviest sauté pan over medium-high to high heat for a minute before adding a thin layer of grape seed or canola oil. When the oil starts to shimmer, add your scallops to the pan.
Don't touch the scallops for a full minute so they have time to develop a golden brown crust. If you think you are burning them, remove from the heat a few seconds, adjust the heat, but don't fiddle with the scallops. After they have developed a crust, reduce the heat to medium and cook an additional minute. Then raise the heat, turn them over with tongs and repeat the process. The scallops should be cooked through and slightly translucent in the center.
There's mystique around risotto but it's simple to master. Use a heavy-bottomed pot, and avoid multi-tasking when cooking the risotto. It needs liquid and a stir every few minutes.
You will want to taste the risotto toward the end of the cooking time. Don't necessarily trust the package recommended cooking time as it varies according to the age of the rice. In Italy, I've eaten risotto that was creamy but almost crunchy. The American palate, I've found, prefers risotto with less crunch, yet toothsome, and creamy. Tasting the risotto will ensure you have the texture that you prefer.
Time: 45 minutes Yield: 4
Ingredients
1 large (3 pound) butternut squash
3 1/2-5 cups chicken or vegetable stock
1 medium leek, white and light green part only, sliced and washed well
6 tablespoons unsalted butter or Earth Balance
1 cup arborio (risotto) rice
1/2 cup dry white wine
1/3 cup grated Parmesan, optional*
1 tablespoon snipped chives plus 8 extra chives stems for garnish
2 tablespoons grape seed or canola oil
12 dry-packed scallops
Instructions
1. Preheat oven to 400 degrees.
2. Halve squash lengthwise and discard seeds. Peel one half and cut into 1/2-inch dice. Place remaining half, cut side down, on an oiled shallow baking pan. Surround with diced squash. Lightly season with kosher salt and freshly ground pepper.
3. Bake on middle rack of oven, turning diced squash once, until lightly browned, about 15-20 minutes. Remove diced squash and reserve. Continue baking squash half until it is easily pricked with a fork, an additional 15- 20 minutes. Scoop out flesh and coarsely chop.
4. In one pot, bring broth to a simmer.
5. In a heavy-bottomed stockpot, sauté leeks in butter until softened, about 5 minutes. Stir in rice and sauté, stirring constantly, 1 minute. Add wine. Simmer and stir until wine is absorbed.
6. Continue simmering and stirring and adding broth, about 1/4 cup at a time, adding more as liquid is absorbed, until half the broth has been added. Stir in coarsely chopped squash (reserving diced squash for later use) and continue simmering and adding broth as described until rice is creamy yet slightly firm to the bite, or to your palate. Add reserved diced squash and stir briefly until just heated through. Stir in Parmesan, if desired, chopped chives and season to taste with kosher salt and freshly ground pepper. Cover.
7. As you are finishing your risotto, heat oil to medium high or high heat in large sauté pan. Gently pat scallops dry with paper towels and lightly season on one side with kosher salt and freshly ground pepper. When oil is shimmering, sear the scallops until lightly browned on both sides and slightly translucent in the center.
8. Divide risotto between 4 plates and top each plate with 3 scallops. Knot chives together (see photo) for garnishing and immediately serve.
*Some purists don't add cheese to Italian grain and seafood dishes, though many people enjoy the flavor profile with the addition of cheese.
Peggy Lampman is a real-time food writer and photographer posting daily feeds on her website and in the Food & Grocery section of Annarbor.com. You may also e-mail her at peggy@dinnerfeed.com.