Posted on
Mon, Oct 8, 2012 : 11:35 a.m.
Bluefish Grenobloise recipe enhances, rather than masks, meaty flavor of this in-season fish
By Peggy Lampman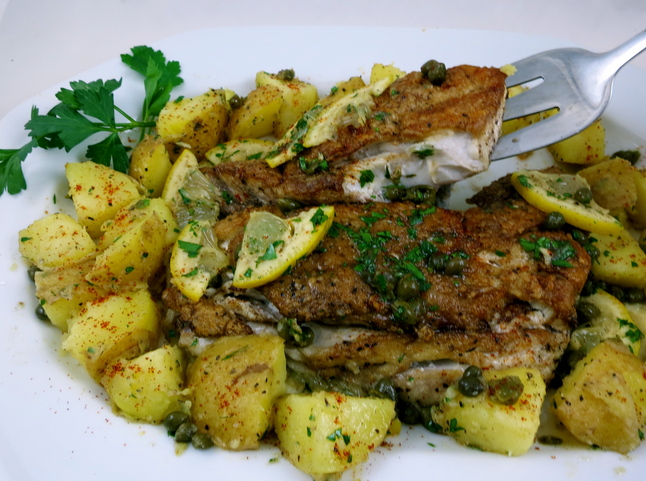 Peggy Lampman | Contributor

My dinnerFeed web site is a lean,
mean fighting machine!
To receive my lastest dinnerFeed posts
by email, sign up here.
Think seasonal food at this time of the year and grapes, apples, squash and cauliflower come to mind. But seafood has its seasons as well, and I'm kept up to snuff by following Monahan's Fish Report, which for years has reminded me that now's a good time to buy bluefish. If you haven't tried bluefish, you're in for a treat, and this simple preparation enhances — without masking — the delectable, meaty flavor of this seafood-lover's fish.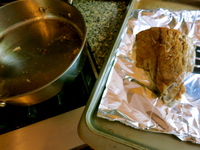 Grenoble is a city in southeastern France, and "Grenobloise" is a classic French sauce of capers, brown butter and lemon, a perfect preparation for using bluefish. I used a similar recipe that I've made in the past for skate, and used Monahan's technique — to pan-fry then roast the fish — for this recipe; perfection!
Boiled quartered yukon gold potatoes are the perfect tossed with the residual lemony butter sauce.
Yield: 2 servings
Time: 25 minutes
Ingredients
1 pound bluefish fillet, pin-bone removed

Flour for dusting
2 tablespoons unsalted butter, divided
2 tablespoons extra virgin olive oil, divided
Juice from 1 lemon (2 tablespoons), plus extra slices, thinly sliced and quartered
1 tablespoon freshly chopped parsley
1 tablespoon capers
Directions
1. Preheat oven to 400 degrees. Line a baking sheet with foil.
2. Season fillet with kosher salt and freshly ground pepper, then dust flesh side with flour.
3. In a sauté pan sized to fit fillet, heat 1 tablespoon butter and 1 tablespoon olive oil over medium-high heat.
4. When the butter starts to brown, place the fillet, flesh side down, in the pan. Cook for 3 minutes or until well-browned, then carefully turn over onto baking sheet, skin side down. Place on center rack of oven and bake 5-6 minutes or until flesh is white and juicy.
5. While fish is baking, turn off burner heat and deglaze hot pan, whisking, with lemon juice then add remaining butter, oil, lemon slices, parsley and capers.
6. When fish is cooked, pour the pan sauce over the fish.
Peggy Lampman is a real-time food writer and photographer posting daily feeds on her website and in the Food & Grocery section of Annarbor.com. You may also e-mail her at peggy@dinnerfeed.com.