Posted on
Mon, Oct 15, 2012 : 10:19 a.m.
Braised Rabbit with Bacon, Pearl Onions and Prunes is a simple one-pot meal
By Peggy Lampman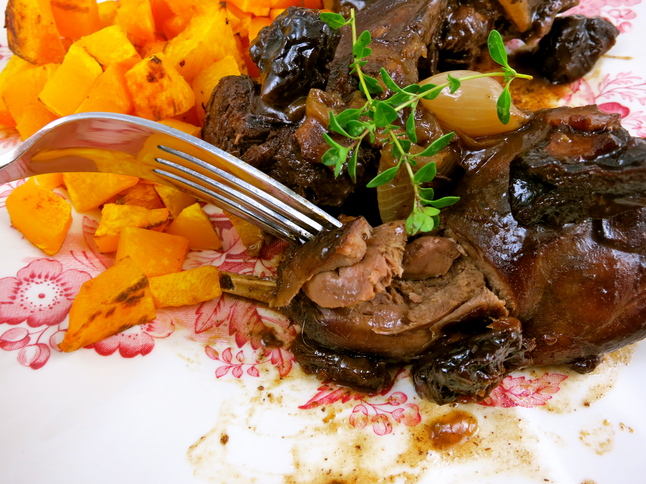 Peggy Lampman | Contributor

My dinnerFeed web site is a lean,
mean fighting machine!
To receive my lastest dinnerFeed posts
by email, sign up here.
Serving rabbit to some guests might make them squeamish, the unindoctrinated informing you they recently began a vegetarian diet. (By recently, they mean after they gobbled down the beef tenderloin canape appetizers you served a few minutes prior.) I remember the first time I was served rabbit.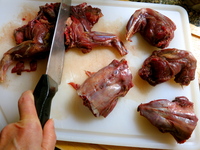 I was a foreign exchange student my sophomore year in college living with a French family in Tours, France, and inquired about the dish they'd just placed on the table. My French mother, who took her verbal torture to extremes, informed me "C'est un chat." Translated: "It's a cat."
It did resemble a cat, cooked in its entirety, legs protruding from the pot like twigs. I picked the potatoes and onions from around the "thing", sickened recalling our family pet Tinkerbell, as I watched them devour the "thing" with relish. There was intention behind her teasing; more rabbit for them.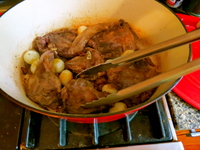 I grew to enjoy the lean "lapin" (rabbit), as it was one of the main sources of protein in the region. And if you ever find yourself traveling through the countryside of France, rabbit and duck may well be your only choice of non-beef animal proteins.
A good friend of mine hunts rabbit in Northern Michigan and was kind enough to share his bounty with me this year. I've also purchased rabbit from Sparrow Meats in Kerrytown, which is a reliable source for fresh rabbit, indeed most game that might strike your fancy. (Truth be told, I prefer the farm-raised rabbit Sparrow's sell; they are more tender and there is more of a meat to bone ratio.)
This recipe is a very simple one-pot affair that I've improvised through the years, but it's important that your pot, preferably a Dutch oven, have a heavy bottom and tight fitting lid. (I've seen Dutch ovens at enticing prices at Home Goods recently.)
I also make a Rabbit and Pork Belly Terrine that is out of this world. Here's another rabbit recipe for Braised Rabbit with Winter Vegetables that is quite a bit more time-consuming but superb — definitely use farm-raised rabbit for that one.
Perfect served with wide noodles, redskins or polenta, and roasted squash or root vegetables.
Yield: 2-3 servings
Active Time: 20 minutes
Cook Time: about 80 minutes
Ingredients
1, 3 1/2 - 4 pound rabbit (about 2 - 2 1/2 pounds after it has been skinned and cleaned)
4-5 slices bacon, cut into small pieces
10-12 white pearl onions, peeled
1 tablespoon flour
1 cup red wine
1/2 cup beef stock
Several sprigs of thyme, plus extra sprigs for garnish
1 cup halved, pitted prunes
Directions
1. Cut the rabbit into 6 pieces. If you have the kidney and liver, finely chop.
2. Place chopped bacon in the bottom of a Dutch oven or heavy bottomed pan with a tight fitting lid. Cook over medium-high heat, occasionally stirring, until crisp and brown. Add onions and stir into bacon and rendered bacon fat; brown onions on all sides. Add rabbit pieces to pot and brown on all sides.
3. Combine wine and stock and whisk flour into liquid until all lumps are gone. Stir kidney and liver into liquid, if using. Pour liquid into pot and bring to a boil. Reduce to a simmer, add thyme sprigs and cover and cook 30 minutes. Remove lid, turn over rabbit pieces, re-cover and cook an additional 40 minutes, or until rabbit can be pierced with a fork. (From my experience cooking with rabbit, I've found that young farm-raised rabbit cook quicker, are more tender and have more or a meat to bone ratio than wild.)
4. Stir in chopped prunes and simmer an additional 10 minutes. Remove thyme sprig stems and serve with fresh sprigs, if desired.
Peggy Lampman is a real-time food writer and photographer posting daily feeds on her website and in the Food & Grocery section of Annarbor.com. You may also e-mail her at peggy@dinnerfeed.com.