Posted on
Tue, May 14, 2013 : noon
Celebrate Shavuot with these make-ahead dairy recipes
By Mary Bilyeu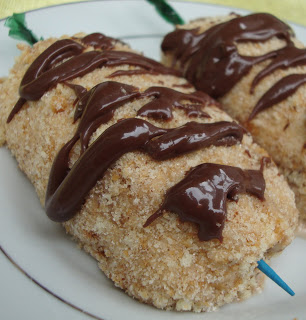 Mary Bilyeu | Contributor
The holiday of
Shavuot
[shah-voo-OHT], which celebrates the giving of the
Torah
at Mt. Sinai, begins at sundown tonight and continues through Thursday evening. It is a major holiday, though one that isn't as well known as some (i.e.:
Passover
,
Chanukkah
).
It's traditional to eat dairy dishes at Shavuot, as the Torah's sweetness has been likened to "Honey and milk ... under your tongue" (Song of Songs 4:11).
So here are some dishes that can be made ahead of time and served frozen, chilled, or at room temperature, dependent upon the recipe; or they can be kept warm, as needed.
Basil Parmesan Shortbread Triangles
Roasted Tomatoes with Blue Cheese

Mary Bilyeu writes for AnnArbor.com on Tuesdays, Wednesdays, and Fridays, telling about her adventures in the kitchen - making dinner, celebrating holidays, entering cooking contests, meeting new friends ... whatever strikes her fancy. She is also on a mission to find great deals for her Frugal Floozie Friday posts, seeking fabulous food at restaurants on the limited budget of only $5 per person. Feel free to email her with questions, comments, or suggestions: yentamary@gmail.com.

Go visit Mary's blog — Food Floozie — where she enthuses and effuses over all things food-related; and look for her monthly articles in the Washtenaw Jewish News. "Like" her on Facebook, or send a tweet on Twitter, too.

The phrase "You Should Only Be Happy" (written in Hebrew on the stone pictured in this post) comes from Deuteronomy 16:15 and is a wish for all her readers - when you come to visit here, may you always be happy.