Posted on
Thu, Nov 3, 2011 : 8 a.m.
Shredded pork ribs with corn cakes a perfect dish to celebrate a football game against Iowa
By Mary Bilyeu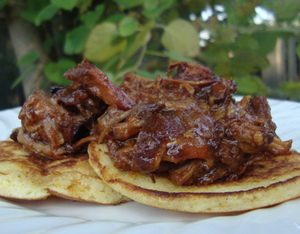 Mary Bilyeu, Contributor
People think of cornfields when they think of Iowa. I know someone who drove through the state this past summer, and she commented on the many, many rows of corn she and her husband passed.
But Iowa actually is a top pork producer, and so for this Saturday's Michigan-Iowa game I offer my famous-among-loved-ones shredded pork ribs. Serve them with corn cakes, and you've represented our opponent's state very well.
The ribs are cooked slowly in a crockpot, so they require virtually no effort. The corn cakes are easily made using a box of Michigan's own Jiffy Corn Muffin Mix, produced about 30 minutes away from my kitchen.
What a great way to get into the spirit of this match-up!
University of Michigan at University of Iowa
Saturday, Nov. 5
GO BLUE!
Shredded Pork Ribs with Corn Cakes
Ribs
4-5 pounds boneless pork ribs (8 ribs)
1/4 cup brown sugar
1 teaspoon cardamom
1 teaspoon chili powder
1 teaspoon cinnamon
1 teaspoon nutmeg
1 teaspoon ginger
1 teaspoon paprika
1 teaspoon kosher salt
1/4 teaspoon freshly ground black pepper
Preheat oven to 425 degrees. Line a 9x13-inch baking pan with foil; lightly grease the foil.
Place the ribs into the prepared pan. Combine the remaining ingredients and sprinkle onto all sides of the ribs. Roast for 1 hour.
Sauce
1 12-ounce bottle barbecue sauce (your favorite one)
1/2 cup brown sugar
4 tablespoons cider vinegar
2 tablespoons Worcestershire sauce
2 tablespoons Dijon mustard
1 teaspoon cayenne pepper sauce
Combine all sauce ingredients. Pour 1/3 of the sauce onto the bottom of a 6-8 quart crockpot. Place a single layer of ribs over the sauce, and continue layering sauce and ribs, ending by pouring the last of the sauce over everything. Cover and cook on low for 8 hours. Stir the pork to shred it and combine the meat with the sauce.
Corn Cakes
1 8.5-ounce box Jiffy Corn Muffin Mix
3/4 cup buttermilk
1 egg
2 tablespoons butter, to grease skillet
In a medium bowl, stir together Jiffy mix, buttermilk and egg; let rest for 5 minutes.
Heat a large skillet over medium heat, and lightly grease with a bit of the butter. Pour batter with a 1/8-cup measure, and cook until set on the sides and golden underneath. Carefully flip the pancake and cook for 1 more minute.
To serve: Place 2 corn cakes onto a serving plate, and top generously with pork.
Serves 6-8.

Mary Bilyeu has won or placed in more than 60 cooking contests and writes about her adventures in the kitchen. She was thrilled to have her post about Scottish Oatmeal Shortbread named as one of the daily "Best of the Blogs" by the prestigious Food News Journal.
Go visit Mary's blog — Food Floozie — on which she enthuses and effuses over all things food-related. Her newest feature is Frugal Floozie Friday, seeking fun and food for $5 or less ... really! Feel free to email her with questions or comments or suggestions: yentamary@gmail.com.
The phrase "You Should Only Be Happy" (written in Hebrew on the stone pictured in this post) comes from Deuteronomy 16:15 and is a wish for all her readers as they cook along with her ... may you always be happy here.