Posted on
Fri, Apr 6, 2012 : 1:56 p.m.
My Big Fat (Fast) Greek Salad
By Peggy Lampman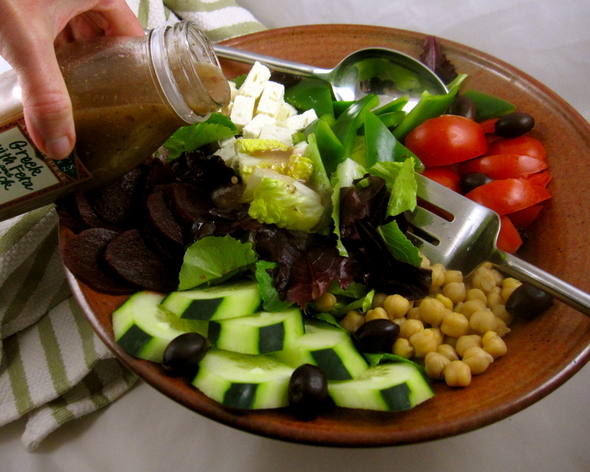 Peggy Lampman | Contributor

mean fighting machine!
Here's a quick and easy mix-and-match shotgun salad to feed a small group. Just the ticket for me, as I will be up to my elbows in Easter brou-ha over the weekend.
A couple of weeks back, I met some friends at a Penny Stamps lecture at the Michigan Theatree (If you aren't familiar with this free UM Art & Design lecture series, you should check it out.) After the lecture, we rounded the corner to State Sava, for dinner.
Their fish tacos are always a temptation, but all five of us women were craving the same thing: Greek salad topped with salmon. I loved the presentation, the deep bowls loaded with greens, beets, chick peas, etc., and decided to make a quickie version for my group.
Of course it's a cinch to make your own Greek dressing: 1/3 cup lemon juice+1 cup extra virgin olive oil+garlic+herbs. But the Cindi's Kitchen bottled Greek with Feta and Black Olive Salad Dressing looked enticing at Whole Foods and was quite good for a bottled dressing (call me a snob).
The bowl may look small in the photograph, but it was enough salad to feed 8 hungry folks, with crusty bread on the side. Other possible additions to this salad would be red onion, pepperoncini, chicken, salmon, shrimp or strips of beef.
Time: 20 minutes
Yield: 8 servings
Ingredients:
2-3*, 7-ounce packages romaine or mixed greens (or combination)
1 8-ounce package of feta cheese, cubed
1 (15-ounce) can garbanzo beans
1 cup kalamata olives
3-4 tomatoes, cut into wedges
1 green bell peppers, seeds and membranes removed, then sliced
1 cucumber, striped with a vegetable peeler, then cut diagonally into slices
3-4 cooked beets, sliced (Love Beets and Melissa's are good choices)
1-2 cups of your favorite Greek salad dressing, such as Cyndi's Greek Black Olive and Feta Salad Dressing
*amount of greens used depends on your desired proportion of greens to veggies and cheese.
Directions
Chop romaine leaves, if using, and place greens in bottom of a large salad bowl. Arrange feta, beans, olives, tomatoes, peppers, cucumbers and beets over greens. Toss to taste with dressing and serve.