Posted on
Thu, Feb 4, 2010 : 7 a.m.
Spaghetti sauce: It doesn't have to be complicated to be delicious
By Jessica Webster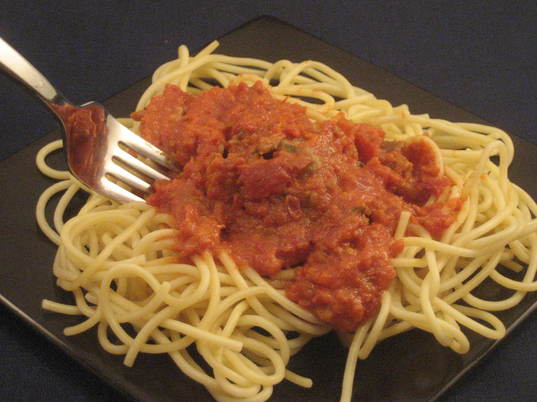 Jessica Webster | AnnArbor.com
I have been obsessed with making tomato sauce since my first trip to Italy 10 years ago. I'm always searching out new cookbooks, magazines, food shows and websites for ideas and incorporating them into my ever-evolving Perfect Pasta Sauce. As a result, my Perfect Pasta Sauce has become increasingly more complicated.
My other obsession, however, is finding recipes that are simple and tasty; where each fresh ingredient is integral to the flavor of the dish. I've stripped my guacamole recipe down to just avocado, lemon, garlic and cilantro. After years of trying to "improve" my scrambled eggs with vegetables and cheese, I'm back to just eggs, milk, salt and pepper. Perhaps it's a realization that more isn't better; that it's the care in selecting the ingredients and in preparing them that is most important.
It was this focus on simplicity that led me to a tomato sauce recipe on the food blog smitten kitchen. Four ingredients: a can of tomatoes, 5 tablespoons of butter, salt, and a peeled and halved onion that cooks with the tomatoes and gets removed before you serve it. The author raved about it. Mentioned a friend who actually lives in Italy who chooses to eschew all the great Italian restaurants right outside her door and prefers to stay home and cook this sauce, this sauce made with just canned tomatoes, butter, onion and salt.
I think that's what sold me. I've eaten in those restaurants in Rome. I dream about those restaurants in Rome. I'm desperate to go back and find more great restaurants in Rome. I absolutely must try this sauce that's so good that someone who actually gets to live in Rome stays home and cooks it.
I set out to make this fabled So Easy It Can't Possibly Be Good sauce. It was so easy I didn't even have to leave the house to buy ingredients. A large can of San Marzano whole peeled tomatoes. Calder Dairy butter. An onion. Salt. I had to physically restrain myself to keep from adding garlic. Or a splash of wine. Surely some parsley would be ok, right?
I stuck to my guns and stuck to the recipe. Just butter, tomatoes, onions and salt. The result was impressive. First, the color: a vibrant orangey red. And the flavor, oh the flavor. It was bursting with tangy freshness. But most impressive? My son, the world's pickiest eater, loved it.
Tomato sauce with butter and onion Adapted from Marcella Hazan's "Essentials of Italian Cooking"
28 ounces whole peeled tomatoes from a can (San Marzano if they're handy!) 5 tablespoons unsalted butter 1 medium-sized yellow onion, peeled and halved Salt to taste
Put the tomatoes, onion and butter in a heavy saucepan over medium heat. Bring the sauce to a simmer then lower the heat to keep the sauce at a slow, steady simmer for about 45 minutes, or until droplets of fat float free of the tomatoes. Stir occasionally, crushing the tomatoes against the side of the pot with a wooden spoon. Remove from heat, discard the onion, add salt to taste and keep warm while you prepare your pasta. If you prefer a more uniform consistency, you can blend with an immersion blender.
Makes enough sauce to lightly coat most of a pound of spaghetti.
This sauce works well with my favorite meatball recipe, adapted from Epicurious.com.
Classic Italian Meatballs
3 3/4-inch-thick slices Italian bread with crusts Milk 1 pound ground sirloin 4 tablespoons (packed) grated Parmesan cheese 2 large eggs 1 tablespoon minced fresh Italian parsley (or about 1 1/2 tsp of dried parsley) 1 large garlic clove, minced 1 teaspoon salt 1/2 teaspoon ground black pepper
Preheat oven to 375 degrees. Place bread in medium bowl; cover with milk. Let stand until bread is soft, about 10 minutes. Place meat in large bowl. Mix in cheese and next 5 ingredients. Squeeze bread almost dry; discard milk. Blend bread into meat mixture. Using 1 rounded tablespoon for each, shape mixture into 24 meatballs. Place meatballs on a greased broiling pan and bake for 20 minutes, turning once about halfway through. Add to the pasta sauce and serve over spaghetti.
Jessica Webster coordinates Food & Drink and Books coverage for AnnArbor.com and is part of the Community Team. Contact her at jessicawebster@annarbor.com.