Posted on
Mon, Nov 23, 2009 : 6:20 a.m.
Sleep in on Black Friday - buy local
By Jennifer Shikes Haines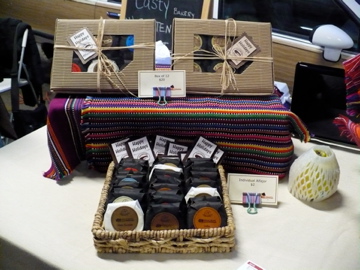 Holiday goodies from Maite Zubia of Maitelates. Photo by David Haines
I plan to have a great time this week. My father-in-law will be visiting us, and we're going to have a quiet family Thanksgiving followed by get-togethers with friends.
What I don't plan to do is be up at a ridiculous hour to participate in the madness that is Black Friday.
While there are some children and others on my list for whom I'll bend and get the latest whatever that's within my budget, most of my holiday shopping this year will be via the talented food artisans in this area.
Michigan was praised by the recently-departed Gourmet magazine as having the second greatest variety of produce after California and a wonderful "fresh market" industry. This is fine praise, indeed, as California is widely seen as the trendsetter of the U.S. food artisan market. Our climate, rich soil, and the initiative of small food business owners and local farmers may be something that helps to pull us from the economic quagmire that we've been experiencing for the last several years.
Kern Road Farm chutneys and jams. Photo by Jennifer Haines
By patronizing our local food artisans, you bring a gift that is truly unique and reflects our area, you send something delicious that won't take up room or become a white elephant gift, and for those who care about such things, you put dollars back into the Michigan economy.
During my walk through the Farmers Market on Saturday, the items below caught my eye, but there are also wonderful options that include handmade jewelry, pottery, Christmas ornaments, tea towels, exotic jams, hot and pasta sauces and wreaths and centerpieces of all types and sizes.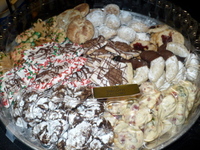 Biscotti Factory Christmas cookie platter. Photo by Jennifer Haines
This gorgeous platter of Christmas cookies (also available in smaller quantities of gift boxes) was created by Barb Gibson, of The Biscotti Factory. Barb is a long-time clay artist, who's taught at both U. of M. and Schoolcraft, but who turned to biscotti making recently and brings the same artist's mentality to her delicious cookie selections. For order information, please call 734-464-8210.
The Oliverio sisters of Pasta e Pasta are selling their wonderful pastas in beautifully wrapped gift baskets for holiday shopping.
Cecilia's Pastries Rustic Apple Tart. Photo by Jennifer Haines
A newcomer to the Market, Cecilia Mercante of
Cecilia's Pastries
, provides Parisian Macarons in a variety of flavors, along with beautiful tarts, presented in lovely gift boxes.
Maite Zubia of Maitelates, has order forms for her over-the-top alfajores - the Chilean cookies that are decadent, delicate cookies, spread with dulce de leche and other purees (including Michigan cherry and quince) and covered in a rich dark chocolate. You can also buy jars of Maite's fabulous dulce de leche. Each cookie is wrapped individually with beautiful labels, and the gift packages are either bags tied with rustic twine or elegant gift boxes.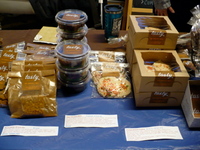 Tasty Bakery's gluten-free baked goods. Photo by David Haines
For the gluten-free recipient on your list, Julie Rabinovitz of
Tasty Bakery
is also offering a huge variety of tasty treats, including gluten-free pies for your holiday meals. She will have order forms for Christmas out shortly.
This is just a small sampling of the many options that are available in our area. The foods in this post were found at the Ann Arbor Farmers Market this past Saturday; other wonderful options abound from Sweet Gem Confections, holiday torrones and pan fortes at Morgan and York, various holiday treats (including their wonderful jams) from The Produce Station, fresh baked Polish pastries or fresh pierogies from Copernicus, gift baskets or Avalon bakery Stollen from The People's Food Co-op, and undoubtedly similar options from Arbor Farms. I'm Jennifer Shikes Haines, and my blog is a2eatwrite.