Posted on
Thu, Jan 17, 2013 : 4:05 a.m.
Slow-Cooked Alsatian Charcuterie and Kraut would satisfy a Super Bowl crowd
By Peggy Lampman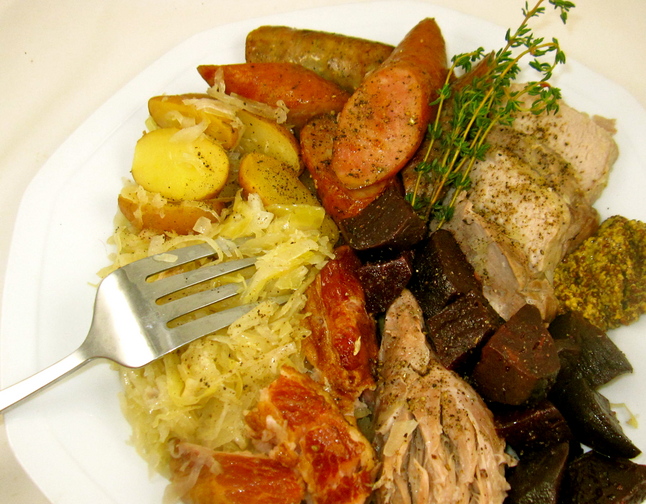 Peggy Lampman | Contributor

My dinnerFeed web site is a lean,
mean fighting machine!
To receive my lastest dinnerFeed posts
by email, sign up here.
Mariam Maksutova looks as if she'd be more at home modeling Prada at New York Fashion Week, than butchering a pig in the meat locker at Sparrow Meats in Kerrytown. But make no mistake, this Latvian-born woman knows how to wield a meat saw, and spends her days refining these skills in the art of charcuterie; the craftmanship of the old-world butcher.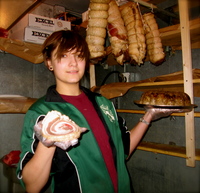 Peggy Lampman | Contributor
Much as fashion designers influence street apparel, magazine spreads, and storefront mannequin attire, meat purveyors — such as Mariam and Bob Sparrow — have been playing a prominent role in the food scene for years. Small craft butchers influence eating trends and the meat selections you'll find on the finest international menus. A signature platter of charcuterie — inspired cured meats, presented with tasteful accoutrements — is often a restaurant's calling card.
I asked Mariam to define charcuterie from her point of view.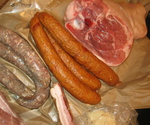 "Charcuterie was useful hundreds of years ago and it is useful today. Delicious cured treats aside, it comes down to extending the shelf life of a perishable product — raw meat — which is what we have been striving to do since the first person took down the first animal that couldn't be eaten in one sitting."
Mariam tells me that today people focus more on the way brining, dry curing, and smoking changes the taste of meat, rather than on the idea of preservation, because throwing something in your freezer to keep it edible is a lot simpler.

A favorite branch of charcuterie for Mariam is making sausage. "It's really cool because grinding is a method of tenderizing meat. This lets you cook braising cuts like shoulders in a fraction of the time;all you have to do is grind it, spice it, and stuff it in a casing.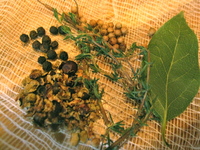 At
Sparrow's
, Mariam has creative license to make whatever sausage that inspires."I often get special requests for anything from the combination of spices to the type of meat and casings I use. We will make you anything from a simple Bratwurst to an all lamb Merguez, stuffed into a natural sheep casing, spiced to your personal preference. I also get to make fun ones, like steak and bacon sausage and orange zest sausage, to name a couple." Their garlic sausage was used in the following recipe.
I looked to the cuisine of Alsace, France — a region bordering Germany and Switzerland, famous for its ample usage of pork, goose fat and kraut — to inspire a recipe that would highlight Sparrow's fine meats. The following would satisfy a Super Bowl crowd, and for fans of brats slathered in kraut, this dish will kick you through the uprights.
Yield: 12 servings
Active Time: 40 minutes
Ham Hock Simmer Time: 1 1/2 hours
Slow Cook Time: about 6 hours
Equipment Needed: Slow cooker, at least 6 1/2 quarts large; cheesecloth and string
Ingredients:
1 1/2 pounds fresh ham hock(s)
1 bay leaf
1 sprig fresh thyme, plus extra for garnish
6 each black peppercorns, juniper berries, coriander seeds & cloves
1/3 cup goose fat
3 medium-sized yellow onions, skins removed and thinly sliced
4 1/2 pounds sauerkraut*, drained, rinsed well, excess water pressed out with a spoon
1 pound red-skinned potatoes, cut in half (fingerling preferred)
1 & 1/2 pounds boneless pork loin
1 & 1/2 pound slab of bacon
1 (750ml) bottle of Alsatian Gewurtztraminner or Riesling or other dry, fruity white wine
1 tablespoon canola or grape seed oil
3 large fresh garlic pork sausages; 1 & 1/2 pounds total
3 large smoked sausages (1 & 1/2 pounds total), cut into 2 to 3-inch pieces
Cooked or roasted beets, optional
Coarse mustard
Dark bread, optional
*Use a kraut found in the refrigerated section of your grocery. Ann Arbor's The Brinery Sauerkraut would keep it local.
Directions:
1. Place ham hock(s) in a large pot. Cover with water, bring to a boil then reduce to a simmer. Cook 1 1/2 hours, adding extra water if necessary to ensure ham is covered.
2. Make a bouquet garni by placing bay leaf, thyme, peppercorns, juniper berries, coriander seeds and cloves in a square of cheesecloth, cut large enough to bundle together. Tie securely with string.
3. In a heavy-bottomed pan, heat fat over medium heat and sauté onions until tender, about 12 minutes. With tongs, stir in sauerkraut and combine well with onions.
4. Layer potatoes at bottom of slow cooker. Cover with ham hock(s), bouquet garni, kraut mixture, pork loin, bacon and wine. Cook on low heat about six hours or until pork is tender.
5. In the last 30 minutes of cooking time, heat oil in a heavy-bottomed skillet over medium-high heat. Sear fresh garlic sausages on all sides, prick each sausage in two places, reduce heat and cook until center is no longer pink, about 15 minutes. Remove with tongs and cut into 2 to 3 -inch pieces; return to pan. Add smoked sausage to pan and heat.
6. When charcuterie in slow cooker is cooked, remove pork roast, bacon and ham hock(s). Remove meat from ham hock, and slice all pork into large pieces. Remove bouquet garni and discard.
7. On a large platter(s), arrange all meats, kraut and beets, if using. Spoon juices from slow cooker over meats. Season to taste with kosher salt, if needed, and freshly ground pepper. Garnish with thyme sprigs and serve with mustard and dark bread, if desired.
Peggy Lampman is a real-time food writer and photographer posting daily feeds on her website and in the Food & Grocery section of Annarbor.com. You may also e-mail her at peggy@dinnerfeed.com.