Posted on
Thu, Mar 7, 2013 : 6:53 a.m.
Slow-Cooked Meat & Vegetable Stew - time is the secret ingredient that transforms classic dish into something great
By Peggy Lampman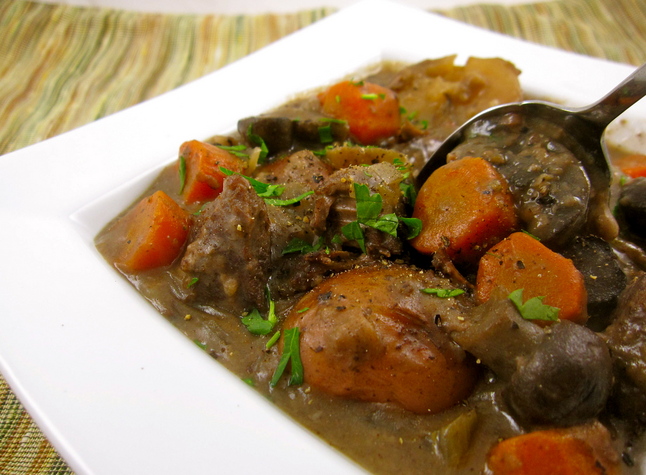 Peggy Lampman | Contributor

My dinnerFeed web site is a lean,
mean fighting machine!
To receive my lastest dinnerFeed posts
by email, sign up here.
Beef stew. Could there be a more quintessential winter dish? A one-pot affair, this reassuring mainstay provides comfort when seamless gray looms eternal; nourishment that warms our bones and satisfies our bellies after the sidewalks are salted, the driveway shoveled.
A classic beef stew, consisting of beef, potatoes and vegetables, is a dish much greater than the sum of its parts due to the mandatory slow simmer. Rushing stews ruins them, rendering the beef tough, the potatoes and vegetables polarized. Hence the conundrum: The main ingredient to make a proper stew is the the most valuable and in short supply — time.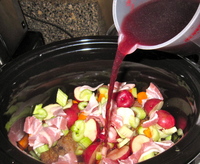 Slow-cooker to the rescue — an apparatus that, in my opinion, best serves its purpose when making unattended stews. The flavor of caramelized vegetables is a lost cause, but you can work a day at the office while your cooker alchemizes the meat, seasonings, potatoes and vegetables into tantalizing bliss.
There are many ways to approach making beef stew, and first I'll begin with the meat. In the recipe below, several options are provided. But if you or a friend is a deer hunter, and is willing to part with some of their bounty, or you're purchasing from a natural foods store or online, I may be so bold as to suggest using venison.
I've been noticing this winter that venison has been popping up on seasonal menus around town, particularly in upscale Italian restaurants. Why not? The meat, when properly harvested and packaged, is prized. Indeed, in Italy's Val D'Aosta, Capriola alla Valdostana is a much loved traditional stew made with venison, wine and vegetables.
I recently dined at Paesano and noticed the Barolo Risotto with Vension Tenderloin on their seasonal menu. The menu stated that "...being a native Michigander, Chef David Whitney wanted to find a way to use a true winter local meat." Kudos to this Michigan restaurant for providing creative and savory ways to source local ingredients. (Note that other proteins may be substituted in this marvelous dish if venison is not your thing.)
According to the Paesano web site, "... Growing up in Escanaba, (Chef) Dave's passion for old-world Italian food, local ingredients and creative spirit allow him to bring a unique twist to a well-known style of cuisine. He strives to remain true to the Italian vision while incorporating local flavors. Fresh, nutritious ingredients, with full textures are a high priority. The desire is also to be inventive and pleasing to the Midwestern palate."
Last month I saw, online, that Gratzi had a venison stew on their Italian seasonal menu. I don't see it now, and more's the pity I never had a chance to try it.
When harvested and prepared properly, wild venison is a lean, dense meat with a mild gamey taste, something like lamb. Rest assured there were no growth hormones or feed lots in these animals' lives, and the cuts of meat are just as versatile as the more familiar pork and beef we're used to purchasing in sanitized, tidy trays.
Arbor Farms stocks Michigan-harvested, humanely raised, beef chuck and rump roasts, perfect for beef stews. They also stock (frozen) Blackwing venison steaks, which are suitable in the recipe, as well. Parsnips, leeks, fennel, turnips and squash would be excellent additions or substitutions to the listed vegetables. Select a decent wine to make the stew — nothing too extravagant but certainly quaffable — that you would enjoy sipping with dinner. On the way home from work, pick up a loaf of bread, then let the aromas from your stew welcome you at the door — job well done.
(Equipment Requirements: I used a 6 1/2 quart eLume slow cooker. I purchased the slow cooker two years ago at Bed, Bath and Beyond. At the time, it cost $79 using a 20-percent off coupon.)
Ingredients
1 1/2 pounds lean stewing meat, such as beef or venison roast, rump, round or chuck, cut into 2-inch pieces
4 tablespoons white flour, divided
1 tablespoons canola oil
3 large carrots, peeled and cut into 1-inch pieces
1/2 yellow onion, chopped
1 tablespoon minced garlic
3 celery stalks, sliced
1 pounds redskin potatoes, cut in half (leave whole if small)
3 strips raw bacon, cut into 1/2-inch pieces
1 cup beef stock
1 cup good red wine
1 bay leaf
1 1/2 tablespoons ground juniper berries (optional, but perfect with venison)
1 pound mushrooms, cleaned and cut in half if large
2 tablespoons unsalted butter
Fresh chopped parsley, optional
Instructions
1. Season meat with kosher salt and freshly ground pepper; coat in 2 tablespoons of flour. In a large, heavy-bottomed skillet, heat oil to medium-high heat Sear beef on all sides until well browned. With a slotted spoon, remove beef from oil and place in the bottom of a slow cooker.
2. Place carrots, onion, garlic, celery, potatoes, bacon, stock and wine over beef. Stir in bay leaf and juniper berries, if using. then top with mushrooms. Cover pot and cook over low heat 6 hours.
3. On a small plate, with a fork, combine remaining 2 tablespoons of flour and butter to make a thick paste. Stir well into the sauce in the slow cooker to incorporate into the stew. Cook an additional 30 minutes or until stew has thickened. Season to taste with kosher salt and freshly ground pepper. Serve garnished with fresh parsley, if desired.
Peggy Lampman is a real-time food writer and photographer posting daily feeds on her website and in the Food & Grocery section of Annarbor.com. You may also e-mail her at peggy@dinnerfeed.com.