Posted on
Fri, Feb 8, 2013 : 2 p.m.
Slow-Cooked Pork, Black Beans and Rice (al estilo de Cuba) - make ahead dish feeds a crowd
By Peggy Lampman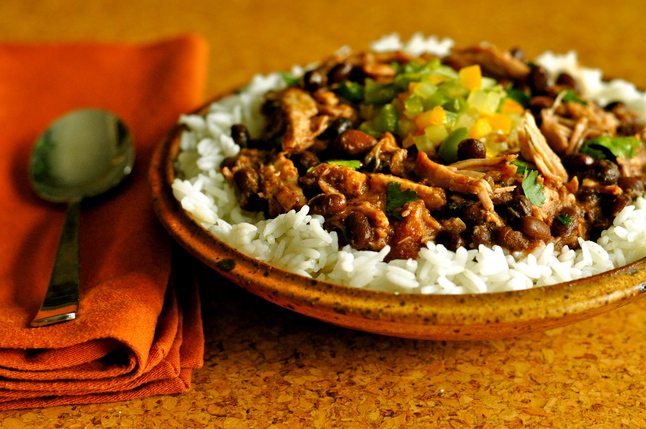 Peggy Lampman | Contributor

My dinnerFeed web site is a lean, mean fighting machine! To receive my lastest dinnerFeed posts by email, sign up here.
Here's a meaty recipe that fits the bill for a make-ahead dish large enough to serve a group. Its international flavor profile, enlivened by abundant citrus, is also economical- about two bucks a serving.
Even if you're not feeding a crowd, the leftovers will provide tasty meals when reheated for several days. In fact, I recommend completing the dish a day in advance; the flavors improve dramatically after the confinement in the fridge.
Valentine's Day is around the corner. Check out these romantic and festive ideas for your celebrations: Chocolate-Covered Strawberries; Classic Chocolate Truffles; Chocolate Truffles with Bacon; Simple Chocolate-Rum Mousse; Classic Chocolate Soufflé; Filet Mignon with Red Wine-Mushroom Sauce; Filet Mignon with Cranberry-Zinfandel Sauce; Duck Breasts with Raspberry Sauce
Time to soak beans: 12-24 hours
Active Time: 30 minutes
Slow Cook Time: 8-9 hours
Yield: 10 servings with rice
Ingredients
1 pound black beans
2 pounds boneless, skinless pork s
houlder
1 tablespoon canola oil 1/2 cup tomato paste (I used a 4 1/2 ounce tube double concentrated Amore tomato paste)
3 cups beef or chicken stock
Chopped zest and juice from 1 juicy lime
Juice from 2 juicy oranges, chopped zest from 1 orange
1 1/2 teaspoons ground cumin
1 heaping teaspoon dried oregano
1 teaspoon cardamom
2 heaping tablespoons minced garlic
1/2-1 1/2 teaspoons crushed red pepper flakes
1 large onion, peeled and thinly sliced
1 cup chopped cilantro
Sofrito,** (optional)
*1/2 teaspoon adds mild heat; add additional pepper according to taste.
**Finely diced and sautéed onion, garlic and peppers.
Instructions
1. Soak beans in water 8-24 hours. Drain and place in bottom of a slow-cooker.
2. Liberally season all sides of pork with kosher salt and freshly ground pepper. Heat oil in a large skillet over medium-high to high heat. Sear all sides of pork until golden brown; set aside.
3. As pork browns, whisk tomato paste, stock, orange and lime zest and juices, cumin, oregano, cardamom, garlic and red pepper together and pour over beans; stir in onions.
4. Place browned pork on top. Cover and cook on low 8-9 hours, or until beans are tender and pork may easily be pulled into shreds.
5. Stir in cilantro, serve with rice, and pass the sofrito, if using.
Peggy Lampman is a real-time food writer and photographer posting daily feeds on her website and in the Food & Grocery section of Annarbor.com. You may also e-mail her at peggy@dinnerfeed.com.