Posted on
Mon, Jan 28, 2013 : 8:47 a.m.
Quick & Easy Crab Salad on Ficelle Crostini is light, fresh and full of flavor
By Peggy Lampman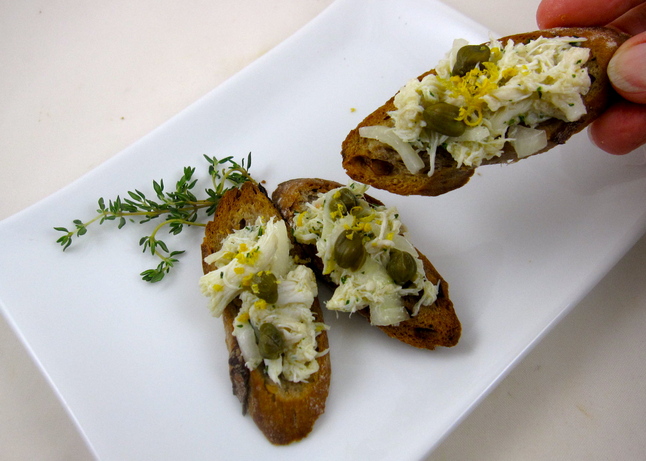 Peggy Lampman | Contributor

My dinnerFeed web site is a lean,
mean fighting machine!
To receive my lastest dinnerFeed posts
by email, sign up here.
Last week a friend hosted a mid-week Happy Hour party at her home. Most brought an
appetizer
, which takes some of the burden off the host at informal gatherings — it's enough to get your house ready for guests, much less make a variety of appetizers.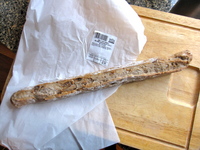 I didn't have time to fuss with an elaborate recipe, but I did have a couple of hours for the salad to stew in the vinaigrette before assembly. And I always
make my own crostini
; it can be as simple as slicing bread, brushing it with oil, then toasting it in the oven.
The nice thing about this salad is it's not filled with heavy fats such as sour cream and gooey cheese — often found in crabcentric appetizers. It's light, flavorful and fresh, and would also be delicious served in a pitted avocado.
The only thing that takes much time in the following recipe is the marinating of the salad, which can be anywhere from one to 24 hours. You could make the salad separate and serve crackers on the side, but if you've the time, assemble the crostini for your guests; it's easier for them to grab, especially when holding a glass of wine. If I were serving the salad in a bowl, I'd chop capers and toss with the salad instead of using them as a garnish. I wish I'd thought to dice a red or orange bell pepper; the salad could have used additional color.
Today I purchased a ficelle from Whole Foods to make the crostini. Ficelle (pronounced fee-sel) are like baguettes, only much thinner, and the Eisenhower Whole Foods usually stocks 2 or 3 different flavor-enhanced types. I think they make great crostini, but keep in mind your crostini will be smaller.
Yield: 2 dozen crostini
Active Time: 20 minutes
Marinate Time: 1 - 24 hours
Ingredients
1/4 cup extra virgin olive oil
1/4 cup white wine vinegar
1/2 teaspoon Dijon mustard
1 teaspoon lemon juice (zest the lemon prior to squeezing juice for optional garnish)
2 tablespoons white sugar
Scant teaspoon fresh chopped thyme
1 tablespoon fresh chopped parsley, optional
1 1/2-2 cups lump or backfin crabmeat*
1 small white onion, thinly sliced into rings, then the rings cut in half
1 recipe for crostini or store-purchased crostini
Capers
*Best product usually found in refrigerated sections of seafood departments.

Directions
1. Whisk together olive oil, vinegar, Dijon, lemon juice, sugar, thyme and parsley, if using. Stir in crabmeat and onion.
2. Let marinate, refrigerated, at least one hour and up to 24. While salad is marinating, make crostini.
3. Top each crostini with crab salad and garnish each with 2-3 capers and lemon zest, if using.
Peggy Lampman is a real-time food writer and photographer posting daily feeds on her website and in the Food & Grocery section of Annarbor.com. You may also e-mail her at peggy@dinnerfeed.com.