Posted on
Mon, Aug 12, 2013 : 4:12 a.m.
Smoked Salmon, Beet and Mascarpone Spread makes an appealing appetizer
By Peggy Lampman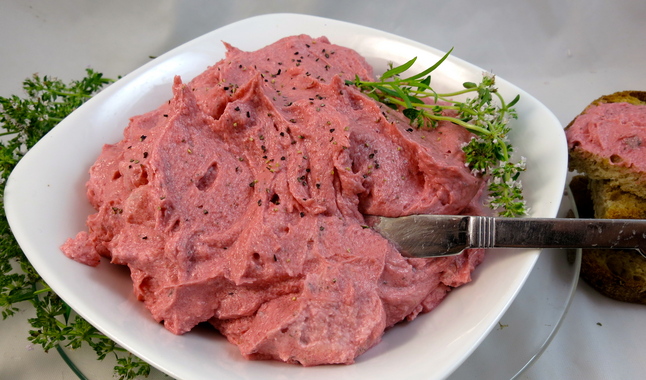 Peggy Lampman | Contributor

To receive my lastest dinnerFeed posts
by email, sign up here.
This appealing appetizer is certainly worth of your attention; especially if you enjoy an easy-to-make, make-ahead smoked fish nosh that's a bit different from the status-quo (though delicious) smoked whitefish or smoked salmon types of spreads.
I saw the recipe in a Vitamix cookbook and in a brief glance knew it would be a spread I'd love. Certainly the ease of preparation, but also the color, derived mainly from the beets, which is so lovely (particularly paired with black breads).
I switched up the herbs and amounts to accommodate the ingredients I had on hand. If you've the time, roast the beets instead of buying them prepackaged; it adds a wonderful earthiness to the finished product. If time doesn't allow, Melissa's Beets are a good substitute.
I used a Vitamix, but an strong-engined processor should work just fine. I had leftovers that were fine after 24 hours, yet the subtly of the flavor profile diminished a bit.
Yield: 1 1/2 - 2 cups
Time: 10 minutes

Ingredients:
12 ounces mascarpone cheese, room temperature
1 tablespoon lemon juice
2 small roasted beets
6 ounces smoked salmon, coarsely chopped
1 teaspoon fresh tarragon
Ingredients
1. Place all ingredients into a food processor or Vitamix.
2. Turn more on and blend until smooth; season with freshly ground black pepper.
3. Cover and chill until ready to serve.
Peggy Lampman is a real-time food writer and photographer posting daily feeds on her website and in the Food & Grocery section of Annarbor.com. You may also e-mail her at peggy@dinnerfeed.com.