Posted on
Mon, Aug 20, 2012 : 11:36 a.m.
Lucy's Smoky Peach-Mint Juleps - end result is worth the fuss
By Peggy Lampman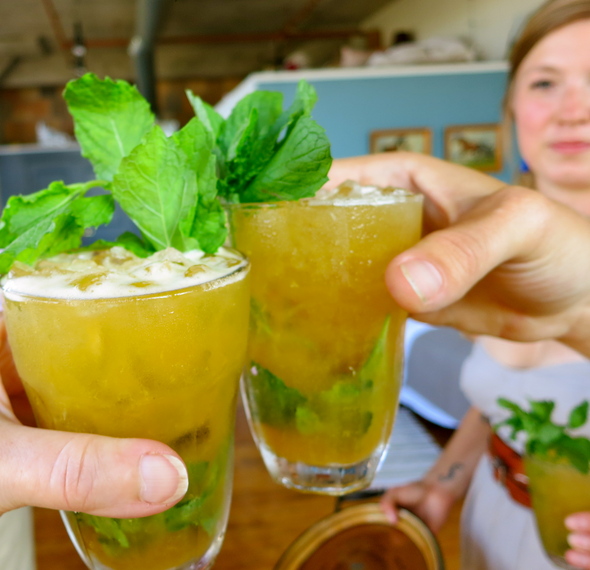 Peggy Lampman | Contributor

To receive my lastest dinnerFeed posts
by email, sign up here.
"When using mint, or any herb, in a cocktail, You NEVER want to break up a leaf — only express the oils," said Lucy, as she gingerly pressed mint leaves against the glass with a muddler.
My son Zan, and his partner, Lucy, invited me and Richard over for appetizers at their Detroit digs before our reservations at Roast. The highlight of this prelude to dinner was sampling another one of Lucy's signature cocktails, and I hovered next to her as she prepared our libation.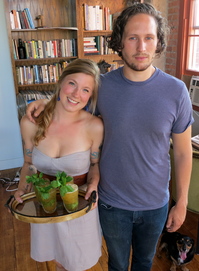 "It's also fun serving this drink with packed ice, creating a snow cone effect," she remarked. "If I'd served it this way, you'd need a straw to sip it." She slapped a bunch of mint against her wrist. "Whenever I garnish a cocktail with herbs, I always slap it before placing it in the drink. It's another way of extracting those flavorful oils."
Lucy tells me it's far preferable to smoke the peaches over wood chips, but if a wood-burning grill is not available to you, omit the grilling part and simply proceed with the recipe using ripe, peeled peaches. "I'm going for flavors that complement the bourbon, wrapped in a minty finish," she said.
Sure, you have to fuss when making a swishy cocktail such as this. But it certainly set a festive mood before we proceeded to dinner at the much applauded
Roast
, located on the corner of Washington Boulevard and State Street in the Westin Book Cadillac building.
Lucy and Zan are digging roots in Detroit because of the creativity required to live there. "It's getting a lot of good press lately — all well deserved — but it's still a rough town by comparison," Lucy tells me. "Most Detroiters approach the landscape with heaps of positive energy and a raft of ideas for improvement because you simply have to - most neighborhoods are still in very bad shape."
On the drive to Roast, we passed a field of scrap metal, twisted and sculpted as a people, faces lifted to the sky; then, a blur of street art splashed upon crumbling walls, as fine as any museum piece - open air galleries of unbridled talent. Wrapped in dusk's patina, we admired the ornate architecture of the church next to the restaurant, illuminated by a canopy of urban twinkle lights: a city of dreams, a city on the edge, a city anxious to be reborn.
"Creative people of the world can come to Detroit, make something and watch it grow," says Lucy. "There's a high demand for new ways of living because the status quo has come to be synonymous with poverty, urban decay, and bad politics. Potential is the thing in this town."
Yield:
Ingredients:
3-5 mint leaves, plus large sprigs for garnish
2 ounces good, full-bodied bourbon*
1 ounce of peach syrup (recipe follows)
Ice cubes or crushed ice
*Makers Mark 46, Elijah Craig 12 year, Buffalo Trace, Four Roses small batch
1. Place the mint leaves in a julep cup, or any glass or tumbler that accommodates 6-8 ounces. Gently press them in the bottom of the cup with a spoon or muddler, taking care not to break a leaf.
2. Pour bourbon and syrup into glass and top with a small amount of ice cubes or crushed ice to fill glass 3/4 of the way full. Stir gently until the outside of cup is frosty.
3. Top with additional ice. If using shaved ice, pack down to give it a bit of a snow cone effect. Slap the mint garnish against your arm to extract the oils, and place in glass.If you've created a snow cone effect, serve with straws for easier sipping.
Ingredients for Smoked Peach Syrup:

3-4 very ripe peaches, halved
Soaked wood chips for grilling, such as hickory 2-3 ounces simple syrup*
*A simple syrup may be made by combining equal parts white sugar and water in a saucepan. Bring to a boil to dissolve sugar, remove from heat and chill. Maple syrup or Demerara sugar may be substituted for the simple syrup.
Directions for Smoked Peach Syrup:
1. Prepare charcoal grill to high heat.

2. Place peach halves, face down, on cleaned and oiled grill grates and char. Using prongs, turn peaches over then toss hickory chips through grates over coals. Close lid to trap the smoke. Cook peaches until just falling apart and remove.

3. While peaches are hot, place in food processor with 2 ounces of simple syrup and puree. Add additional simple syrup to taste. (Note: it should be sweet, but not overly sugary.) Strain mixture through a mesh strainer and cool.
Peggy Lampman is a real-time food writer and photographer posting daily feeds on her website and in the Food & Grocery section of Annarbor.com. You may also e-mail her at peggy@dinnerfeed.com.