Posted on
Tue, Oct 16, 2012 : 4:20 p.m.
Spaghetti and meatballs soup - a new cold-weather classic?
By Mary Bilyeu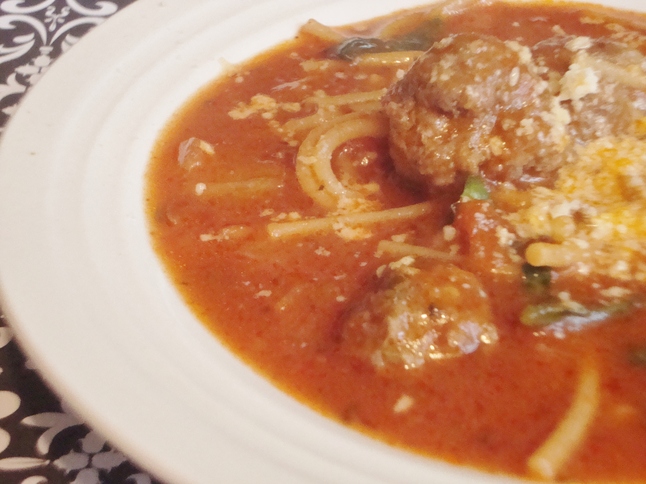 Mary Bilyeu, Contributor
Saturday was chilly, gray, kinda dreary, countered only by the gorgeous fall colors; vibrant reds and oranges, and dashes of color blowing by the window, contrasted with the blah-ness of their background.
Needless to say, then, it was a day for soup.
I'm not much of a fan of cold soups — I have an admittedly archaic notion that soup is a hot food. Not that I don't love the flavors of gazpacho or vichysoisse... but I want them warmed up.
And so, there is a certain feel to the air that just inherently indicates that it's a day for soup — a day which calls out for the aroma, the warmth, the comfort, the ease of this dish, no matter which variety you're making.
Saturday was this kind of day.
And it prompted a twist on several old stand-bys. I had a notion of tomato soup, that perennial favorite, and I had a craving for spaghetti and meatballs... thus, the two were combined.
Progresso has a new line of products, called Recipe Starters, an assortment of which was sent to me for testing. They're prepared sauces which only need the addition of meat, vegetables, maybe a pinch of this or that.
The labels offer recipes. But why just stick to their ideas? Why not use the sauces as inspiration for my own creations?
So I cooked up some small meatballs, some onion and garlic, and a dash of red pepper flakes for some zest. And then I doused it all with Progresso's fire-roasted tomato sauce, added a splash of red wine to make this a more grown-up dish than the ol' Campbell's soup, and tossed in a bit of broken up pasta.
Spaghetti and Meatballs Soup — a new cold-weather classic, was born!
Spaghetti and Meatballs Soup
1/2 pound ground beef
1/2 teaspoon + 1 teaspoon kosher salt
1/4 teaspoon freshly ground black pepper
1/4 teaspoon garlic powder
1/4 teaspoon Italian seasoning
1 small red onion, chopped
1 large garlic clove, minced
pinch of red pepper flakes
1 18-ounce can Progresso Fire Roasted Tomato Recipe Starters
1/2 cup red wine
1 tablespoon pesto
2 ounces whole wheat spaghetti, broken into 2-inch lengths, pre-cooked
few basil leaves, shredded
Parmesan cheese, for serving
Mix together ground beef, 1/2 teaspoon salt, pepper, garlic powder, and Italian seasoning; form into 1-inch meatballs and brown in a large saucepan over medium heat.
Add onion, garlic, and red pepper flakes; cook for 5 minutes, stirring frequently. Add Recipe Starter, wine, pesto, and remaining 1 teaspoon salt; cook for 10 minutes, until bubbling. Stir in spaghetti and basil; cook for 1 minute.
Pour into bowls and sprinkle with Parmesan cheese. Serves 4-6.

Mary Bilyeu writes for AnnArbor.com on Tuesdays, Wednesdays, and Fridays, telling about her adventures in the kitchen - making dinner, celebrating holidays, entering cooking contests, meeting new friends ... whatever strikes her fancy. She is also on a mission to find great deals for her Frugal Floozie Friday posts, seeking fabulous food at restaurants on the limited budget of only $5 per person. Feel free to email her with questions, comments, or suggestions: yentamary@gmail.com.

Go visit Mary's blog — Food Floozie — where she enthuses and effuses over all things food-related; and look for her monthly articles in the Washtenaw Jewish News. "Like" her on Facebook, or send a tweet on Twitter, too.

The phrase "You Should Only Be Happy" (written in Hebrew on the stone pictured in this post) comes from Deuteronomy 16:15 and is a wish for all her readers - when you come to visit here, may you always be happy.