Peggy Lampman's Friday dinnerFeed
recipe:

Spinach-Parmesan Bruschetta with Pesto Coated Shrimp will wow the guests at a cocktail party

Posted on Fri, Jul 15, 2011 : 3:30 p.m.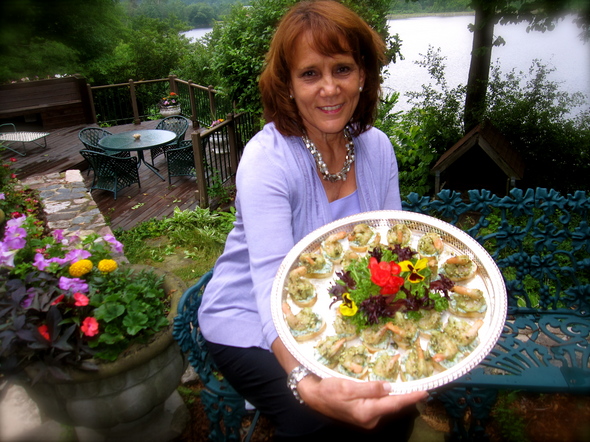 Peggy Lampman | Contributor

Peggy Lampman's Friday dinnerFeed
Guerda Harris and her Back Alley Gourmet team win the prize for one of the most irresistibly delicious appetizers I've had in recent memory. At a cocktail party potluck, this appetizer took center stage. Guests were snatching the glistening shrimplet jewels from the tray faster than you can say bruschetta; so I slapped their fingers and took a couple of quick pics before they disappeared.
I have a special fondness for this specialty food store located in The South Main Market; I sold the store to Guerda back in 1999, and I will be eternally grateful to her for loving and nurturing it through the years. In fact, the Back Alley Gourmet celebrates its 30th birthday this month. An impressive stat for a food business; Happy Birthday, indeed.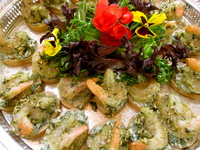 Peggy Lampman | Contributor
The Back Alley
was kind enough to share the recipe, but if you don't have time to make them yourself, give the store a call at 734-662-1175. (24 hour notice, if possible. A tray serving 22-25 (36 pieces) costs $72; call to order, and for additional details on other tray options.)
Yield: 24 pieces
Ingredients
24 cooked, large, shrimp (thawed if frozen)
1/4 cup [prepared pesto](http://www.annarbor.com/entertainment/food-drink/peggy-lampmans-thursday-dinnerfeed-brisket-with-bourbon-sauce-1/), homemade preferred
24 slices of bread cut diagonally from a baguette
1 (10 ounce) package frozen, chopped spinach; thawed, drained and moisture squeezed out with clean cloth or paper towels
4 ounces cream cheese, softened
1/3 cup grated Parmesan cheese
1/3 cup finely chopped white onion
1/3 cup mayonnaise
Directions
1. With paper towels, pat shrimp dry. With a sharp knife, remove vein if necessary and butterfly shrimp by slicing the rounded side of the shrimp down the center, but not all of the way through. Combine with pesto, cover and refrigerate until ready to use.
2. Preheat broiler. Arrange bread slices on sheet pan. Broil 1 minute, remove from oven and turn. Broil an additional 1-2 minutes or until golden brown. Remove and reserve. (This may be done up to 24 hours in advance, stored in an airtight container.)
3. In a medium bowl, combine spinach, cream cheese, parmesan, onion and mayonnaise. Spread over toasted bread and broil 4 inches from heat, 2-3 minutes, or until topping is hot and sizzling. Top each piece with a pesto-coated shrimp and serve.
Looking for a specific recipe? Click here for dinnerFeed's recipe search engine; type the recipe or ingredient into the search box. I am a real-time food writer and photographer posting daily feeds on my website and in the Food & Drink section of Annarbor.com. You may also e-mail me at peggy@dinnerfeed.com.