Posted on
Tue, Aug 7, 2012 : 2 p.m.
Spinach-feta burgers - a fresh take on a grilling classic
By Mary Bilyeu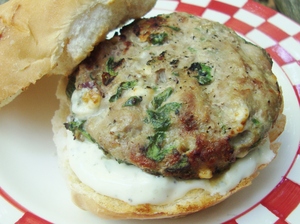 Mary Bilyeu | Contributor
It had been ages since I'd grilled my dinner, or anything else, so I thought perhaps it was time to do so. And what could be easier than burgers? But not just plain ol' burgers - that gets boring. (I hear my son rolling out of bed at 8 a.m., shocked awake by the universe shuddering over such a statement! 21-year-old males could live on burgers, nachos and pizza, after all.)
But since I have a very low boredom quotient, I always have to tinker with things a bit. I change the spices, or I switch up the flavors... I never seem to be able to leave things alone.
So, instead of just making a turkey burger, I mixed in some of the spinach and feta I'd recently bought, which added a lot of color and flavor. And then, rather than schmearing a bit of mayonnaise, I gave that a little bit of oomph, too, making it into more of a sauce with some garlic and lemon for a really vibrant flavor.
If I may say so myself, this was an excellent dinner. I'd spent my day baking and writing and editing and was in the mood for a nice meal but not a lot more work (or many more dirty dishes). These burgers satisfied all of my requirements in stellar form!
Spinach-Feta Turkey Burgers with Lemon-Garlic Sauce
2 tablespoons finely chopped fresh oregano
2 large garlic cloves, minced
2 tablespoons fresh lemon juice
1/2 cup mayonnaise
pinch of freshly ground black pepper
1/4 cup finely chopped red onion
1 cup baby spinach leaves, chopped
1/3 cup crumbled Feta cheese
1 pound ground turkey
1/2 teaspoon kosher salt
1/2 teaspoon all-purpose seasoning (i.e. Mrs. Dash)
4 lightly toasted buns
In a small bowl, combine oregano, garlic, lemon juice, mayonnaise, and black pepper; set aside.
Preheat grill to medium-high.
In a large bowl, combine red onion, spinach, Feta, turkey, salt, and seasoning; mix well, then form into 4 patties.
Cook on grill for 7-8 minutes on the first side; flip burgers, then cook for 5 minutes or so until done.
Spread lemon-garlic sauce onto the bottoms of each bun, top with burger patties, then cover with tops of buns.
Makes 4 burgers.
(For an exceptional dessert to serve after the burgers, check out the Cherry Blueberry Pie I posted on my blog, Food Floozie, yesterday!)

Mary Bilyeu writes for AnnArbor.com on Tuesdays, Wednesdays, and Fridays, telling about her adventures in the kitchen - making dinner, celebrating holidays, entering cooking contests, meeting new friends ... whatever strikes her fancy. She is also on a mission to find great deals for her Frugal Floozie Friday posts, seeking fabulous food at restaurants on the limited budget of only $5 per person. Feel free to email her with questions, comments, or suggestions: yentamary@gmail.com.

Go visit Mary's blog — Food Floozie — where she enthuses and effuses over all things food-related; and look for her monthly articles in the Washtenaw Jewish News. "Like" her on Facebook, or send a tweet on Twitter, too.

The phrase "You Should Only Be Happy" (written in Hebrew on the stone pictured in this post) comes from Deuteronomy 16:15 and is a wish for all her readers - when you come to visit here, may you always be happy.